From: Vincent Cheng <vichenghoi@yahoo.com.hk>
Hello,
Thank you for your response to my email, considering the money involved, and due to the nature of this transaction, it is necessary for you to be sure of whom you are transacting with, you can visit our webpage here:
(http://www.hsbc.com/1/2/about/board-of-directors) in order for you to know more about me , I want to be sure that you are ready, to execute this transaction with me, What I expect from you is trust and commitment, I want this large sum of money transferred with your assistance and you should have nothing to worry about regarding legality AT ALL, because what may affects you? Shall also without fail gets back at me too, considering the paper work we are about to sign together but, I will appreciate you to follow my directives amicably as everything shall be done in accordance passing through all international banking laws, and as a banker I know that if we follow up this transaction diligently it would be completed within 9 working days.
I have attached to this mail, an agreement letter which you are to fill and sign, then scan and send it as an attachment via E-mail to me, before the Attorney can go ahead with the preparation of the application for funds release and some other documents which you shall also sign, before he can officially tendered the application on our behalf, so that it will be look into and before the funds can be endorse for transfer.
I await your prompt reply on this.
Kind Regards
Mr. Vincent Cheng.
---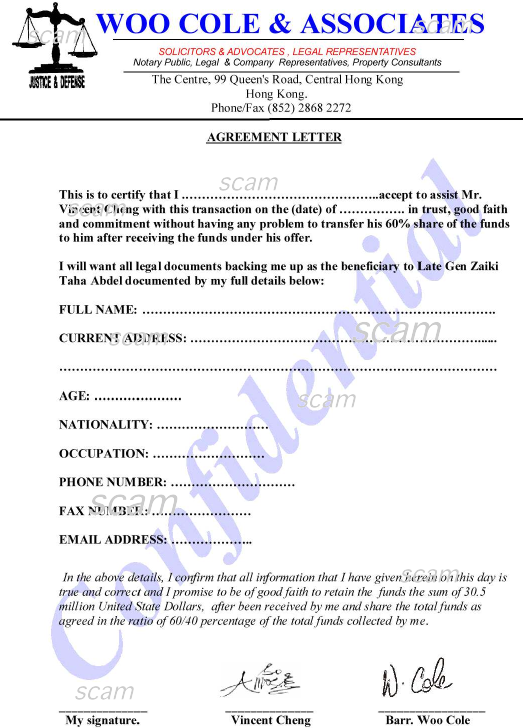 ---
[Can I waste more of his time? I can try!
I expected an instruction to contact the "Attorney", "Woo Cole", directly. Instead "Cheng" asks me to send the form back to him. Maybe this is his way of deciding whether his prospects are worth sending on to the "Attorney". I'm not filling out his silly form yet. He has to work for it.

This time I selected some characters from a novel entitled "Eagle Shooting Heroes" by Jin Jong. I insert some phrases from the scammer's letter, and work out my take of this imaginary sum in Hong Kong dollars.]