Mark Ali
From: Mark Ali (federalworksandhousing@gmail.com)
To: Robin Banks
Tue, 22 July 2008

FEDERAL GOVERMENT OF NIGERIA

WORKS AND HOUSING.

FEDERAL MINISTRY OF WORKS AND HOUSING
FEDERAL REBULIC OF NIGERIA
COMMITEE ON FORGIN PAYMENT
CONTRACTORS PAYMENT VIA ATM SWIFT CARD

IKOYI, ABIA STATE.

Attention: Honourable Beneficiary,

From the entire members of the Federal Ministry Of Works and Housing, on behalf of the Federal Republic of Nigeria Government, Under the auspices of the civilian Head of State, President umaru musa yar'adua and the Governor of Central Bank Of Nigeria , Prof Charles Soludo held a meeting last week concerning payment Of foreign contractors and some inheritance funds.

going through foreign contractors files yesterday, we discovered that your file was dumped untreated, so at this juncture of time,we kindily apologise for the delay of your payment due to the on going fraudulent act of transferring money out of Africa the senate House federal Republic Of Nigeria has deposited #Three point five Billion Dollars to the (CENTRAL BANK OF NIGERIA) to pay off all foreign contractors of the last few years Via ATM Swift Electronic Banking Card.
the last time we went through your file we, found out that the ramming balance of you contract payment before you left Africa,is (THIRTEEN MILLION AND TEWEENTH [sic] FIVE THOURSAND US DOLLARS),13,0000000 25,000 in other for you to receive your swift ATM Card under 48 working hours you are advice to fill out you personal information about your person below.

YOUR FULL NAME.......................... .....
AGE........................... .............
HOME ADDRESS OR P.O.BOX.......................
CURRENT OCCUPATION.................... .......
COUNTRY....................... ..............
CONTACT PHONE NUMBER AND FAX...................

And please stop communicating with any office OR Bank that has been trying to pay you any money and has fails to do so all attention should be at our appointed office to enable you receive your payment accordingly,

your Payment Reference No.-35460021, Allocation No: 674632 : your Certificate of Merit Payment No :103 ,Released Code No: 0763; Immediate Telex confirmation No:1114433 ;Having received your cont tract payment information that has qualified you as the benefactor to receive and confirm Your payment with the Federal Ministry of Finance Nigeria immediately within 48working hours

Again with your swift ATM swift Card you have the assect to make willdrawer from any part of the world, Asia,Europe.U.S.A and the United Kigdom as well.

you are advice to contact immediately for your fund to be released by the Central Bank Of Nigeria, That will be as soon as we hear from you, you are also advice to correspond with our code of conduct which is #303 [sic]

NOTE:We have mounted our security network to monitor every in-coming call, if we still find out that you are still dealing with all those fraudsters that have been frustrating to pay you,we shall cancel your payment immediately.

YOURS FAITHFULLY,
DR,MARK ALI
AUDITOR TO
THIS MINISTRY.
Robin Banks
To: Mark Ali
Tue, 22 July 2008

Dear Dr. Ali,

I was very surprised receiving an official email from the federal government of Nigeria. After reading it I do have to admit I am in a well confused state of mind, seeing I cannot remember any dealings of mine outside of Europe, let alone Nigeria. I believe this must be some kind of terrible mistake.

I do however wonder how my name made it into your federal records and I am quite horrified finding out about an assumed connection between me and a gang of fraudsters from Nigeria. You see, the Nigerian type of advance fee fraud has been a recent issue in the news here in Germany and I therefore am very terrified that something like that is being linked to me. Would you be so kind as to explain what is going on here? If I can help you track down any criminals it would be my pleasure to do so, seeing this incident could result in damaging my reputation. I can not and will not let this happen.

Please contact me asap.

Best regards,
Robin Banks
Mark Ali
Wed, 23 July 2008
Attn:Robin Banks,
Good,day to be plan and simple i want to kindly ask you a qiustion ..would one consider himself bewished or say consider himself as a bad luck because of ones birth in an African country? which scoail and public name has be damaged by hungery boys on the street which we call them the internet boys internationaly know as Frud stars?
Look am doing a honest job here as the Chief Auditor of these Ministry i also do not want my reputation to get scamed by people abroad..i do not know how but my supro/Boss handed me your details/information to process unlike the other forigen contrcator abroad. that has compeleted there contract in the last years since you are a Garman you know there is alot of Garmans there in Nigeria ,that works with Julus Barger Nigeria Plc for contract which the last Reference No.-35460021, Allocation No: 674632 :Certificate of Merit Payment No :103 ,Released Code No: 0763. Was our last contract with Julus Barger Nigeria Plc........
This is how thigs are done here in our reputeable office of this Ministry.look i have no got to qiustion the athority of my supro/Boss so if you are asking me to do that am sorry i can"t but carry out my own pat of the offical duities in publishing and auditing and forward all correspondances abroad,As the head of this department.
May be you just want to get to me and be sure about the suding release of your payment that have over steyed, may be you do not believe it .Believe it is for real your payment is due and ready for you to claim as soon as possible.If You get this urgent infonation all you have to do is farward you personal information on how you are to reciev your atm card from the C.B.N the Bank will be responsible of your over due payment of
$
13,000000,250000m which is ready and awaiting for your urgentance at.
234electronicatmdepartment@gmail.com wwww.cbn_atmdepartment@centralbank.org ....Your are adice to forward The Document of Approval to the Bank along with your home address, phone numbers so they can contact you the moment your card is ready for effective delivery as soon as possible.In terms of any problem please do not hesitate to call +2340725-34-55-49 or write me if there is any other way we can, assist you with any help consinging this issue.About your payment.
I await your urgent reply as soon, if you have done , as i have in structed you....and always update me so as to know what is going on so i can speeding up things for you.
Thanks And Best Reargards.
Dr.Mark Ali.
[The fourth time he sent this very same email it was finally not cut off somewhere in between and a picture was attached - a large and completely empty picture!]
Robin Banks
To: Mark Ali
Thu, 24 July 2008

Dear Dr. Ali.

I clearly understand what you are pointing at, but that leaves me even more confused to say the least. Why do you want me to contact a bank for money which is not mine? As I informed you I do not own money in Nigeria.

What I want is to make sure my reputation isn't damaged by those whom you call fraud stars. I hope no pun was intended! So please give me the information on how my name is linked to those fraudsters. I need to find out the truth. You see, I am a highly decorated commander of the B.B.Q., a troop of specialists for certain kinds of operations regarding state security if you know what I mean. So I cannot afford my reputation to be damaged at all. Therefore I need insight into the files. So maybe you could scan them, make a zip-file and attach them to the email?

And another thing: Why did you send your last email four times? Is there something wrong with your IT? You also attached some kind of bitmap picture which was totally blank though. This is pretty confusing.

Please get back to me asap.

Kind regards,
Robin Banks
Mark Ali
Thu., 24 July 2008
Attn:Robin Banks,
I cant say but tell you that i like your kind understanding toward this monetary issue, about how and were how did your name came to be in our file of over due contract payment that was handed over to me by my Boss,which i have told you earlier at my last mail to you that i do not stand at a benefit to question his authority due to the fact that am the Chief Auditor to this Ministry ,do not also give me the ego to do so.
This Reference No.-35460021, Allocation No: 674632 : your Certificate of Merit Payment No :103 ,Released Code No: 0763; Immediate Telex confirmation No:1114433.is a certificate of contract approval which was handed over to me to proceed on toward your benefit so you can forward all necessary information to the Bank were a large some of money has been deposited to pay off foreign contractor of about two three years ago....if in question you ask me sincerely how your name got into our dater base i will tell you i do not know how> may it your lucky day who knows.it may be that some one want you to get richer in no time..
Wait But, you never can tell because some foreign contractor from Germany that was among other contractors whom completed the reference No:above might have putting your name and email as his the Net of kin..i truly cant tell for now...but for me i advice you take up this special opportunity by claiming this fund which, i know that no one will come for this fund in a million years to come..i also understand your position in these society and do not want your good reputation to be damaged by fraudsters believe me am not one of them,am here all the time to assist you and make a honest promise that your reputation is well in a good hands.
If i have the chance to clear this fund/ like if i fine out the owner is dead and put your name as the nest of kin and you said you do not want this life changing money ?believe me i will do so with easy if only i can do so but i can not because it is not by my name that the money was payed to the bank.what is your next move consigning this money..if you want me to assist you to clear this money as easy as A B C.., just forward the attached Document to the bank at the email address i first sent to you..so it will be loaded to an ATM card that will be delivered to your door step.
Mr. what More can i say about this grate chance you are about to wast
even if it is not truly yours just claim to be the one
by forwarding your info to the bank and let me know The out come of it then i will supply you with all valuable information consigning the money if after word you get the card which i assure you will.. then you can think of my favour to you,
Think about it all and get back to me by phone or email you have my number private also keep this issue confidential for now that is if you wnat.
I hope i have answed you question to you ago...
Thanks and God Bless,\
Dr,Mark Ali.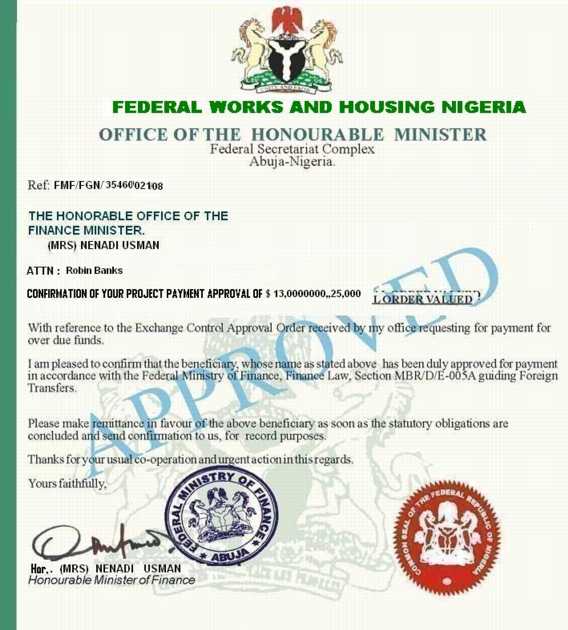 [That must be one of the worst photoshopped bs I've ever seen! "L ORDER VALUED" almost made me feel sorry for this moron.]
Robin Banks
To: Mark Ali
Thu., 24 July 2008

Dr. Ali.

I am very sorry to say you did not answer my questions at all. I did not want you to question your boss' authority, I wanted you to present facts that are of vital concern to me. Somebody apparently is playing a dirty game on me, seeing my name is connected to a Nigerian fraud gang. What makes you think there is some investor from Germany involved in this all of a sudden? You clearly pointed out some fraud thing was going on. It is not your job to come up with ifs and maybes! Your job is to stick to the facts and grant me access to the data concerning me. If you are not willing or able to do that I recommend you give me your boss' email address so I can handle the matter with him or her.

Kind regards,
Robin Banks
Mark Ali
Mon., 28 July 2008

Dear Robin,

How are you doing? how is work and your wife and kids? since the last time i saw your mail..about not convince that you have the sum of $13,000000,25,000 there in Nigeria why because of what you watch in your local T.V Station? my friend am very sorry there is no how i can lay my hands on any of the Document that will forward clarified to that the sum up contract my belong to you and not me.Mind you, you are not connected with any so called gang of fraudsters here in Nigeria..

And i do not think any body is plying with you for any reason
all i said is that i was given this case file of us to process by my Boss
so i can not get more then the Document he gives to me to Handel
all i will say in this case is that you claim this money and i will help you out
so the money can be cleared from Germany then we can disburse the money between us.% 50% 50% that is
all i can tell you for now if you are ready for this

Hot cash please let me know which as soon as you agree on this deal by so doing my boss will give me more insite on the matter.

I await your urgent reply as soon as it is possible.
Best of Hope from You Robin Banks.

Dr,Mark Ali
Robin Banks
Sat., 2 August 2008

Dr. Ali.

In your first email you clearly pointed out that my name was linked to fraudsters. I want to find out how this is possible, seeing there is obviously somebody out there playing a dirty game which could ruin my reputation. Before I do anything I want to know the facts and you better find out what is going on. What's the problem with your boss anyway? It must be in his interest that I do business with his bank so he better present the facts. Or is he trying to hide something?

Either you find out what the heck is going on or I'll have to talk to the guys at the Nigerian embassy on Monday. Your boss will probably not be pleased about the latter, so I guess your choice will be finally acting professionally and present me the files I want. You can attach them to an email. If you do so, please be sure to send them to my second account xxxx@xxxxxx.xx, seeing xxxxxxxx has a very limited amount of storage space.

After you and I nail those criminals I guess it will be safe to proceed with the business. So the faster you deliver the files the faster we'll get the money out.

Kind regards,
Robin Banks

p.s.: Neither am I married, nor do I have any children.
Mark Ali
Sat., 2 August 2008

Attn:Robin Banks,

Mr,st er you are tricks and i do not do buzz with some one whom can not come up with decision making
i have clarified you before that you can stand and claim this money with my effort here i will do all i can in my position to make us more richer,you said something about report at the embassy what do you mean by that?

what is your problem at the moment you are still save at home why worry and go to the embassy for no good reason..please mister if you are not interested pls back of and let me deal with it along..but if you are interested and want this cash all you have to do is fill out your personal information about your person so we can proceed in this fund transfer out of Nigeria to any private account you will proved to the bank.

by so doing all necessary document about this money will be relished by my boss,

Think about it and let me know soon Enuf before i leave The country...
Mark Ali.
Robin Banks
To: Mark Ali
Sun., 3 August 2008

Dr. Ali

What is your recent email all about? I didn't intend to make you mad or anything of the sort. I just pointed out clearly that I need to see to it to save my reputation before doing any business. Nothing more and nothing less. And now you come along and claim me playing tricks! I take that as a rude insult, Sir! So please mind your manners. And another thing: Slang like "I don't do buzz" is unprofessional street talk. Do you treat all your customers like that? You claim you want to make the both of us richer. Well, I am very interested in this proposal, but I need to have insight into the documents about those fraudsters before I make a definite decision. Imagine yourself in my position. If I told you something about some fraud attempt with your name involved, but was reluctant to pass on detailed information, would you do business with me? I didn't think so!

So please get all the data concerning me and attach them to an email or I will have to get the data via the Nigerian embassy. I have a right to find out what is going on, don't I? Unfortunately I am not feeling well. Calling the doctor and explaining my symptoms made him come to the conclusion I have what is called the banzai splash [slapmuguencia banzaia nervosa]. This is a stress related illness pretty similar to the burn-out syndrome. Fortunately it usually gets better after a few days of rest. So my doctor ordered me to stay at home for a week. I think the best thing to do is relax in my garden and read a good book or two while waiting for your reply.

Remember to send the data to my secondary email account (xxxx@xxxxxx.xx). After receiving all the files concerning me and the fraud gang I will figure out a way of dealing with that matter and we can finally get the business done. You see, you did get me all exited about this thing, but I really need to get a clue about how I am linked to the fraud activities in your country first.

Have a nice and successful Monday.

Kind regards,
Robin Banks
Mark Ali
Mon., 4 August 2008

DEAR ROBIN BANKS.

I want to first say that am very sorry about my the way i approach you at y last email regarding the words i used, it just that i do not understand why you find it difficult to understand that your name and personality is not Link to any fraudulent activities here in Nigeria [this mantra is starting to give me heart burn for real] it just that you white men abroad has conceive in there mind that all African Nigerians are fraudsters. [Nay, the prejudice also includes Asian, American, European and Australian Nigerians.]

I have try my possible best to make you understand that am here to still make the both of us more richer all you have to do is come to agreement of business deal with me so we can finalize this money on time before it over stay at the bank please you just have to come up with your conclusion of this deal so i can assist you clear this FUDs on time

NOTE:We have mounted our security network to monitor every in-coming call, if we still find out that you are still dealing with all those fraudsters that have been frustrating to pay you,we shall cancel your payment immediately, (Wtf? This totally contradicts the first paragraph's essence!)

i want through the first massage i sent you and find above what you have been asking me about,yes you know in this country there are some people who just seat and eat what others has work hard for they are the ones we call the fraudsters that fraud companies ls they hack and steals files in our daters and contact foreign cont actors abroad and rep them of here contract fee..so we thought we should warn all contractor that have been contacted before fro this fraudster to keep off communicating with them...that is what come about that peregh.

Nevertheless all you have to do is just say yes to this deal then i will put up letters to the bank to release the fund by so doing my boss and the bank will let go some document of your name linking to this money...

By the way how are you doing hope you are getting better soon please get well soon
my regards to you Dear health
Dr Mark Ali.
Robin Banks
To: Mark Ali
Tue., 5 August 2008
Dr. Ali
Please don't mind me telling you your last email was completely contradictory. In the first paragraph you claimed my name wasn't linked to fraudsters. Two paragraphs later you warned me you'd blow everything off if you found out that I was - quote - "still dealing with all those fraudsters". What is going on in your mind? I am not dealing and never ever have dealt with any of these troglodyte monkey spankers!
In the fourth paragraph you informed me about you going through the first email. You actually read it and still came to the conclusion I am in no way linked to fraudsters although your own words in this very email claim the opposite! I think you are getting things totally mixed up at the moment. Maybe you are overworked and are suffering from
slapmuguencia banzaia nervosa
as well. If not, I suggest you get a good night's sleep at least for He-Man's sake. Eight hours of sleep every night can do wonders.
Here is an excerpt from the second paragraph of your first email to me. It totally proves I have all the right to be nervous and therefore need all the documents you can get your sterile cobbles on:
" we kindily apologise for the delay of your payment due to the on going fraudulent act of transferring money out of Africa".
The first line of the same paragraph informed me you indeed must have some kind of files floating around. Although I would never think of stashing my dough in Nigeria my name must be in your database for a reason I don't know. This means there must be some additional information about me. And that is precisely what I want. Thank god I can tell you are an honest person though. A criminal just would have forged the documents to convince me.
So, to point it out as simple as possible: To make me participate in the business I need to see the files first. Nothing more and nothing less. Please nag your boss until you get those files. Please make sure you send them to xxxx@xxxxxx.xx as an email attachment.
Have a nice day and a pleasant sleep.
Best retards,
Robin Banks
Robin Banks
To: Mark Ali
Wed., 6 August 2008

Good afternoon Dr. Ali.

Have you managed to collect the files yet? I just saw a TV spot for a local bank making a special offer. They grant an interest rate of 8% if you open an account before the 15th of August. Isn't that great? Seeing this commercial made me remember to check my email.

I hope you had a pleasant and successful day.

Best retards,
Robin Banks
Mark Ali
Wed., 6 August 2008
Hello,My Dear friend ,
You truly are somebody to trust in this deal,my dear i have being trying to convince my boss to hand me over your contract files but each time i do so it all in vain because it is not of our officer process in this ministry..because any contractor who want to get his money cleared from the bank after we contact such person and inform him that his contract money is ready..which was my first latter to you. I've read this one over and over and the content was well noted =P
what the person need do nest is to contact the bank were the money was deposited,by so doing, so to say that is when my Boss will now hand me over the files you are demanding to see..that is why i want you to come up as soon as possible to claim this fund by contacting the Bank.before my Boss will hand me the document he must contact the Bank to know if you have done so before he hands me over your contract file. Believe me that is the only way i can get hold of any document consigning any contractor so please west no more time to conclude about this before the money over stays at the bank if it does the bank will return the funds.
As for me i would love to open that account you talk about in your country so i can also get 8% interest rate but i will not be able to do so now for i am still a Government personal for now. my be if you can act fast to the claim of your money without waiting for more proves by so doing you can help me open the account after the money will be sent to you via ATM Or VIA Money transfer..
Yes i said some thing about money transfer it is true but now i can boldly tell you that every thing is in check now by the( E F C C.-Economic And Financier Crime Commit ion ) So there is no need to worry about transfer any more all is in place,But you are still the one to make decision about how you want your payment,
please Mr,Robin Banks do not miss this God Given opportunity's by saying Nothing more and nothing less if i do not proved the files.I will try my possible best to see what i can do get the files or may be some of any document in the files all i need is time to do so .And please do me a favor let forget all bout the fraudsters of a thing it just does not exist between the two of us Ok
. By the Way you have made me go for checkups at the hosp tile so i will not complicate issue again thank you..i pray you understand all this with matured heart and let me help you, make money then we can invest together in your country after all is done fine and smooth, by both of our aid.Again there is no floating files around any were,and the additional information about your person lays in the Bank, but meanwhile if you do not want to contact the bank yourself all you have to do is inform me then i can help contact the bank from my desk,so you can see for your self the additional information about you.
What more can i say, i need to take care of some office work now we talk later then by phone or what? let me know what is on your mind.. you are taking longer then necessary about this hole issue.
Thanks and have a blissfully day ahead of you
Best Regards,
D,Mark Ali
[Not again! That weirdo sent this email three times. He surly is one big control freak. Perhaps he should get that issue checked by a doctor as well.]
Robin Banks
To: Mark Ali
Wed., 6 August 2008

Dr. Ali.

I'm glad to witness some action finally. Do whatever you can about those files. Contact the bank, the hobos at the EFCC or whomever until they release that data. If it suits you better I could contact those critters myself. Then it's not you who'll have to make them angry for slowing things down. Just give me the email address of the EFCC officer in charge and you are out of harm's way. It's better I raise some hell before we miss the deadline for opening that awesome account, don't you think?

If you however want to take care of the issues yourself, I suggest threatening the guys with a law suit. That ought to speed things up. Or how about getting the World Bank or the IMF involved? If that doesn't help maybe PCP will do the trick. Ah heck, who am I to tell you how to do things right? You probably figured out the same possibilities by yourself, am I right?

Best retards,
Robin Banks
Mark Ali
Fri., 8 August 2008

Robin Banks,

Am not in the right postion to threaten any body like you said,you are the one in such right postion it is your money we are talking about here and not my so to say you do the threating yourself at the blow email address (blow me now, or else...)of the Bank ask them to effect your payment as soon as possible, what ever they say let me know then i can inform my boss so he can let go the document.

electronicatm@rock.com or cbn_atmdepartment@yahoo.com centralbank@cbn.org send your emails to any of the above and let me know the out come...

Mark Ali.
Robin Banks
To: Mark Ali
Sat., 9 August 2008

Dr. Ali.

Why can't you see that I will not have the bank release any funds before I see the documents? I didn't ask you to threaten them for the release of said money, but for the documents only.

Let me point it out once again: No documents, no business. Period.

So please give me your boss' email address. Maybe he or she will understand. I know you are doing what you are told to do, but that doesn't help you nor me at all right now. Therefore I have to get in touch with your boss as soon as possible as time is running short. August 15th is right around the corner and there is no progress yet. I don't want to miss those fancy 8%.

Best retards,
Robin Banks
Robin Banks
To: Mark Ali
Sun., 10 August 2008

Dr. Ali.

Long time no hear. Regarding your offer I had a conversation with my boss yesterday. Don't panic now, he doesn't know the details. He suggested I should participate in the deal. Therefore I am comfortable now and we can proceed. Please tell me what to do. Please give me all the email addresses of those whom I shall contact, seeing I deleted the old emails already.

Best retards,
Robin Banks
Mark Ali
Tue., 12 August 2008

Yes you i told you i was out of the country for a week now and i came in by the week end just got to the office now, how are you doing?

I glad you have finally come to conclusion to participate in this God given deal and opportunity you talk to your boss fine but you know this deal should be kept confidential between us,any way hope you trust him,yes Base on were you are to start before i come in play is you contacting the Bank by forwarding your information's,like home address,telephone,fax if any P.O.BOX Age and Current Occupation.

At: electronicatm@rock.com cbn_atmdepartment@yahoo.com centralbank@cbn.org the last is there officer email it will take process to contact you so i advice you write to the first and second email it is direct to the managers,

So you go ahead and contact the bank and let me know the outcome,do not worry all will go fine as plan all you have to do is act according to the banks instruction,

Good Luck to you Robin Banks
Yours Faithfully
Dr,Mark Ali.
Robin Banks
To: Mark Ali
Tue., 12 August 2008

Dr. Ali.

I was pretty worried you were ill or worse, seeing you did in fact not tell me you would leave the country. That's all news to me, but I am very relieved you're all well. I'm doing good myself as well. I resumed work at the B.B.Q. yesterday. Needless to say there was a lot of last week's paperwork on my desk. Working here is pretty much an office job, but we spend our afternoons at the shooting range or practicing certain situations like the release of hostages, gorilla warfare and methods of interrogation. It's only two or three times a month we are actually contacted for guarding V.I.P.'s or participating in special operations of the cutis.

I hope I will be able to contact the bank as fast as possible, but my boss told me yesterday there was some paperwork we will have to bother you with before I am entitled to do this sort of business. It's a standard procedure that will keep my organization from getting into trouble with the bureaucrats at home, seeing we are semi-official. If you ask me it's total crap, but Germany is number one when it comes to bureaucratic hurdles. My boss informed me that it's not really a hassle and can be filled out in no time. Unfortunately he is attending a meeting in Switzerland today and won't be in his office till late in the afternoon so I don't know the particular document to provide you with. I will ask him to send the form to you the minute he shows up.

Until then, have a nice day.

Best retards,
Robin Banks
Mark Ali
Wed., 13 August 2008

How is your day going over there at the B.B.Q.hope you are getting the best of out your job. (only filets and premium beer for me)

has not your boss returns from SwitZerland? and have you yet contacted the bank? let me know what if you have not let, me know what is holding you back.Thanks

Best Regards
Dr,Mark Ali
Mark Bimatoi
From: Mark Bimatoi
To: Mark Ali
Thu., 14 August 2008
Hello Dr. Mark Ali.
I am writing this email in regards to your proposition of establishing a business relationship with my employee
Mr. Robin Banks
.
You are probably aware of the strict regulations for BBQ staff conducting such relationships with foreign business partners. Further details regarding this matter are explained in the standard legal form which you will find as an attached pdf file. I need you to fill out this form in written and send it back to me. I suggest you scan the document after filling it out and send it back to me. Furthermore a scanned copy of your passport or drivers license is required for easy identification.
Feel free to contact either me or
Mr. Banks
if you have any further questions. Be sure to send the filled out standard legal form as well as your scanned passport to me only as
Mr. Banks
does not have the authority to access any of your personal files.
Regards,
Mark Bimatoi
CEO Bäuerlich Bayerische Quetschenschrammler
[I attached some paperwork that should keep him busy for a while. Mark, be my toy!]
Robin Banks
To: Mark Ali
Thu., 14 August 2008

Dr. Ali.

I'm doing pretty fine. How about you? My boss just popped into my office and informed me that he sent you the form. He bitterly complained about our bureaucratic system using words I better not repeat. Some of the questions seemed pretty awkward to him, but he wouldn't tell me any details saying it was none of my business.

Oh well, today is the last day to get that massive 8% interest rate, but what can we do? Chances come and go. But hey, there's a lot of cash coming my way anyway, so I'm not really sad about it.

After all this legal process is over I can finally make arrangements with the bank. I just hope all will turn out well so you and I can get the show on the road as quick as possible.

Best retards,
Robin Banks
Mark Ali
Fri., 15 August 2008

Dear Mark Bimatoi,

Am feeling free to contact you.Base on the Document you sent to me on behalf of your employee Mr. Robin Banks i fully well understand most legal matters guarding foreign business patners, but i must say most of the question are embarrassing but that is other wise since Mr,Robin Banks has discoursed the issue with you and taken concealing From you,you are to give me time to contact my legal lawyer over singing the form and hear his opinion over the Document so then i will get back to you if necessary or to your employee,

Thanks
Dr,Mark Ali.
Mark Ali
Fri., 15 August 2008

Dear Robin Banks,

Am sorry we miss out on the massive 8% interest rate,like you said what can we do? i will say batter luck next time then.

Yes the lagel process will be over soon by tommorow after i contact my lawyer over the sining of the Document your Boss sent to me which i find some of the questions all things.I will keep you posted by tommorrow then bye for now.

Best Regards,
Dr,Mark Ali.
Mark Ali
Sat., 16 August 2008

Dear Robin Banks,

How are you doing over there it raining over here day in day out and the Internet is not constant i do not know how come after the first time of going through the Document your boss sent to me, i have have talk to my lawyer over the legal document your boss sent to me he said is OK that i should sing the Document but only for one good reason that you will also be issued a legal Document from His Ministry of Justice to sing so we can get along and get this money cleared on time.

But, there is a little problem at hand i was trying to download the Document so i can print it but i do not know how i deleted the Document i just cant find it any more in my in box, talk to your boss again to forward me the papers again for immediate singing of the document, may be by then my lawyer must have finalize with his lagel Document that you are to sing as well.Am counting on you base on assisting me talk to your boss.

As soon as possible all will be fine it just that this hole thing is taking longer then expected .

Thanks and Best Regards
Dr,Mark Ali.
Robin Banks
To: Mark Ali
Tue., 19 August 2008

Dr. Ali

First things first: I am very sorry for my late reply and holding things up. I think you will understand that sometimes we at the BBQ are called to carry out spontaneous missions. That's what happened this weekend. We got a call late Thursday night and had to be on the air field only three hours later for deployment to the golf region where we had to assist a prominent business man. I can't tell you his name for obvious reasons. Anyway we did have lots of action: eagles, birdies, rabbits and other stuff. I am not talking about animals however. These are certain terms regarding our work. Oh well, I don't want to bore you with all of that.

I told Mr. Bematoi about you deleting the document. He will send it to you this afternoon. But let me tell you that he did freak out a little. But what can one do? He is a bureaucrat after all who has never spent a single minute outside where the action is. I wish I had one of those nice, well-paid white-collar jobs, too.

You were talking about a document for me in your last email. Does it relate to the data I asked you about earlier?

Hoping to hear from you soon.
Best retards,
Robin Banks
Mark Bimatoi
To: Mark Ali
Tue., 19 August 2008
Hello Dr. Mark Ali.
Mr. Banks informed me about you losing or deleting the standard legal form.
Please fill out the questionnaire as described on the front page and send it to me together with a scanned copy of your passport or drivers license.
Regards,
Mark Bimatoi
CEO Bäuerlich Bayerische Quetschenschrammler
[Why would someone delete such a lovely crafted piece of crap? Damn it!]
Mark Ali
Wed., 20 August 2008

Hello,Robin Banks,

I had been worried what is the problem but after going through your email made me to understand you are fine, thanks to God.

You see most of the time like this i would have call you to find out what is going on over there? nevertheless i have go ting the Document Again, But mind you that you will also have to sing a legal Document of partnership from the Ministry of Justice Court Abia state Nigeria,in my last email i told to you that i had i discussion with my lawyer consing the BBQ legal form your Boss sent to me to sing my lawyer said if am to sing the Document you will by lager right sing a partnership Document from the above Court of law so we could best trust each other.

You know that you are the one to receive this money first before part of it will come down to me so there i demand there should be a writing agreement of trust between us, that is why you have to also sing a Document i will send to you when next i write you along with the already singed BBQ Document your Boss sent in for me to sing.

About the Dates you ask me earlier on will be out only when you contact the bank for the immediate payment of your fund,

I will get back to you as soon as possible with all the Document from my lawyer when nest i have an appointment with him.

Thanks And Take Good Care of Yourself
Best Of Regards
Dr,Mark Ali.
Robin Banks
To: Mark Ali
Wed., 20 August 2008
Dear Dr. Ali
As we have been communicating for over a month now I suggest we could become more casual in our talk. I hope that's fine with you, too.
I just want to remind you that you should send the standard legal form to
Mr. Bimatoi
, as I am not permitted to read or even possess it. I could get into serious trouble if you sent it to me. Please do send the document I have to sign to me though.
How's it going with the standard legal form anyway? I hope you get along with the questions, so we can proceed by tomorrow.
Best retards,
Robin
[Okay, over a month isn't quite correct, but who cares???]
Mark Ali
To: Mark Bimatoi
Thu., 21 August 2008
Dear Mr,Mark Bimation,
How is work? base on the Document i would soon be through with it i will send to you as soon as possible along side a partnership Document Mr,Robin Banks has to sing base on this deal between us.By Tomorrow i sure will be through with the signing of the papers.
Thank"s
Dr,Mark Ali.
[I can hardly wait. Really, I'm dead serious now. Gimme gimme gimme...]
Mark Ali
Thu., 21 August 2008

Robin Banks,

Am getting along pretty fine with the Document it will be read by tomorrow if work permit me,there is alot of paper work i have to do my self you know it not all the time the sectary will do all the paper work am not that type of person,i assist him most times.

Any way how is BBQ you should be carefully my dear friend because when all this is over i will be thinking of coming to vist you, so we can know each other face to face, how abut that so you can lead me by assisting me invest my part of the money in your country may be you could be the manager and let BBQ be for Good.
just Joking am way i look forward for that.

Guess what i Drove by the Bank to inquirer about the money if any body has come for the money they said the money is yet to be cleared so we still have all the fast move to make so as to get this money out before the end of this Month OK,
as soon as i sing the papers do not hesitate to contact the bank .

Have a Nice Day Ahead
Dr,Mark Ali.
Robin Banks
To: Mark Ali
Thu., 21 August 2008

Dear Mark.

I'd be glad to help you invest some money over here. Actually the BBQ would be just the right company, as we are seeking to expand overseas.

Don't be so quick about me contacting the bank right away after Mr. Bimatoi gets the paperwork. It has to be carefully examined. After I get Mr. Bimatoi's okay I can contact the bank. I know that may be somewhat of a hassle, but that's how our security policy works. I'm sure everything will turn out just fine though, if you fill out the questionnaire properly.

Looking forward to hearing from you soon,
Robin
Robin Banks
To: Mark Ali
Sat., 23 August 2008

Dear Mark.

What's holding you up so long? Mr. Bimatoi just called from his office and informed me that you still haven't managed to send the form. He is really pissed off, seeing I actually begged him on my hands and knees to go to his office and check his email. I'm going totally crazy over here dreaming of zillions of things I can spend all that money on.

I don't know your financial situation, but to me some millions of dollars are more than I've ever seen. If I were you I'd postpone all other stuff and even work overtime to get the paperwork done. I don't know how much there actually is, but it seems to me that it's only four to five pages or so. So what's the holdup? By the way, you haven't managed to send the form you wanted me to fill out yet either.

A couple of hours of work for a fortune should be more motivating than twenty chicks! Please go for it man.

Best retards,
Robin
Mark Ali
Mon., 25 August 2008

Dear Robin Banks,

My dear friend there has been a lot of things holding me from sending in the legal documents but one major accept of it is that, the Internet connection at the office was totally down for days now even the one at home,which the connection was Link from the office to the house, but thank God it OK for now still cant tell because of the rain has been non stop this days.

I also have not got ting in touch with my lawyer whom is suppose to be the one to either forward the Document to you through your boss, for you to sing,but i was told that he has Buck an appointment with me later on today so i hope it all about the Document you are to sign i believe it should be sent to your boss direct,mean why i have done all i could do about the la gel papers i will send it to your Boss after this mail gets to you.

We should try to understand that this deal is base on confidentiality between us so please to not allow your Boss to send or disclose any of my personal information to any body because this mighty case me my job as well i want to resign and not being ask out of the office after all.

But do not think a can not holding things like i have told you before on that the major person here is you to file in for your contract payment so if there any information or doubt about you being the rightfully owner of this contract money that is were i will come in to assist you clam the money as easy as ABC.

By the way how is your health let me assume that you had a nice weekend have a nice day Ahead ,Best of Luck to you
Dr,MARK ALI
Mark Ali
To: Mark Bimatoi
Mon., 25 August 2008
Dear Mr,Mark Bimation,
how is works? you may now acknowledge the return slandered legal paper you have sent in for me to fill out, nevertheless it too my time because of the brake down of my office internet connection over here that is one of the reason, the other is that i have been busy you know how know it is like to be working among Governmental bodies"mean why i will soon send in the other document papers
Robin Banks
will sing i have not yet hear from my lawyer but it will not take longer then necessary
Robin Banks
can as well go ahead in contact the bank as soon as you acknowledged the papers while awaiting for my won lager partnership document.Thanks
Dr,Mark Ali.
---
[Guess what, he finally filled out the questionnaire. It's totally beyond the pale though!]
---
[He also included the forged id as demanded:]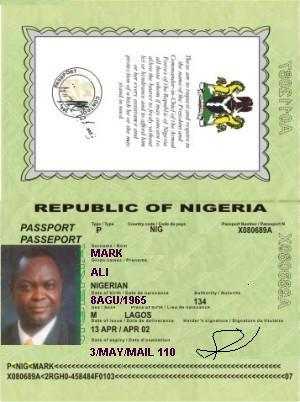 [One would think that years of practice ought to improve a lad's Photoshop skills. 8AGU and MAIL 110 gave me lots of lols. I love that cute little "signature" as well. I didn't demand block letters just for the fun of it! I knew his handwriting would suck!!! And where's the red felt tip anyway? Pwnd by simple instructions, ha haaaa.]
[Anyway, I got bored by this douche, so I stopped baiting him. Could have made him do the form over and over again, but that would have wasted my time more than his.]