From: Girard Brinkman
Date: Tue, Aug 4, 2009
Subject: I AM NOT DEAD!!!
To: daniel.asbanklimited@gmail.com
Mr. Ade Daniel:
This might seem a little strange, but yesterday, I woke up from a coma after six years. My cousin received an email from you just last Friday about my estate. I've attached a newspaper clipping, though it's not really the greatest proof I am who I say I am, but it's the best I can do because my passport is expired and so have my drivers licence. I've also attached the letter you sent to my cousin so you know what I'm referring to.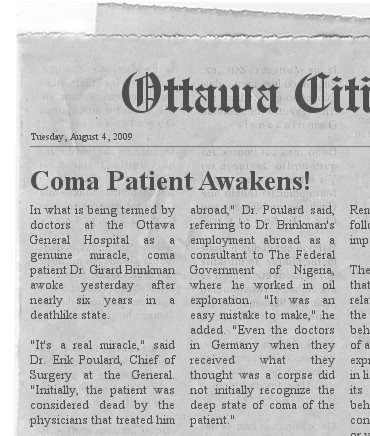 So let me say...THAT'S MY MONEY you're planning on giving away! In fact, there should have been $38 Million, not the $32 Million you spoke of, and I'm a little peeved that it's gone missing! I don't want 20 percent of it, I want it ALL, and I WANT IT NOW! I will of course reimburse you for any fees that are incurred that are reasonable.
I'm still in the hospital under observation, but my cousin brought me a laptop to use. I don't have a phone or a fax number for a couple of weeks, because that's how long they tell me I'm going to be here. After that, I'll set something up, though I'll be staying with my cousin and his family, and I won't give you their number, I don't want them to be bothered with this stuff.
Now talk to whoever you have to talk to, and get back to me with what the next step is quickly. I'm going to have medical bills here, and I'll need access to that money.
Yours,
Dr. Girard Brinkman
I AM NOT DEAD!!!!
GET YOUR PAWS OFF MY BANK ACCOUNT!!!