WILLIAMS AND SUZAN CATIM


Date: Mon,  5 May 2003 23:16:29 +0200
Subject: =?iso-8859-1?Q?THANKS_FOR_YOUR_CONCERN_(WILLIAMS_AND_SUZAN)?=
From: williams_catim@libero.it
X-SenderIP: 193.220.188.198   [INDEED, ABIDJAN, Y'ALL]

Dear Sir,

Blah blah
We know our message will come to you as a surprise
but first of all,We will like to wish you a Compliment
of the season. 
We are WILLIAMS  CATIM and Miss SUZAN CATIM from MENDE SIERRA LEONE. 
We are writing you from nearby country Abidjan Rep of Cote 'Ivoire
where we have been takeing refuge after the brutal war
and murder of our Father and Mother by the rebel
during the renewed fighting in my country Sierra 
Leone, thanks be to the United Nation Peace keeping
force for intervation.

After the first war in our country because of the
war, our late Father Chief MICHEAL KOFFI CATIM sold
his shipping company and took us to a nearby country 
Abidjan capital city of Cote d'Ivoire to make a
deposit of a METALLIC TRUNK BOX which contains the
sum of US $ 14,300 million and after the deposit, we
successfully went back to our country.

blah blah
After the death of our late Father and mother, We
ransacked our house and was lucky to discovered the
documents that was issued to us from the BANK
where we deposited this money.
blah
We are willing to offer to you 15% of the total sum as
compensation for your effort/input after the
successful transfer of this fund into your nominated
account overseas.
 blah blah
 
Thanks and God bless.
Best regards,
WILLIAMS AND SUZAN CATIM


---
CAPT. DUYMAER VAN TWIST
Date: 06 May 2003, 11:06:57 AM

Dear Williams and Suzan,

I look forward to seeing whom I may be dealing with, as you say one has to be very circumspect. I am absolutely fascinated by shipowners, and to be able to help out the children of one who belonged to one of the most distinguished professions, going back to times immemorial.

As a gesture of good faith, please let me know the name of your fathers Shipping Company and the kind of ships he had. I have always been fascinated by boats and cargoes. I trust you know the modalities of the transaction? I own a building Company and am up and down the Country visiting my sites, and am looking for extra capital to expand. I already have 3 other companies in holland and am "quite well off"

with respect and regards,
Duymaer

PS Where is Mende?

---
Hi Y'all,
I couldn't stop (expletive deleted) laughing at this, absolutely brilliant, apart from the few spelling mistakes..must try harder! I shall ponder my reply, I think by asking for one of the names of his fathers ships, as I collect photos of ships. (Actually true). I am now respected Uncle, knowing that they "respect" age, (true) my "old Pa" (full of wisdom..but greedy) must be expanded.
WILLIAMS AND SUZAN CATIM


Date:  07 May 2003, 02:54:11 AM

 

Dearest Uncle,

Greetings in the name of God Almighty.

How are you today.Hope all is well with you over there?

Thank you for your earliest response to our mail.

I must let you know that we are so happy with you for your kindness as regards
to 
your effort in trying to help us in our situation.

Well,as regards to your question about the name of our late father's shipping
company,
I want you to know that our late father sold  his shipping company during the
outbreak of war in our
country and the name of the company is..OGBORU AND SHANDLERS SHIPPING COMPANY
which I do not know the present company handling it because he sold it due to
the war outbreak.

Our late father used to be a wealthy cocoa merchant here in Africa and he made
a lot of wealth through his cocoa business and he lately engaged in this
shipping business which I know was giving him alot of money before the war
started.
MENDE is our native village in SIERRA LEONE.

Uncle, I must let you know that the most important thing now is to see that the
bank transfer this money into your account so that we will prepare for our
coming over there to invest this money wisely
and also start our living over there because we are suffering here.

In this regard, we will like you to send us your telephone and fax number
together with all your personal informations including your present picture and
any of your official document.

You know, this is money matter and I strongly believe that this will help pave
ways for us to know each other a little before we will meet in person.

I will be going to the bank this morning to let inform them of our intention to
transfer this money into your account and as soon as i come back, I will let
you know of my discussions with the people at the bank so that we can start
this issue soon for the bank to transfer the money as soon as possible.

I am hereby, sending to you by attachment, 

(1) MY PERSONAL PICTURE

(2)MY YOUNGER SISTER'S PICTURE

(3)MY YOUNGER SISTER INTERNATIONAL PASSPORT

I will not be able to send you my international passport this time .this is
because, I had as at yesterday, submithed it to our embassy here for renewal
because my passport have expired and we have to put things in order as we will
be preparing for our travelling to your country immediately this money is
transfered to you.

Please inform us of your receipt of this and as soon as we receive your's and
after we might have discussed in the telephone,I will send you the receipt
giving to our late father by the bank on the deposit day.

May the Good God continue to guild and bless you for us.

Best Regards,
WILLIAMS AND SUZAN CATIM.


---
WILLIAMS AND SUZAN CATIM GALLERY
(of course who knows if these are they)

WILLIAMS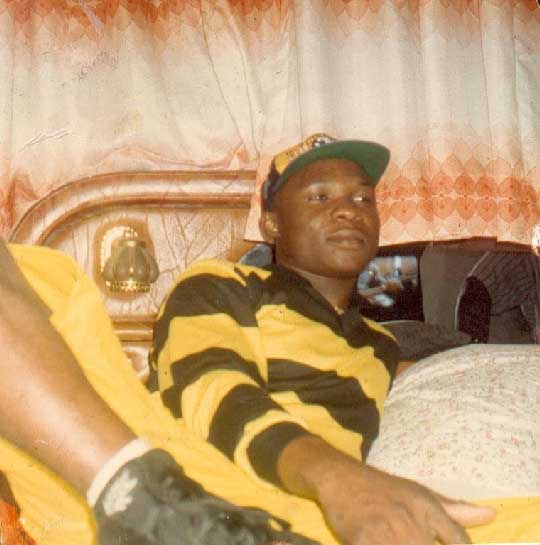 MY SISTER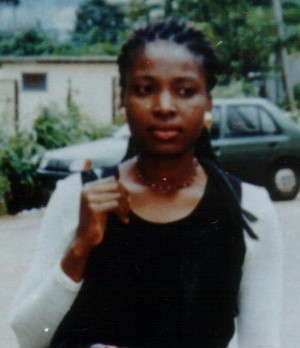 SUZAN'S "PASSPORT"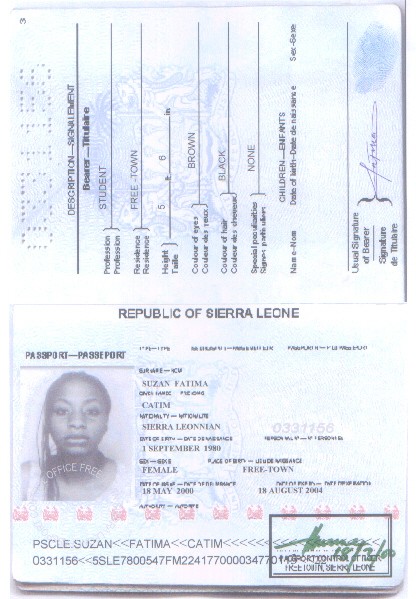 ---
CAPT. DUYMAER VANT WIST
Date: 08 May 2003, 10:32:29 AM

My Dear Williams,

My profound apologies, as I said I travel all over the UK and Holland, although I live in England. Sometimes I am at places which are miles from anywhere and don't have instant access to a computer, I like to use my own.

Yes, I have received your E mail with your photos, especially the one of your very beautiful sister. What a lovely name Suzy is. I will send an image of me, so you will know who you are dealing with. I am still interested to know any of the names of the ship(s) owned by your beloved late father. Were the ships registered in Freetown? Was he a cocoa grower in Sierra Leone? I have always wanted to visit Freetown, it sounds an exciting place. I bet there are some nice bars there, where one could have a cool beer overlooking the sea.

I cannot understand why you sent the first page of your sisters passport. Am I missing something. What is Abidjan like? Is there much trouble there, we hear all sorts of rumours about rebels. I pray that you and your sister are safe from the depradations of evil men. There is much evil in this world.

I will get back to you with an image,. but be patient, my very good friend Hadrien Swall is not in too good health, and I may have to visit him in Switzerland.

May the good Lord look after you,

your dearest uncle,
Duymaer


---
Good evening Folks.
Ye Gods, he does not half lay it on thick, all this dearest Uncle guff. I think it is now time for me to delay, I might even have to go to Switzerland to attend to the affairs of the late Hadrien Swall! As they say, "Watch this Space".
---
WILLIAMS AND SUZAN CATIM


Date:  10 May 2003, 06:59:01 AM
Subject:  we will appreciate to recieve your call
 

Dearest Uncle,

 How are you today and your respected family?; we hope all is well as usual, if
so may thanks be to God.

Well uncle we have recieved your mail and the content was very noted and
appreciated.So as you said that you do not have much access in the  computer
based on your traveling activities
please we will like you to be getting in touch with us with this number 00 255
07 47 01 49 .

 for the fastness of this transaction because due to the present political
situation in this country now we will like to leave here any moment this
transfer commence.So please Uncle we will be waiting for your to enable us
finalise on one this and have the trust to send to you the back document in
which you will go through before contacting the bank as our late fahther's
family friend as we have told you.


Though we have much to discuss with you but we will be waiting for your urgent
call as soon as possible.

Thanks for now as we wait for your response.

Best regards;,
Williams Papaya Catim.


---
CAPT. DUYMAER VAN TWIST
Date: 15 May 2003, 01:55:57 AM

Dear Williams,

My apologies for not getting back to you earlier but I jave had a disastrous week. I had to visit my building sites where my Company is building a huge herbodrome on the Isle of Thanet. I missed the last ferry and owing to there being no available accommodation nearby, I had to sleep in my car and I caught a chill. At my age one has to be careful, luckily my top of the range Saab wasn't too uncomfortable, but I have had a cold and feeling achey. I hope its not SARS.

I didn't phone, bercause I am a phonophobe. I get my secretaries to do any phoning, I prefer the personal touch. It has served me well over the years. Maybe a drop of African sunshine is needed, I will consult with my consultant. I feel a break is called for, near Abidjan you say?

yours restfully,
Duymaer


---
Hail all at Scamorama,
Further to my latest, Isle of Thanet is not actually an Isle, may have been 1000 years ago. If he asks about my Herbodrome will be a huge building with a dome type roof where you grow "herbs". Herb also is a slang name for an idiot who doesn't realise he is. It will be interesting to see how he reacts about Abidjan, I could drop a few place names, I have been there many times...
---
Good Day to you,
Williams is now closing his Emails with my name! A crazy mixed up scammer, who obviusly has a direct line to the Almighty. I think it might be time for my very good friend Hadrien Swall (he of the massive building project in the North of England, Hadrien's Wall!) to quietly expire in the Swiss Nursing home. I shall obviously be one of the executors.....I wonder what surprises one might find in his last will and testament.
---
WILLIAMS AND SUZAN CATIM


Dearest Uncle,

May the grace of the Almighty God be with you and your family.

I must let you know that we feel for you for all you have explained to us.

We pray that God should comfort and cheer you up.

In this wise,WE ARE STILL HOPING AND PLEADING TO HEART YOUR VOICE.

try and call us so that we can discusse this issue for us to forge ahead in the
whole thing so that we will know what next to do coćncerning this transfer.

send us your banking informations so that i will go ton the bank to let them
know of the urgency it needs for them to transfer this money into your account
for us to relocate quikly over to your country because we are suffering hear
and our greatest wish is to see get this money out from this place.


        
                                                 yours restfully,

                                                                   Duymaer

---
CAPT. DUYMAER VAN TWIST

Date:  26 May 2003, 10:49:26 AM
Subject:  Modalities

Dear Mr Williams Catim,

             I have gone to a lot of time and expense in arranging to meet 
you, you may not be aware that I have been in Switzerland on a very very sad 
task.  I have been trying to get in touch with you, the telephone number you
gave 
me has been tried  but no answer.  Are you still serious about the proposed 
business proposition?  I need to know, I do not like people who waste my time.

             I need to expand my business, I have had approaches from other 
investors but have put them off, because of our supposed arrangement. I need 
the money to be able to put in a bid for a huge building project based in 
Belgium.  My doctors have said that I need a break, messing me about is not 
conducive to good health.

             I await you immediate reply so that the result of my visit to 
Switzerland will generate the modalities needed for both our wealth
enhancement.


---
CAPT. DUYMAER VAN TWIST


Date:  29 May 2003, 01:02:42 PM


Dear Willams,

                   I am absolutely intrigued why you call PawPaw papaya? Is 
it becuase you are in Cote D'Ivoire?  I am fully aware of your haste, but if 
you had read my last communicative epistle you will realise that I have had a 
serious bereavement  

                   My very, very dear fiend Hadrian died in Switzerland, and 
I am an executor of his will.  His last will and testament, I will not bore 
you with the details of the testatees, but, and its a big BUT, he was cremated,
and his desire that his ashes be scattered on AFRICAN SOIL.  I feel it my duty 
to him and MYSELF, that I visit you in the Ivory Coast, and kill two birds 
with one stone as it were. 

                    I have been working so hard over the last year, I deserve 
a break in the African sunshine.  We can do the necessary business in the 
presence of you and your lovely sister Suzan. In fact I insist on it, we shall 
share accommodation in one of the best Hotels in Abidjan, perhaps take a visit 
to a coastal resort say Sassandra?  What do you think?  Whatever I am coming to
Cote d'Ivoire.

                   I shall bring all the necessary documents, headed paper 
for my Companies, and details of a Bank Account I have opened in Nigeria, 
because that is where I wish to expand my business.  I am sure you know
contacts 
there, if not, maybe  Sierra Leone,, LION MOUNTAIN.  With the recent 
unpleasantness I am sure they are crying out for investment, and that is where
we shall 
make a killing. With your knowhow and money and my connections, the world is
our 
yam.

                   Two questions: As you know I feel for you, children of a 
shipowner. Shipowning is one of the OLDEST professions, and I have nothing but 
admiration for them, the service they provide for mankind is unestimable, but 
not realised.  Was one of your fathers ship's which carried his cocoa called 
MV Fourah Bay?  I have heard of this famous vessel, and it would be an honour 
to help this owners children who have by no fault of their own,fallen on lean 
times.  Second question.:  How much money should I bring ?  10,000 US $ or 
equivalent in Sterling or Euros?  This can be deducted from the $14.300
Million.  
I need to know which currency will be best for our transaction.  I know 
something called "dash" is necessary to oil the wheels of commerce.  Will
$10,000 be 
enough?

             As I said in my last E-mail, it has been a very sad time for me, 
and I am honour bound to accede to Hadrian Swall's last wish.  He also asked 
that service be conducted in a local church in the Tridentine tradition ( ie 
Latin) if possible. He was a Catholic.

             I am looking forward to meeting you both so very much, I am sure 
we can form a happy team, to the benefit of both of us, and visiting the 
Ivory Coast will be an adventure I am sure.

                               your loving adopted uncle,

                                                       Duymaer


[Explanatory notes from Duymaer:]
Further to my latest reply, I was a junior officer on the MV Fourah Bay in 1963/4, and it is a name associated with Sierra Leone.She was owned by Elder Dempster Lines Ltd. The ship owner story is a load of bollocks, hence "the oldest profession" (almost!!) Pawpaw and Papaya are the same things, Pawpaw in Sierra Leone,Ghana and Nigeria and Papaya in ex French territories, be interesting to see if he picks up on this (him claiming to be Sierra Leonian and using the French alternate name of Papaya). Sassandra is a port on the Coast where one loads crates of Veneers, usually African hardwoods, of the mahogany species. I suspect that Williams Catim is Ghanaian his father was using the name Koffi. I will challenge him on the name Mende, as far as I know there is no such place in Sierra leone, is a tribal name, similar to Kru and Susu.
It keeps me amused,and others I trust.
It does scammers good to be questioned! I hope he doesn't twig about the Fourah Bay, named after a Bay just outside Freetown. No doubt he will choose to ignore it, or lie through his teeth. Oh what fun.
---
CAPT. DUYMAER VAN TWIST
Date: 18 Jun 2003, 12:42:34 PM

Dear Williams.

What are you playing at? I have been to the bank, got $15,000 US to use, this will be deducted of course from the money your late father had in the trunk, which you earmarked for expenses etc. I am awaiting your response.

I do NOT like being messed around, I am a very busy man. Time is money and I want to get this transaction over and done with as soon as possible. I have a ticket booked for Abidjan, but am awaiting a date for finalisation. Either you reply one time or I shall find another person who wants to invest in my country.

The ball is in your court my friend.

Duymaer

I slipped a couple opf West Africanisms in this one, "One Time" and "My Friend" I wonder if he picks up on it, or has he twigged. We shall see.


---
more to come? tune in tomorrow (or whenever), same scam time, same scam channel!