MR.FAROOQ AHMED
ATTN: DEAR FREIND,

I AM MAKING THIS CONTACT BASED ON MY PRESUMED RELIANCE, AFTER GOING THROUGH A BRIEF PROFILE OF YOUR COMPANY HERE IN THE IRAQ CHAMBER OF COMMERCE AND TRADE DIRECTORY BOOK. I AM MR. FAROOQ AHMED, ASSISTANT DIRECTOR.IN CUSTERBATTLES SECURITY COMPANY BASED IN GULF REGION.
AND I AM CONTACTING YOU TO ESTABLISH THIS RELATIONSHIP WITH YOU IN BENEVOLENT SPIRIT AS TO ENHANCE IMMEDIATE RESOLUTION TO AN OPPORTUNITY RIGHTLY AT HAND.HERE IS OUR WEBSITE: (WWW.CUSTERBATTLES.COM) FOR MORE DETAILS.

IT WAS MORE LIKE A DREAM WHEN I DISCOVERED SOME BOXES INTERCEPTED BY IRAQ CUSTOMS AND BROUGHT FORTH TO OUR CUSTODY FOR SAFE KEEPING. THESE TWO (2) GIGANTIC TRUNK BOXES WAS INTERCEPTED AT IRAQ SEA PORT IN THE EARLY HOURS OF 20TH AUGUST, 2004 IN THE ATTEMPT TO SHIP THE BOXES OUT OF THE COUNTRY, SUBSEQUENTLY THE OWNER WHOM ACCORDING TO OUR INVESTIGATIONS BELONG TO SADDAM HUSSEIN ALSO, AS A MATTER OF FACT THAT THIS FORMER IRAQ PRESIDENT ACCORDING TO OUR INVESTIGATION FACING CHARGES OF LOOTS AND HUMAN-RIGHT ABUSES IN IRAQ.

AFETR DUE INVESTIGATIONS AND CLEARIFICATIONS, I HAVE DECIDED TO OWN THESE BOXES WHICH IS ALREADY UNDER MY CARE IN SECURITY VAULT FOR SAFE KEEPING, THE CONTENT WHICH I CANNOT DISCLOSE NOW FOR SECURITY REASONS TO OURSELVES. SINCE I HAVE EARLIER DECIDED NOT TO OFFCIALLY ANNOUNCE THIS INTERCEPTION FOR OBVIOUS REASONS,

I AM SURE THAT YOU WILL BE SUPRISED TO KNOW THE CONTENT OF THESE BOXES. HOWEVER, THE RECENT REPORTS ABROAD AND ON THE INTERNET ABOUT THE FROZEN BILLIONS OF BRITISH POUND STERLING USA DOLLARS OWNED TO THE SADDAM HUSSEIN WILL CONVINCE YOU. YOU CAN CONDUCT A SEARCH ON; SADDAM'S LOOT THROUGH GOOGLE SEARCH (GOOGLE.COM). I URGENTLY NEED TO PRESENT YOU TO THE SECURITY VAULT AS THE OWNER OF THOSE BOXES IN ORDER TO ASSIST ME TRANSFER THESE BOXES AND THEIR CONTENTS OUTSIDE THE COUNTRY MEANWHILE, I AM ONLY SENDING THIS PROPOSAL TO ASCERTAIN YOUR INTEREST AND ONCE POSSITIVE RESPONCE IS RECIEVED FROM YOU, ASSURING ME OF YOUR UTMOST COOPERATION, SINCERITY AND CONFIDENTIALITY, I WILL PROCEED TO FURNISH YOU WITH ALL DETAILS AND HOW WE INTEND TO CARRY OUT THIS RISK FREE TRANSACTION WITHOUT FURTHER DELAY.

THANKS FOR YOUR ANTICIPATED COOPERATION KINDLY CONTACT ME ON MY PRIVATE BOX BELOW (farooq_ahmed@steam.to)

MR.FAROOQ AHMED.
---
MARTY McFLY
Date: Wed, 06 Jul 2005

Dear Mr Ahmed

This opportunity sounds very intriguing and, to be honest, I am having trouble realising my good fortune just now. PLEASE don't tell me this is a joke and take this terrific news back. To the future, what this might possibly mean is too, too important for words. I am working with a friend of mine, in a semi-amateur capacity, on a very important scientific project which needs an increased injection of funds to realise its full potential, a story wich started back in 1985. This may prove just the solution to our investment problems. But here I am assuming this offer was really meant for me? If so,I do not know who gave this address. Maybe Mr Tossov our investment advisor?

Anyway, I await more details and all developments with some eagerness.

Marty

Marty McFly
69 De Lorean Drive
Zemeckis Milf
Iowa 41900
USA
---
MR.FAROOQ AHMED
From: farooq ahmed <farooq_99ahmed@yahoo.com>
Subject: Thanks for your response
Date: Thu, 7 Jul 2005

Dear Marty McFly,

Thanks for acknowleging my mail and your kind response, Well, It is a very easy task if only i can trust and confide in you because this transaction involves huge amount of money stolen by Saddam Hussein during his regime in Iraq.

During my routine checks on our warehouse where I discovered that their was unclaimed trunk boxes that was declared as family treasure in the warehouse and when i tried to see the content I now discovered that it was money (coded) for security reasons brought under our custody for safe keeping which amount to $22.5million United State dollars. And there was no way I could go away with the boxes except through a help from foreigner so that it will be transfered out of this gulf region where I will meet you for my share.

Madam, Permit me to present you to the security vault where this consealment was deposited as the owner so that it will be delivered to your country for further claim, Don't entertain any fear it is 100% risk free and I have all the necessary documents to back you as the owner while you are making further claim in any country of your choice. Be rest assured that we are covered with the document i have under my custody based on my psition in my department.

Am ready to offer you 30% out of the total amount involved as soon as you agree to coperate with me and 20% will go for less priveledge ones in our society, I will also make you my partner in any investment we intend to invest the rest of the fund for you great assistant. But please bear in mind that it will cost us a little money in order to get all the necessary mechanism we need to facilitate this move, But first I want you to send me your personal telephone number and fax number so that I can call you for private discussion and clearification as soon you acknowledge the receipt of my mail.

Thanks and God bless you, I await your urgent response before i go ahead to provide you with more information.

Best Regards
Farooq Ahmed.
---
MARTY McFLY
Date: Thu, 07 Jul 2005

Dear Mr Ahmed

Many thanks for writing back so soon, and your reply has certainly put a number of concerns to rest. My partner - the scientific brains of our our little project if you will - Dr Emmett Brown is growing more enthusiastic each time I mention it. He has no choice really, as the development of the Flux Capacitator, as he has called it, requires a good deal of further investment.

You mention that you require a little money to help this business along. To be honest, we only have a few thousand left in our investment fund. If this rules us out of this whole business, then I quite understand, but at least we are being honest with you up front.

Incidentally lightning struck the town hall clock tower of our little town last night at 10.04, which for some reason I took to be a good omen! Anyway let me know where we go from here.

Marty McFly
---
MR.FAROOQ AHMED
Subject: UPDATE
Date: Fri, 8 Jul 2005

Dear Marty McFly,

First, Am sorry for the lightning accident in your town like you said is a good omen couple with this project we are enbarking on soon. I want to express my gratitude towards your sincere commitment to the transaction and hoping that the trust and confidence bestowed on you will not in any way be misplaced now or in the near future since we are doing this business based on mutual trust and understanding.

Am writing you today in good faith to update you on the arrangements and moves made so far towards lifting the consignment to your place of residence, But first I want to know if you can be able to travel down to Dubai in order to make this claim?Or If you cannot kindly let me know? Because I discussed with the lawyer in Dubai at length since we intend to lift the consignment from Dubai (united Arab Emirates) considering the origin of the consignment so as to avert any eye bros or queries while you are making further claim in your country.

The lawyer informed today that the diplomatic cargo courier office in Dubai needed some clearance from the Dubai high court like the affidavit of claim/ownership certificate to ascertain that you are covered and cleared to receive the consignment by law as the beneficiary before their diplomatic agents will lift the consignment to your country of choice.

In view of these, I demanded from the lawyer what is required of us to raise these court documents at this point which he stated the notary charges for these documents amounting to a total of US$4,730 covering all his notary expense and operational service till the date of lifting of the consignment from Dubai to your destination for your further claim.

Be it as it may, I have already started making plans to have the money gathered together before the end of this week but I will need your support financially too so as to have the lawyer conclude these documentations with the courier company in Dubai so the diplomatic officer can leave for your country sometime early next week only if you cannot travel down to Dubai..

Don't worry by the time we achieve this transaction you and your partner Dr. Emmett Brown will have more dollars in your companies account to run your scientific project as well which am highly interested to join you people. Moreover, our new found relationship will be bonded and hoping for more good things ahead of us as this is just the beginning of a new era in our individual life's. I will like you to send me your personal telephone number so that I can call you and explain some points and for private discussion and clearification.

Thanks and God bless you, Am waiting for your urgent mail.

Farooq Ahmed.
---
MARTY McFLY
Date: Tue, 12 Jul 2005

Dear Mr Ahmed

Many thanks for the prompt response and I am sorry that I took so long in replying. It has been rather a busy few days with us as the flux capacitator is now through its final testing phase, and has been tried out successfully! You can imagine the drama and excitement here, and it has been very distracting. We have discovered that the unit works best when out driving, where the element of speed creates exactly the right conditions for it to have effect. At exactly 88 mph to be exact, generating 1.21 gigawats, and it happened this weekend. Naturally such a big success means that you can expect a sequel!

Anyway sorry for all this rambling, and let me get back to our discussions. The future, as I think I have mentioned, is at the mercy of us securing some further investment. Our local banker, Mike Fiox, star though he is, can not really advance us any mor, leaving us rather at your mercy in finding more cash at short notice.

You mention making the journey to Dubai. If this is necessary, then of course to smooth the wheels of business this can be organised. We so want to help you get what you undoubtedly deserve. When would you like to see us? Dr Browne has told me that he is keen to meet you face to face in any case. We can raise the amount you have asked for and can bring it down for the meeting.

Let me know what suits best. This little drama of ours makes me feel like I am in a movie!

MARTY
---
Mr Ahmed, ever optimistic, is keen to press ahead.
MR.FAROOQ AHMED
Subject: Remind
Date: Mon, 11 Jul 2005

Dear Marty Mcfly,

I hope all is well with you and your partner Dr. Brown?, Kindly let me know your situation as reagrds to our transaction so that we can proceed as soon as possible. Am just reminding you since i have not heared from for some days now.

I await for your urgent response soon, Tthanks and God bless you.

Best Regards

Farooq Ahmed.
---
MR.FAROOQ AHMED
Subject: I got your mail
Date: Wed, 13 Jul 2005

Dear Marty Mcfly,

I quite appreciate your kind response and Am happy to hear that you people have finally succeded in securing the flux capacitator, Let me congratulate you for your hard work because I know is not easy and more grease to your elbow.

Well, If you people wish to come down to Dubai for this transaction It will be good for me so that we can meet face to face and discuss more in terms of other investment opportunities in the Middle East. But first'' We need to secure some documents in order to back up your journey to Dubai to avoid any hitches while you people are making further claim in Dubai, The documents am talking about are: Change of ownership certificate under your name as the beneficiary and Power of Attorney that certifies and Authorise you people to receive and claim the consignment in Dubai.

Kindly inform me when will be convenient for you people to be in Dubai? So that we can start the arrangement with the lawyer in respect of these documents because it has to be secured and as soon is ready I will forward the copies to you people immediately before you people arrive Dubai, So let me know when will be convenient for you to travel and? If possible let us mobilise the lawyer financially so that he will proceed to court for the procurement of the documents as soon as possible while am making arrangement to receive you people in Dubai as well.

Thanks and God bless, I await your urgent response.

Best Regards
Farooq Ahmed.
---
MARTY McFLY
Date: Wed, 13 Jul 2005

Dear Farfuq

This all sounds very promising and I must admit to some growing excitement as this business begins to take shape. I have spoken with Dr Brown and he too is determined to push ahead as soon as possible having been persuaded of your honesty. We have checked our schedules and, now that the flux capacitor is virtually finished, we can be with you almost yesterday, so to speak.

Perhaps we can meet up sometime next week. I am afraid that neither of us have been to Dubai before (the nearest I have been is El Smegaroon, do you know it?). If you can recommend somewhere decent to stay, nowhere that will cause any attention to our little party then we will be pleased to hear of it. By all means let us have the documents you mention to look over. We can bring them with us.

Incidentally, so as prove beyond doubt that we really have a working capacitor, Dr Brown has asked me to attach a picture. Please keep this confidential. You may not be a scientific man, but you can take my word for it that, once it has been taken through the development stage, this little beauty will prove revolutionary.

Please write soon my friend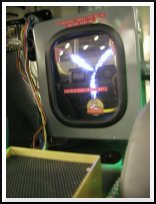 ---
MR.FAROOQ AHMED
Subject: I NEED YOUR PASSPORT COPY OR DRIVING LICENSE
Date: Thu, 14 Jul 2005

Dear Marty,

Thanks for your mail, I got the flux picture and Am glad that everything is moving great as you can see that you people have been able to achieve that flux capacittor. My greetings to Dr Brown too for his contribution towards the upliftment of your scientific project.

However, I spoke with the lawyer in respect of the documents and he demanded that you should scan and forward your photo page of your international passport or driving license so that he will use the detail inside it to secure power of attorney as a letter of authority that binds us together in this transaction.

I have already given him some money for that so I urge you to scan and send the above mention passport copy in order to forward it to him for his legal action, According to him he told me that as soon he receives your details it will only take him a day to secure power of attorney under your name. But please bear in mind that you people have to assist me financially so that the lawyer will be able to secure change of ownership certificate too before your arrival next week and kindly be specific to me the actual date of your arrival in Dubai.

As soon as you send me your flight schedule I will make arrangement for good hotel where you people will stay, Dubai is a tourist country where the whole world come for tourism and shopping and a good security network for forigner's.

Kindly send me your passport copy either your's or Dr. Brown driving license as soon as possible, Thanks.

Best Regards
Farooq Ahmed.
---
MARTY McFLY
Date: Thu, 14 Jul 2005

Dear Ahmed

I am attaching a scan of my drivers licence and hope that will suffice.

We are getting very excited about meeting up with you now. Let us know when will best suit you and we shall make every effort to be there and see that you are given what you deserve.

Incidentally, Dr Brown asks if you would like us to be there at any particular time. With the new capacitor, time is not a problem.

MARTY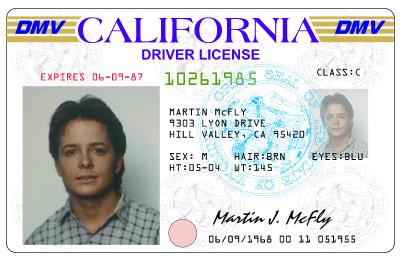 ---
MR.FAROOQ AHMED
Date: Fri, 15 Jul 2005

Dear Marty,

Thanks so much, I got your drivers licence and right now am forwarding it to the lawyer for onward procurement of power of attorney by tomorrow, As soon the lawyer secured the document tomorrow I will forward it immediately to you.

Don't worry about the hotel, I will make sure I get you people a comfortable hotel with privacy and I believe that you people will enjoy your trip to Dubai. To be precise I will love to see you people on or before 25th of this month, Please check if it is convenient for you people? and let me know ok.

My special regards to you and Dr. Brown, By tomorrow I will make sure you receive the power of attorney. Thanks and God bless.

Best Regards

Farooq Ahmed.
---
MARTY McFLY
July 16

Dear Farooq

I am pleased that it arrived and all seems satisfactory. It is not a very good likeness of me, but I am happy to get your positive view back. Now, to the future and the 25th seems fine. I do hope that I can persuade Dr Brown to come as sometimes he vanishes off practically without warning and I find it hard to track him down. This happened last week, and it turned out that he'd had all sorts of adventures without me!

We await the power of attorney. Will it be OK to sign and process all the paperwork once we get to Dubai?

MARTY
---
MR.FAROOQ AHMED
Date: Sat, 16 Jul 2005

Dear Marty,

Attached is the Power of Attorney/ Letter of Authorisation from Dubai Judiciary court division, Please kindly acknowledge the receipt of this document for further claim in Dubai.

Ofcourse there is consignment release order form which you will be require to sign from the Diplomats as soon you arrive to enable them deliver the boxes to you in your hotel apartment in Dubai and I will be with you too to witness the delivery.

Right now, We need to secure the change of ownership certicate under your name too so that you will be equiped legally to receive the consignment without any querry as you are making further claim. The lawyer is demanding for his balance so that he will release the change of ownership certificate to me as well.

Kindly assist me so that we can get this last document from him, It is very very important that you have it before your arrival, I await your response as soon as possible.

Thanks.

Best Regards
Farooq Ahmed.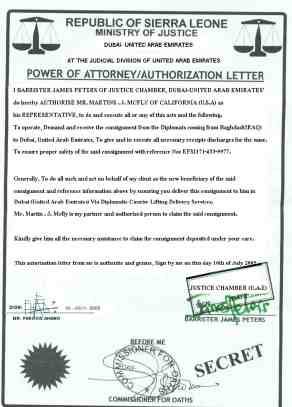 ---
MARTY McFLY
Dear Ahmed

I am very pleased and impressed by your document, which reflects fully upon your ability in this business so far. Have you found a hotel for us in Dubai yet? Alas, the Doctor is off on one of this jaunts and I have been unable to contact him, but during his absence I trust your judgement implicitly. I know that he will want things settled soon, after all time will soon pass.

By the way would you like to try out the flux capacitor when this matter is over and resolved? I am sure that you would find it fascinating.

MARTY
---
MARTY McFLY
Dear Farooq

I was wondering what the news is as far as this transaction proceeding? Surely modalities are pressing? Should I make the reservations for Dubai? We have no time to lose. Until we heard from you we were at our wit's end about further investment I don't mind admitting, and need to get back to future happiness.

Marty
---
MR.FAROOQ AHMED
Subject: URGENT ATTENTION
Date: Tue, 19 Jul 2005

Dear marty,

There is no problem, You can still make your hotel reservation as soon as you come in. I can even come to the airport to pick you up because we have only five days left for your arrival, I will need your flight schedule in order to make the reservation properly. But sir, The pressing issue now is the last dcument which you are suppose to have with you before your arrival.

We need to secure that as soon as possible let us be sure of smooth transaction in Dubai, I do hope you understand me right because without that change of ownership under your name it might hinder the delivery of the consignment to you.

Kindly send me the money($970 dollars) dollars via western union transfer through my protocol officer, Below is his detail:

Mr. Valentine Uchenna Ndukwe

United Arab Emirates(Deira- Dubai)

Once you send it, Try and scan the payment slip and send to my box immediately.

You can call me on this telephone number (+971-50 464 1207) for oral discussion on the need for the document, It is very urgent.

Thanks and God bless, My regards to Dr. Brown.

Best Regards

Farooq Ahmed.
---
MARTY McFLY
July 21

Dear Farooq

What is happening with this business? I am a bit concerned. Would it be possible for you to recommend and make a hotel reservation for us? Please advise.

MARTY
---