From: Mr Scott Smith <concern2@att.net>
Subject: Vital Info Please Read Carefuly From Atlanta GA..&..Urgent Response Is Needed !!
To:
Date: Monday, August 8, 2011, 7:51 AM
Hello,
I am Mr. Scott C. Smith the Assistant Director Inspection Unit/United Nations Inspection Agent in Hartsfield Atlanta International Airport Georgia USA. During my recent withheld package routine check at the Airport Storage Vault, I discovered an abandoned shipment from a Diplomat from London and when scanned it revealed an undisclosed sum of money in two Metal Trunk Boxes weighing approximately 25kg each. The consignment was abandoned because the Contents of the consignment was not properly declared by the consignee as "MONEY" rather it was declared as personal effect to avoid interogation and also the inability of the diplomat to pay for the United States Non Inspection Charges which is about $3,800 USD. On my assumption, each of the boxes will contain more than $1 Million to $1.5 Million each and the consignment is still left in our Storage House here at the Hartsfield Atlanta International Airport Georgia till date.
The details of the consignment including your name, your email address and the official document from the United Nations office in Geneva are tagged on the Metal Trunk boxes. However, to enable me confirm if you are the actual recipient of this consignment as the assistant director of the Inspection Unit, I will advise you provide your current Phone Number and Full Address, to enable me cross check if it corresponds with the address on the official documents including the name of nearest Airport around your city. Please note that this consignment is supposed to have been returned to the United States Treasury Department as unclaimed delivery due to the delays in concluding the clearance processes so as a result of this, I will not be able to receive your details on my official email account. So in order words to enable me cross check your details, I will advise you send the required details to my private email address which is ( mrscottsmith147@gmail.com) for quick processing and response. Once I confirm you
Lastly, be informed that the reason I have taken it upon myself to contact you personally about this abandoned consignment is because I want us to transact this business and share the money equally since the consignment has not yet been returned to the United States Treasury Department after being abandoned by the diplomat so immediately the confirmation is made, I will pay for the United States Non Inspection Fee and arrange for the boxes to be delivered to your doorstep Or I can bring it by myself to avoid any more trouble. But I will share it 50%/50% with you. But you have to assure me of my 50% share. Below is my direct telephone number but if you are unable to reach me know that I am on inspection just email me and make sure you include your mobile number so that I can give you a call. I wait to hear from you urgently if you are still alive.
Mr. Scott Smith Assistance Inspection Director Hartsfield Atlanta International Airport 574 Airport South Pkwy Atlanta, GA 30349-8642 Tel: (206) 518-9639 mrscottsmith147@gmail.com
Filthy McNasty
On 8/8/11:
Dear Mr. Smith
I advise you to send the boxes immediately and quit trying to screw with me. Where did you get the idea I was dead? Do dead men write e-mails?
All fees have been paid for these boxes and if you dare open them I will have you arrested. That is some kind of scanner that can discern paper through metal. The boxes have diplomatic seals on them and are perfectly legal. You will also note that The Office of Homeland Security has authority over this matter. You have no jurisdiction within the boundaries of the United States. Don't screw with me I will bury you. I have connections within the UN If you don't believe me just check out the attached ID card. Dr. King is a personal friend of mine
Save yourself a heap of trouble and send the boxes now.
Filthy Mc Nasty
I attached Dr. King's altered ID from a previous scam but retained the picture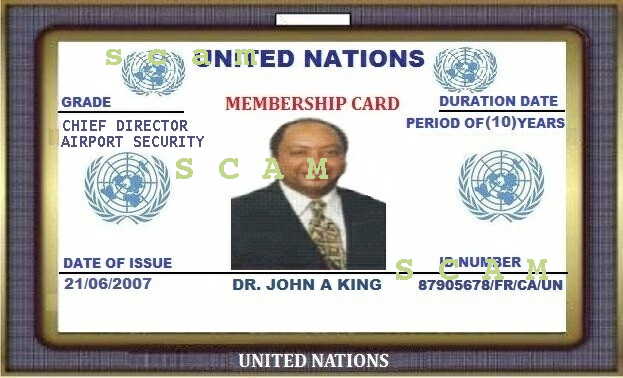 Mr Scott Smith
Subject: Re: Vital Info Please Read Carefuly From Atlanta GA..&..Urgent Response Is Needed !!
Date: Tuesday, August 9, 2011
Hello McNasty,
Thanks for your quick response. To ensure the full protection of you and me, I would respectfully request we maintain confidentiality.
Furthermore, for you to have full confidence of the existence of this consignment, I have attached to this email a confidential copy of the US Customs Ultra Scan Report(For Your Eyes Only) which indicates that the trunk boxes have been scanned and confirmed to be filled with United States Currency to the amount of $1 Million to $1.5 Million each so in order for me to negotiate with the airport vault authorities for the release of the withheld package to you, I will go ahead and pay for the US Non Inspection Charges of $3,800 which was the main reason the consignment was with-held by the Hartsfield Atlanta airport authorities here in Georgia since these charges were not paid by the diplomatic agent delivering this consignment to you from London.
Please note that once I have been able to clear these release requirements, I shall board the next flight to your city to deliver these boxes to you but you have to assure me that my own share of the funds which is 50% will be given to me on my arrival, also I will attach a copy of my passport in my next email to you for facial recognition immediately I get to your city Airport or any venue suitable for us to meet.
At this point, I advice you wait to hear from me once I have paid for the Non Inspection Charges and concluded negotiations for the release of the consignment to you which could be completed later today, but which you have to assure me once again that my own share of the money will be given to me as I am taking a big risk doing this process on your behalf. I would respectfully request that you keep the contents of our communication confidential. I am making use of the opportunity since i will be retiring soon without anyone knowing about it, unless if you reveal it to a third party, which i would strongly advice you never to do so. Do send me a copy of any means of identification for recognition and the nearest airport close to you.
Warmest regards,
Scotty
(206) 518-9639
Filthy McNasty
On 8/9/11:
Dear Mr Scott Smith,
You are speaking out of both sides of your mouth. On the one hand you say that the boxes were scanned and contain 1.5 million. From the other hand comes a non inspection fee of $3,800. Is not scanning a form of inspection? By the way where is the scanning report you were supposed to attach. I need a copy also of the receipt you received for the non inspection fee even though they were inspected.
Apparently you do not know who you are dealing with. I have shown you the ID of Dr. King. To this point I have not contacted him but you leave me no other choice. I will give you one last chance. Release the money and have them grant you a waiver of the fees for a UN dignitary or else I will contact Dr. King. I will not pay the $3,800 fee and I sure as hell will not share any of the monies with you other that reimbursement for your airline fare and reasonable expenses. It is my money. DO I MAKE MYSELF CLEAR!!!! I will consider a bonus for you when the monies are in my possession. The information as to my location is contained with the manifest for the boxes. I will present you with identification when you reach my door.
Filthy McNasty
I resend the altered ID card of Dr. King
Mr Scott Smith
Wednesday, August 10, 2011
Please i need to hear from you call me on 206 518 9639 or better still respond back to this email with your phone Number so i can return the call very important..
Mr Scott Smith
Wednesday, August 10, 2011
Hello Filthy,
I have been able to secure the release of the consignment after a heated negotiation with the airport vault authorities. I have also paid for Non Inspection fees of $3.800 which was the main reason the Diplomat abandoned the Consignment because he was unable to pay the fee but after making payment I have been required by the custom airport authority to settle the accumulated demmurage fee of $1,980.00 Otherwise, the flight company would not board me. I am left with only $1,100 after paying for the Non-Inspection fee. This process requires me to make the payment to their paying office here before they will issue their receipt paper. This receipts serves as an evidential prove, thereby satisfying luggage as genuine and legitimate having passed Hartsfield Atlanta International Airport Georgia satisfactory examination.
The situation is made worst, considering the fact that I do not have access to the boxes. I would have opened it and take some money to complete with $1,100 I have. It have become imperative for you to support at this point, so that, I can complete the money. What is left now is $880. Due to the exigent situation, we need to round this up fast today. Do try and send the $880 to me so that I would add to my $1,100 to complete needed $1,980. Remember that this cost is for me to pay for the accumulated demmurage fee and proceed immediately with the boxes to meet you. It is also unanticipated cost which I did not bargain for hence your understanding and assistance is highly needed.
You are to Send the money through Western Union money transfer with the below information and email me the information as soon as possible. This is the only role you are to play in this delivery process. I shall leave Atlanta tomorrow to meet you once I receive the $880 from you and pay for the demurrage. I hope you recognize my effort so far in this process, in ensuring a safe delivery and to guide against any unforeseen circumstance. I have attached here my passport for facial recognition at the airport.
Payment Info: Receiver Name: Shirley Jones
Address: Georgia USA
Text Question: Low
Text Answer: High
Amount: $880
Do you intend to meet me at airport or do I rent a cab to your address? Let me know this quickly, importantly, we have no other alternative than to break the Trunk boxes, because I do not have access to the keys. I have also attached the receipt of payment for the non-inspection fee. I will send you a copy of my flight schedule as soon as I get the payment information to complete the release of the consignment.
I am waiting for the Western Union payment information from you.
regards,
Scott
Shirley Jones the woman from the Partridge Family? Maybe the question and response should have been David and Cassidy.
---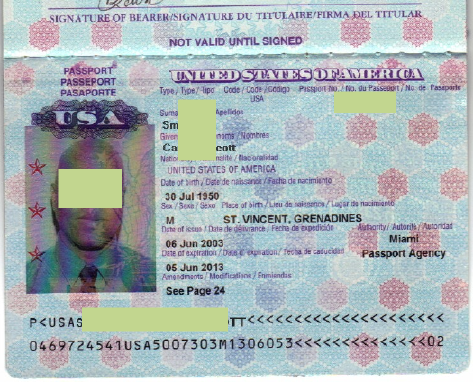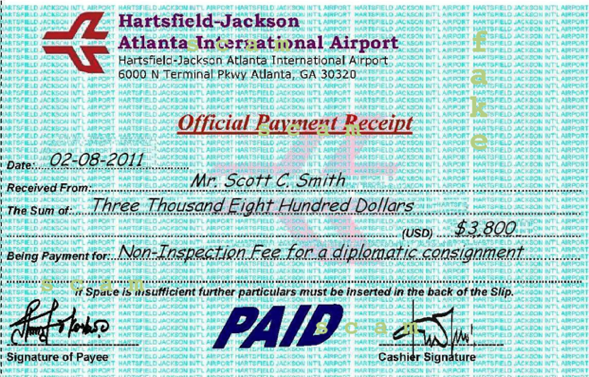 Filthy McNasty
Wednesday, August 10, 2011 11:23 AM
Dear Mr Scott C Smith,
I see by the attached receipt that you have been waiting at the airport since the second of August yet only contacted me on the eighth. You have wasted a lot of your valuable time by delaying. I believe you should take a cab to deliver the money to me as I am located in Arizona.
To tell you the truth I am not really interested in the money as I am already a millionare from the publishing rights of a song they wrote about me in 1961.
http://www.youtube.com/watch?v=x1a_SsTG-FE
Since you seem to have so much spare time on your hands you might want to listen to it. Its a nice little tune.
With all my Love
Filthy Mc Nasty
Manufacturer and Purveyor of
The World's Finest Sex Toys
Toyko, Arizona
"We put the freak in freakin' "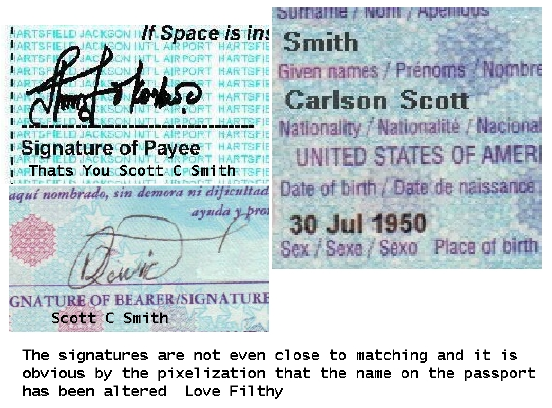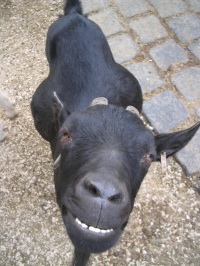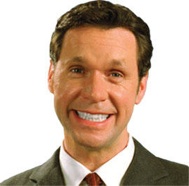 ---
Failure Notice
Wednesday, August 10, 2011 11:23 AM
From:
This sender is DomainKeys verified "MAILER-DAEMON@nm16.access.bullet.mail.mud.yahoo.com"
To: Filthy McNasty
Sorry, we were unable to deliver your message to the following address.


<mrscottsmith147@gmail.com>:
Remote host said: 550 5.2.1 The email account that you tried to reach is disabled
I guess Mr. Scott had his account disabled shortly after sending this or gave up on the scam. -- Filthy