*************************************
**Begin Subspace Transmission**
*************************************

Paul Usoro
From: Paul Usoro <pu03@hotmail.fr>
Sent: Aug 20, 2007
Subject: Your Reply.

Barrister Paul Usoro.Paul Usoro & Solicitors ,USORO CHAMBERS,Telephone: +234-1-7632969Plot 1011, Ween Crescent,Lagos Nigeria Dear Friend , I want to crave your indulgence on this information and hope you will give your cooperation to facilitate the execution. I am Barrister Paul Usoro esq., attorney at law and personal lawyer to a late expatriate who died in the restive Niger Delta region of Nigeria.He died during militant attack on the Okan field servicing crude oil vessel where several others were also held hostage . I will apprecaite if you go through this sites and see the happening in that region:http://www.vanguardngr.com/articles/2002/headline/f121012006.htmlhttp://news.bbc.co.uk/2/hi/uk_news/6734173.stm My client was unlucky to have lost his life in one of such attack. He has US$6.8 million debts owed him by the Federal Government now approved for disbursement.This amount emanated from his contractualdebts owed him by the Oil servicing company.Since he left no next of kin to the best of my knowledge, the paying ministry and bank have instructed for his deposited funds to be processed and paid to proxy next of kin. I am seeking your urgent reply to this important information so that I can file your name as the next of kin for the money to be turned over in your favour.The government has given order to the holding bank to urgently release the money valued US$6.8 million to the next of kin. I have made several enquiries to locate any of my clients immediate relatives and this has proved unsuccessful. We shall share the money, 60% to me and 40% to you .We shall secure all necessary legal documents that will be used to back the claim from the high court here.
All I require is your honest cooperation to enable us see this deal through. I guarantee that this will be executed under a legitimate arrangement that will protect you from any breach of the law. As soon as you avail your consent and reply back, I will give you more information . Furthermore, I will be glad to speak with you, so please email to me : 1. Your names.2. Your telephone number.3. Your full address4. Your Age and Occupation.
Please give this information utmost priority. Sincerely Yours, Barrister Paul Usoro esq.Principal Partner,Usoro Chambers & Solicitors

J.L. Picard
Paul,

I believe you have confused me with someone else.

J.L. Picard
CEO, Director
Federation Enterprises
1701-D Utopia Planetia Way
San Francisco, CA 41153.7
Paul Usoro
Received: from [41.219.201.52] <-- Starcomms, Lagos
Date: Mon, 20 Aug 2007
From: Paul Usoro <paulusoro_2007@yahoo.es>
Subject: Its for you.

Dear Picard,

I received your mail and the contend was noted. The first mail i sent to you was for you and not someone else.

I want you to go through the mail again and let know if i can really TRUST you to present you as the next of kin to my late client.

If, you believe you can help me secure these fund to your account, get back to me.

As soon as i hear from you, i will give you more details. you can call me on my cell number : +234-1-7632969.

Waiting to hear from you.

Paul Usoro
J.L. Picard
Paul,

You may address me as Jean-Luc or Mr. Picard. How can I be assured that this was, in fact, meant for me when there was only empty subspace in the name of your original transmission? My 27 years as a Captain in the Royal Navy should attest to the level of my trustworthiness. Send me some sort of proof that this was meant for me. Engage.

J.L. Picard
CEO, Director
Federation Enterprises
1701-D Utopia Planetia Way
San Francisco, CA 43989.1
Paul Usoro
[41.204.224.24] <--- Dynamic IP pools for Direct on PC Ltd Fixed wireless broadband, wireless Internet services for Abuja and PH.
Date: Mon, 20 Aug 2007
From: Paul Usoro <paulusoro_2007@yahoo.es>
Subject: Lets work as a team.

Dear Mr. Picard,

Thanks for your reply.
What we are about doing is REAL and LEGAL.I want to re-assure you that, you have nothing to lose or fear in doing this transaction with me. We shall follow all the due process of the law to ensure that you become the legal next of kin to my late client.

It does not really matter if, your name was missing from subspace in the original transmission.

The important thing is for us to agree to work as a team and secure the fund US$6.8 million to your account.

The Holden bank gave me the notice to come up with the next of kin, failure with, they will confiscate the funds and return same to the treasury of the Federal Government Of Nigeria as required by the laws of my country. For you to be recognized as the legal next of kin, we shall secure the under listed documents in your name and favor from the court here in Nigeria:

1.AN AFFIDAVIT OF CLAIM
2.A LETTER OF ADMINISTRATION DULY APPROVED BY THE COURT.
3. A PROBATE TAX RECEIPT.

I will appreciate it if you can send me your full details to enable file the application at the court in your favour as the next of kin to my late client.

1. Your Full Names
2 Your Full contact Address
3. Your Occupation and age
4. Your Telephone

Once we are able to get the above documents from the court, you will send same to the Holden bank together with a letter of claim so that the funds will be released into your bank account.

I want you to maintain strict confidentiality and secrecy at all times. In your reply, you should tell me which kind of investment that is open in your country into which I will channel my own share into.

I will be very grateful if you can send either a copy of your driver's license, international passport or any other identification.
I await your urgent reply today. Please, fill free to call me on my cell phone: +23417632969

Regards,
Barrister Paul Usoro
J.L. Picard
[**-- Editor's Note: With this email, I sent a picture of Capt. Picard from the ST:TNG episode "Qpid" in his Robin Hood garb against a blue background as my "passport" picture! Picard's phone number is a combination of a San Francisco area code and an Atlanta location of Starship Enterprises adult stores :-) ]
Paul,

Apologies for the delay of response. I was meeting with my senior staff yesterday afternoon concerning our next project. I shall entrust the legalities of this transaction to you. Make it so.

Full Name: Jean-Luc Picard

Mailing Address
1701-D Utopia Planetia Way
Deck 9, Room 3601
San Francisco, CA 47988.1

Occupation: CEO and Director of Federation Enterprises

Age: 59

Phone: 415-766-8250

Due to identification theft and privacy concerns, not to mention possible attempts at cloning, I am unwilling to send my drivers license over subspace. Additionally, the Charter of the U.F.P. prevents me from copying my passport for transmission. It is just as well, because it has expired. I do not travel a great deal internationally these days. My health is not as good as I would like, due to my artificial heart. When I was 23, I was impaled in the chest by a nausicaan blade which damaged my heart and I had an artificial one implanted. My doctor, Dr. Crusher, says I'm fit as can be, but sometimes I just don't feel my best. But I digress... I have enclosed the picture from my passport. I hope this will suffice in the interim.

If you are looking to invest your credits into another venture, my company, Federation Enterprises, is a shipyard building the finest wessels to ever set sail. We always welcome new investors. Our current project is the USS Lollipop. She's a good ship. The meeting yesterday afternoon concerned our next project, the USS Stargazer. We are currently seeking new investors for this project. If you are interested, I would need to bring my Number One, Bill Riker, on board as he is my second in command. Let me know immediately so that I may get Data. Make it so.
Paul Usoro
Received: from [41.219.194.44] <-- Starcomms
Date: Tue, 21 Aug 2007
Subject: beginning procedures on wednesday.

Dear Jean ,
I am in receipt of your details that you sent. I will commence procedures Wednesday.However things go, be assured I will keep constantly posted.
Again, I want to enjoin you that you follow up all steps that shall be employed as I will be giving you daily updates as soon as the filing process is done successfully.

I will get back to you on Wednesday to update you .

PLEASE MAKE SURE THAT WE MAINTAIN CLOSE COMMUNICATION AS WE BEGIN THIS CLAIM PROCESS IN YOUR FAVOUR CONSIDERING THE FACT THAT YOU ARE PRESENTLY NOT HERE TO SEE THINGS YOURSELF. ALSO BE ASSURED THAT I TAKE RECOGNITION OF YOUR PERSONALITY AND ESTEEMED HONESTY. DO NOT LET ME DOWN AS SOON AS THE BANK TURN OVER THE FUNDS IN YOUR FAVOUR AND INTO YOUR BANK.

You can always reach me at all times on telephone number : 01123414193731.

My regards,

Mr.Paul.
Paul Usoro
Received: from [41.219.195.54] <-- Starcomms, Lagos
Date: Wed, 22 Aug 2007 41.219.195.54
Subject: The process begins today.

Jean,
I am going ahea with the process today wednesday.
I made several efforts to speak with you on tuesday through the telephone number you gave to me.But the operator on the other end mentioned that the telephone number was not in use. Could you please check and give to me the right numbers. it is important that we establish telephone communication as I must be giving you update date progress made .This is in the event i am busy and cannot immediately have access to the internet for emails to you.
As I mentioned, I desire your unwaivering cooperation as we begin the entire process today.
I will keep you posted on progress to be made today.
Sincerely,
mr.Paul Usoro.
J.L. Picard
Mr. Paul,

I believe I asked you to address me as Jean-Luc or Mr. Picard. You may even address me as Captain, as I served for many years in the fleet. It is a simple show of respect between two professionals to address one properly.

I apologize for your not being able to reach me by phone yesterday. My secretary, Uhura, tells me that there was a GNDN conduit breakage due to a shuttle accident that affects all international incoming and outgoing hails. Domestically, everything seems to be functioning normally. Apparently the shuttle driver did not see a Ferengi Financial Services truck that was pulling out in front of him and he swerved the shuttle to avoid hitting the truck. In doing so, his shuttle slammed into the GNDN conduit. It has been a madhouse around here as a result. An engineer tells us he's not a miracle worker, but he'll try to have everything back up and running within the next three weeks, which probably means it will be two weeks.. The cable splicers are on back order from Risa Industries. Needless to say, I am not pleased.

In any case, during our daily senior staff meeting, we finalized plans for the installation of the tachyon emitters, signaling work on the USS Stargazer will begin soon. The good ship USS Lollipop will begin her worthiness testing and trials by the end of the year and could see service as soon as February. This news has brought a bit of cheer to the rest of the staff in light of the communications outage.

I believe you will be a fine addition to our investment group for the ongoing work on the Stargazer. Generally, we name one of the decks of the ship after our investors. I believe we shall reserve the holodeck for your name once she is christened. If this meets with your approval, I will have our bursar, Daimon Bok, make it so. It may require some maneuvering for your name to appear on the holodeck, but I am known to be quite the maneuverer. Do not worry. If all goes well, she will be launching within five years.

I await your next communiqué.

J.L. Picard
CEO, Director
Federation Enterprises
1701-D Utopia Planetia Way
San Francisco, CA 41723.9
Paul Usoro
Received: from [41.219.202.25]
Date: Fri, 24 Aug 2007
From: Paul Usoro <paulusoro_2007@yahoo.es>
Subject: Mr.Piccard...this is very urgent pls.

Dear Mr.Piccard

There is urgent need for the payment of US$4350.00 for the issuance of transfer of right of title. I have completely filed all the necessary paper works and now, the IRS Inland revenue service must receive the above amount on or before tuesday next week.
I want you to arrange the amount and let me know so i can advice you on how to send it.Upon the payment of the fee all documents will be issued .i will send all copies to you as well. Once that is done, we can then approach the bank for claims/release of the deposit money in your favour. The bank have also sent their lawyers to the court to sign all MoU. Please this is very important and i want you to get back to me as soon as possible.
Thank you.
Mr.Paul Usoro.
J.L. Picard
Mrs. Paul,
I am pleased to receive your transmission. In order to secure these funds, I must speak with my Chief Financial Officer Daimon Bok, but I believe you asked to maintain the utmost secrecy. Please advise if this meets with your approval.
You have not responded to my generous offer of your investment with my company, and specifically on the Stargazer project. Does this interest you in the least? We have earmarked a portion of your investment for the purchase of six new pulse modifiers which are needed for the Stargazer. It is absolutely imperative that you respond as soon as possible. Our Chief Engineer, Geordi LaForge, is counting on these modifiers to arrive prior to the installation of the subspace graviton reactor. I do think he will go absolutely blind with rage if he cannot get those modifiers installed first! With your pledged generous contribution, we will obtain the necessary credit approval from our lender Quark, Rom & Associates to proceed with the order.
On a personal note, at the conclusion of this transaction, you absolutely must come to San Francisco and join me for a cup of tea, Earl Grey, hot. There is a small bistro close by called Guinan's Ten-Forward Lounge whose Earl Grey is out of this world. We are having a small company gathering there this evening to celebrate the birthday of our head of security, Tasha Yar. I have taken the liberty of ordering a cellular peptide cake with mint frosting, which is her favorite. Guinan's also has the freshest seafood this side of La Barre, France. My personal favorite is Livingston Filet, a succulent cut of the finest lionfish. It is a true delicacy that I believe you would find most agreeable.
Let me know how to proceed with the procurement of the funds. Make it so.
J.L. Picard
CEO, Director
Federation Enterprises
1701-D Utopia Planetia Way
San Francisco, CA 47225.7
**Useless Trivia Red Alert: In The Next Generation, Capt. Picard had an aquarium in his ready room containing a pet lionfish named Livingston. Sounds like a tasty morsel to me!
Paul Usoro
Received: from [41.219.202.25]
Date: Sat, 25 Aug 2007

Dear Mr.Picard ,

I want to express my gratitude for the offer of investment with your firm.I am confident that you are honest and trusted.
I have always in all my life journey, take one problem at a time.As problems arises, I solve them and move over to others.I am a very optimistic personality.
Basically upon the completion of this transaction, I will come over there to meet with you.It is quite generous of you to have invited me .You must be a very kind and humane personality.Thanks for all your considerations.And i approve of them in totality.

It is expedient that the details of this transaction must be absolutely confidential. I repose my TRUST only on you.So I would suggest that we do all we could in our relationship to first secure the funds in your favour, then we can go ahead and put into investment. Your choice of investment is quite interesting and meet my aspiration and approval. But my utmost priority right now is to deliver. We must do the right things now. Since all the applications have received assent, the ability to offet the US$4350.00 is a sucur in our efforts.So please , do all you could to raise the money between now and monday .Let me know the readiness and I will advice you on how to get it down here.

I want to assure you that all your suggestions meet my interest and i look forward to meeting you soonest.

The whether here is quite ok, and I may go for swimming in the afternoon.I swim for relaxation .

Have a pleasant weekend, and my greetings and felicitation to the celebrant.

I hope you can get a working telephone number.please send it to me, I will be glad to speak with you.As we move on , we must establish a very close contact with each other especially voice to voice. Friends and partners in progress must be close to each other. Or call me, 01123414193731 .

Regards,

Mr.Paul Usoro.
J.L. Picard
Mrs. Paul,

Splendid! I am elated that you have agreed to visit our small corner of the galaxy. I shall have Uhura hail Guinan's to make ready Ten-Forward for your arrival. How soon to you anticipate the conclusion to this transaction? I will need to know so that I can prepare Guinan's for our arrival. The celebration will be worthy of Kahless! Say, do you like seafood?

I take your communique to mean that you approve of my involving Daimon Bok. Unfortunately, he is out of town until Tuesday securing additional investors for the Stargazer project. He is due to arrive by transporter early that morning, assuming he is not as terrified of them as my friend Leonard McCoy. Leonard (we call him Bones) absolutely cannot stand transporter technology. He says he feels like his atoms are scrambled every time he gets in one. I do not think Bok has the same inane fear, so he should be here on time Tuesday. This should give us time to obtain the $43.50 for the transfer documents and have it to you by close of business. Send me detailed information with the exact instructions for transferring the funds to the proper entity.

Since you have expressed interest in the Stargazer project, I shall instruct Mr. LaForge to begin the process of obtaining the needed pulse modifiers. I hope he can see how important your investment will be!

It is rather funny you mention your relaxation techniques as I am on my way to The Voyager Theater where I take part in role-playing games as Dixon Hill, a fictional early 20th century detective. I find it most enjoyable! Several members of my staff also engage in this activity with me, playing a wide variety of characters. It is one of the few recreational activities I am able to enjoy due to my extremely busy schedule. The last holiday I was able to take was many years ago when I went on an expidetion to search for an ancient artifact known as the Tox Uthat (I'm a bit of an amateur archaeologist). Have you ever gone on an archaeological expedition? Quite exciting!

I shall relay your regards to Ms. Yar for her birthday celebrations. I am sure she will appreciate it.

An update on our communications outage... a team from Montgomery Scott's came by yesterday evening and performed some further analysis. It turns out that the shuttle accident also caused a feedback loop in the GNDN conduit which burned out the positronic capacitor in our communications array. I have contacted the manufacturer personally to ensure they have the parts in stock and ready to ship ASAP. This will facilitate the reparations to the GNDN conduit once the cable splicers arrive from Risa. I shall keep you informed as to the progress as it is relayed to me.

I hope you also have a pleasant weekend. My regards to your family.

J.L. Picard
CEO, Director
Federation Enterprises
1701-D Utopia Planetia Way
San Francisco, CA 46852.2
Paul Usoro
Date: Mon, 27 Aug 2007

Dear Mr.Piccard,

Here below is the revenue collectors agent bank account you should transfer the US$4,350.00 ( four thousand, three hundred and fifty United states dollars ). Upon the transfer, please scan and send copy slip of transfer to me as soon as possible.

NAme of bank: NATWEST BANK PLC.
Bank address: 37,HIGH STREET,NORTH EASTERN LONDON.
USD $ A/C NO.: 03531791.
SORT CODE: 60-07-18.
BANEFICIARY: AKRO PHAM LTD.

Back to your question on my arrival to meet with you. BAsed on the satisfactory progress we are making in this endeavour, I am absolutely sure that upon the fulfilment of the state legal prerequisites and the documents awarded and issued this week, we should have the authority issue a pay order mandate to the holding bank. Upon that I should if my visit can be made possible first or sencond week of september. I hope to begin the process of travel visa as soon as I am satisfied with all matters now. I will strongly be waiting to hear from you with the payment slip as i have to present the slip to the IRS to complete all probate formalities.

I want to reiterate that I am committed to all as you have mentioned in our investment strategies.Upon the completion of this transaction process, and the funds is turned over, I will begin my journey. Now, I am giving all my time and efforts to make sure that this matter is realized.

How was your weekend, hope you had a nice time. I had a good swimming exercise and I am fully strong for the week activities.

Hear from you soon.

My Reagrds,

Mr.Paul Usoro.
J.L. Picard
Along with this reply, I sent my "receipt"... looks authentic, right?
Mr. Paul,
Kahplah'! (This is an ancient greeting from another land, I forget which, but means "success!")
Bok transported successfully this morning. As soon as our transportation chief Mr. O'Brien brought him over, Bok and I went to the bank to initiate the funds transfer. The bank president, Mr. G. Nagus Zek, was very helpful in getting the transfer set up and ready to go. We incurred several additional fees for administration and processing, which was rather unexpected, but only a small inconvenience in the end. Mr. Zek said it could take up to five business days to complete the transfer due to several security checks that must occur before the funds would be completely moved. He mentioned checking the funds for possible scam or drug related activity, but I assured him that this was to be used strictly to complete our business transaction and facilitate your investment with our company. I had Ms. Rand scan a copy of the transfer receipt and have included it in this communiquC3A9 for your perusal. Let me know if everything appears to be in order on your end.
It was nice to visit the bank this morning because I had a few moments to speak with my old friend Officer Odo from the DS9 Precinct of the police department, which is next door to the bank. We have a long history, growing up as kids together. When we would play hide and seek, I could never find him because he would be a lamp or a sofa. What great fun we had! That was such a long time ago.
My weekend was quite enjoyable as well. Our acting troupe put on a show of Robin Hood at the Voyager for some children from the local orphanage. We had a fantastic public turnout! The rest of the time I spent reading or playing my flute. Very relaxing.
I look forward to your visiting us. There are many people here waiting to meet our next big investor! Please keep me informed as to your travel plans and arrangements. We will, of course, send a shuttle to meet you at the airport and bring you over.
Regards,
J.L. Picard
CEO, Director
Federation Enterprises
1701-D Utopia Planetia Way
San Francisco, CA 45944.1
P.S. Would it be possible for you to reimburse us for the additional fees we incurred as a result of the funds transfer? You can claim it as a business expense on your taxes.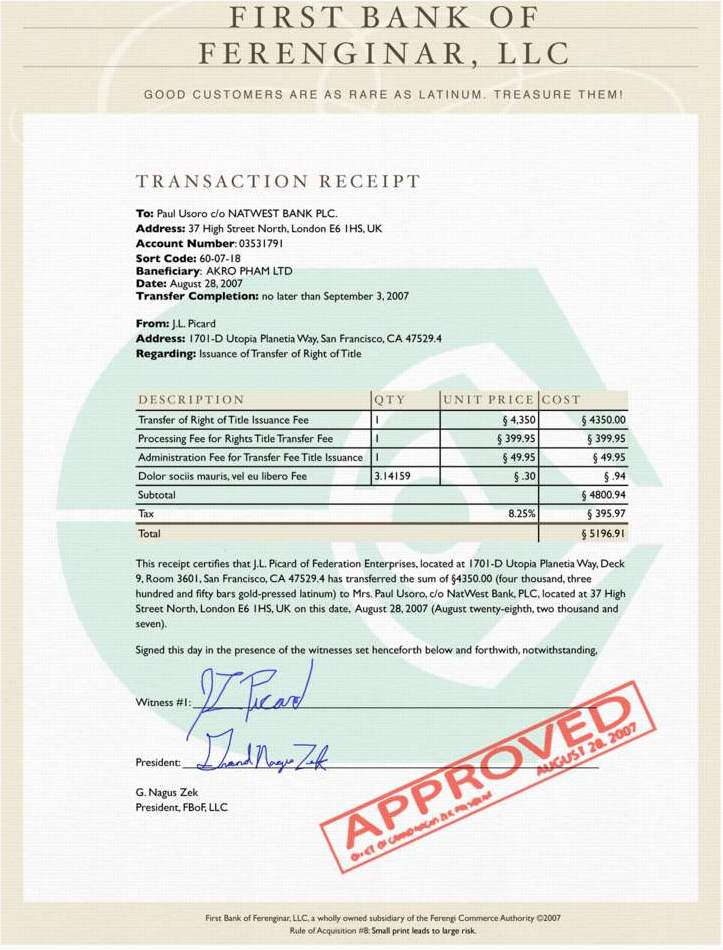 Paul Usoro
Date: Tue, 28 Aug 2007

Dear Mr.Piccard,

I received the copy of the transfer. I feel a bit disturbed over the 5 day period you mentioned the transfer would be completed . And again, was that the original bank transfer slip ?. Please let me have more detailed info on the transfer.

I appreciate all your efforts put up so far. And also, i want to reiterate that as much as i am committed to completing this assignment and meeting with you and other co partners of your firm, I also wish that we maintain absolute regard as we look forward to achieving this goal.

As i mentioned in one of my emails to you, I will begin my travel arrangements as soon as this matter is completed.I am fully committed to all matters concerning this matter right now. And I am sure that in the next few days upon handing over the payment slip to the appropriate IRS authority responsible for collection of revenues, once transfer is confirmed in the nominated account, all related documents shall be issued.And i will make them available to you as we approach the holding bank for release modalities.

NOTE STRICTLY: I hope in filing the transfer form you did not include any other information. The bank information must be correct and no additional details included. Please check that out because, in the slip you sent to me, i can see other details as my names and some other information.Please I want you to assure me as I will hand over the slip to the appropriate authority as I would not want anything that may jeopardize this exercise.

If possible on your time, please make the bank make the transfer swift so that the account can be credited in two or three days. this will be in agreement with the application I have initiated at the probate office. As you may know the administration of the inheritance must be in tandem with the state legal procedure.

If any other slip, please do send to me .

I am waiting to hear from you.

My Regards,
Mr.Paul Usoro.
J.L. Picard
Mrs. Paul,
I would not worry about the five day period. Mr. Zek stated that it could possibly take that long, but most likely would not. I got the impression from him that it would be more like two or three days at the most. I would check with your bank by Friday to see if they have anything yet. What I sent to you was what was handed to me by Mr. Zek himself after having it stamped with his seal of approval. The only information I gave to them was the information relayed by you. Since there was no complete address in your information, they had to look up the complete street address of the bank and Zek stated that they needed a name on the transfer, and the only name I had was yours. I do not think there is any cause for a red alert. Everything went without a hitch and Mr. Zek was satisfied with all the necessary paperwork. Even my esteemed Mr. Bok was not concerned about you receiving your funds. I feel completely assured that you will get that which is coming to you.
If you have not heard anything from your bank by close of business day on Friday, please let me know. I will endeavor to ascertain the status of the transfer in your stead. I will get Data on it right away.
Live long and prosper,
J.L. Picard
CEO, Director
Federation Enterprises
1701-D Utopia Planetia Way
San Francisco, CA 47988.1
Surely he can't keep this up, can he?