THE ORIGINAL SCAM LETTER

Subject: Fw: James XXXXX  Investment Fund (SMC).
Date:   Tue, 23 Apr 2002 21:53:13 +0200
From: tomtutu@canada.com
To: Kindly Contributor's Friend
Sent: Tuesday, April 23, 2002 3:15 PM
Subject: James XXXXX Investment Fund (SMC).

Attention: Kindly Contributor's Friend XXXXX.
Thank you very much for your response to my
proposal letter to you. I know and understand that
this letter will come to by surprise, but I think
that is the nature and destiny has made it to be.

This transaction am about to start with is a
very serious transaction, we (my colleagues and
me) have been working on this particular project
for the past three (3) years now and we have
committed a lot into this transaction to bring to
this level it right now and advise you to handle
this transaction very serious and confidential. We
need your support and assistance to conclude this
transaction as we cannot do it alone hence we are
all still working under the government.

This investment was made by Late George XXXXX a
Polish citizen in 1977 to South African Mining
Corporation, the late George died in the year 1987
leaving no will in whom this investment will be
paid to, after a very long investigation with out
success to find any living relative of the late
George who will stand as the beneficiary of this
investment, we decide to arrange on how to
transfer this money out of our country with the
help of a foringen partner who will stand as the
beneficiary of this investment fund.

This investment fund was approved for
disbursement since 1999 with the help of my
colleagues knowing fully well that will find
someone to stand as a beneficiary of this fund.
Right now every motion has been put in place to
have this money transferred into any bank account
of your choice, so long as you are going to give
us a Grantee that this money will be safe in your
account. Note: there is no risk involved in this
transaction, every situation has been taken under
control to have a smooth transfer of this money.
But before we proceed we must engage the services
of a lawyer in South Africa to start the whole
process by filing and legalizing your name as the
official beneficiary of this fund. This Lawyer is
also expected to follow the whole process and sign
all necessary government official documents in you
favour to see that this money is paid into your
account.

Please note: that this is very serious and this
transaction means so much to us and cannot afford
to spoil our chances of redeeming this fund and we
are about to entrust our future into your hand and
we believe that you cannot disappoint us.

Make up your mind towards this transaction as we
are not forcing you to do what you don't want to
do, if you are not ready for it please let me know
and if your are ready we are also ready to move
forward with you to realize this ""GOLDEN
OPPORTUNITY"" right at our door step. We can not
afford it to sleep out of our hands.

Please from hence fourth call me on this new
telephone number: +31-61-7858625 because of the
confidential nature of this transaction.

Thank you for your anticipated cooperation.

Thompson Tutu.

---
D'S FRIEND ALMOST TAKES THE BAIT, BUT THEN PASSES THE LAD'S NEXT LETTER ON TO KINDLY CONTRIBUTOR

From: tomtutu@canada.com
To: Kindly Contributor's Friend
Sent: Tuesday, April 23, 2002 5:03 PM
Subject: Re: Odp: James XXXXX Investment Fund (SMC).

: Attention: (friend)
: Thanks for you mail am ready also to work with
you provided you are ready to cooprate with me. I
have tried calling you on your telephone number
but the line is not connecting, could you please
give me another number or you home or office
telephone number to enable me contact you.
:
: What we are to do first is to get a lawyer to
start the whole process on your behalf and I have
already communicated with my colleagues in South
Africa to get a lawyer and you will be required to
communicate with this lawyer but you are now
telling that you cannot make international calls,
so how are going to do this?
:
: You know with out legalizing your name at
Ministry of Justice there will be no way to we can
realize this transaction. You need to think about
this now and make up your mind before we can
proceed.
:
: There was a mistake in my typing please the
correct name of the investor is Late George XXXXX,
please take note of the correction.
:
: Thank you.
:
: Thompson Tutu.

---
D COUNSELS FRIEND TO REPLY WITH TOUGH NEGOTIATING STANCE
D says:
My "brother" wrote to Tutu after being told about the 'extra' fees involved, and after this letter I took over, pretending to be Robert's sister.

From: Kindly Contributor's friend
To: tomtutu@canada.com



If You expect to earn 65 % of all money then I expect from You something more then just empty talking. Do not look for suckers here couse You`ll not find any. You know all the matter then You go and fix the problem. I`ll not pay You any penny in advance. If You are not be abble to finalize transaction then do not disturb me. I have no time for bullshit.
---
LAD IS INDIGNANT

From: tomtutu@canada.com
To: Kindly Contributor's friend
Sent: Wednesday, April 24, 2002 12:37 PM
Subject: Re: Odp: Odp: James XXXXX Investment Fund (SMC).

Attention: (friend's name)
I do not understand why you been complaining about being poor??? right
from the turn of your first mail. I want you to understand that this
transaction needs money to finance it and if you are not ready for this
transaction you better let me know now. This is a serious business and
not a child's play. If you can not make calls for a business of this
magnitude then how are you going to follow the progress or are you
expecting to sit in your house or office and money will come and knock on
your door. You have to reap from where you sow.

Am only telling you the truth as am about entering into mutual business
relationship with you. Please tell your stand and lets move forward or
not.

Thank you.

Thompson Tutu.

---
D STEPS IN AS "SISTER"
I took over here and (friend) forwarded my first letter to Tutu. I wrote him that I since (friend) was not interested in the deal I would pretend to be XXXx's relative and I can do business with him

From: tomtutu@canada.com
To: Kindly Contributor's friend, forwarded to Kindly Contributor
Sent: Friday, April 26, 2002 11:24 AM
Subject: Re: Odp: Odp: James XXXXX Investment Fund (SMC).

Dear D,
Thank you very much for your E-mail and the enquiry you are try to make
from me, you see I got your brothers name from Polish embassy in South
Africa (warsaw business journal) and wrote him seeking his assistance on
redeeming and investment made by Late James XXXXX with South African Mining
Corporation, to be frank I don't know who your brother was nor I have meet
him before but by virture of the fact that your brother share the surname
with the Late James XXXXX we deem it fit to approach him with this offer and
work together with him to see that this money is transferred into any
account of his choice, note this is just a proposal to him OK.

You brother replied my stating his interest in this transaction and asked
me about how to move forward with transaction which I in in deed informed
but the most annoying aspect of it all is that your brother keep writing
and telling me from the begging that he does not have money, that he is
very poor and have no cent to spend, he was writing to me as if am asking
him for money, which am not even interested in am only interested in his
interest to move this money out of South Africa.

I replied him telling him that this transaction needs money to finance it,
you are telling me that you cannot even make calls then how are you going
to follow the progress of this transaction, I was telling him the simple
truth
regarding this transaction, do you know what your brother replied me and
called me a ""Sucker"" that am looking for people to suck that he do not
have time for bullshit, what an insult on me? then I replied him and
thanked him for his insult on me, but that does not change my mind on this
transaction reather it will make me feel very strong and have faith in this
transaction because me and my colleagues have put in much to this
transaction and we cannot afford to have anybody spoil it.

With or without your brother we will archieve our aim, am right now
sourcing for another person who will understand this transaction and
willing to help and assist us finalize it, it will only take time but we
will surely get there. I am not happy with your brother and please tell him
that am not interested in taking his money am only interested to move this
transaction forward. Thank you for time if you are ready to and interested
in this transaction please get back to me.

Bye.

Tutu.

---
D "TAKES THE BAIT"
Now I enter the deal

Dear Mr. Tutu,
I wrote to you before after talking with my brother. I am afraid he is scared to enter this deal, as you could see from his letter. I talked with him last few days and I am afraid he will not change his mind. I myself, on the other hand am very interested in this proposal. I believe the person named Tutu like the great South African bishop Desmond Tutu must be an honest person and can be trusted. Since you need somebody to impersonate the Late George? James? XXXXX's relative, I think I can be of use. I trust you went forwad with this deal proposal with good faith and will not deceive a fellow Christian and a good woman like myself.

I also know that my brother's enterprise is not doing very well at the moment and that my brother is very stingy with his money and he also has to take care of his wife and kids.

I am an independent woman, 33 years old, running my own translation business, employing a few staff and as I am the boss in the company, I can devote my time to preparing all the necessary documents to make this deal work.

I am very interested in Africa, although I never had a chance to go there [Well, not true, I was travelling quite extensively, and thank to my African Nigerian friends I know about 419].

I hope you will provide me with an opportunity to travel. I love African music, especially Miriam Makeba and I always felt for the opressed people of South Africa.

Remain with great hope to our future endeavours.

D
---
LAD TAKES "D"'s BAIT

April 29 
Thank you for your mail, I was unable to reply you early because I was in
Belgium for a seminar but am back now in Amsterdam.

You interest in this transaction is very much welcomed and going to benefit
the both of us. I would a business built on TRUST AND SINCERITY. I am
willing and ready to finalize this transaction with if you are ready to
cooperate and assist us. Every things regarding this transaction is legal
and risk free, every motion has been put in place to make that this money
will be transferred into any account of yo us.

Madam, you don't to worry about me, am a GOD fearing man and have strong
faith in GOD. Am a happy to hear from you that you are a believer in
Christ, this has made me feel very comfortable doing this transaction with
you. The miracle of God is about to change our life for good. Again I say
with all my heart, ""I AM READY TO DO THIS BUSINESS WITH YOU.

Regarding my country, South Africa is a very beautiful country and I
promise to invite you to my country after this transaction and you will be
able to meet both Bishop Tutu, Miriam Makebe, the great Nelson Mandela and
other great men and women in South Africa. Thank you for your interest in
my country.

Please I would like to talk with you on the phone to enable us talk more on
how to move forward with this transaction. Kindly give me your telephone
number so I can call you.

Please make that this transaction is kept very confidential.

Thank you and waiting to hear from you soon.

Tutu.

---
D GETS FRIENDLIER
Dear Mr. Tutu,
I am happy to have received your mail. I am especially happy on thought of going to meet Mr. Mandela and Rev. Tutu. I would also love to meet in person Johnny Clegg and his band Savuka, Ladysmith Black Mambazo, The African Jazz Pioneers and other great South African musicians. I met Ms. Makeba in October 2000 in Poland when she had a concert in Warsaw and I was her personal interpreter during her stay in Poland. She's so great and dignified!!!! N'gosi sigelele Africa!!! God bless Africa!

I am looking forward to doing business with you. First, please write to me more details about the fund we are going to transfer. I need a more detailed information about the Late George? James? who's money we are going to get.

This is very important that I have this information, in case I have to produce some sort of a proof I am his distant decendant. Also I need information about you. I would love to have your picture! I also think, since you're staying in Amsterdam it would be a great idea if you come to meet me in Poland in person. The flight from Amsterdam takes only about a couple of hours and you could stay with me for a weekend or so and we can plan everything together. So what do you think??

Regarding your asking me for a phone number. I am sure e-mail is the best means of communication as it is safe and inexpensive. We can always discuss things that way, right?

I don't want to waste money on phone calls if this is really not necessary. I think you agree with me on this.

I also checked the inheritance laws in my country. I am afraid the inheritance tax can go up to 45% of the sum (I made this up, but it's probably close to reality), if you believe! I think it would be the best if we open a joint account in some tax paradise like Lichtenstein, or Sark Island, (of course the Kaymans and Carribeans are great too, but they seem much less accessible). Also the Cyprus Island has a very relaxed bank policy and we could try there. I think it would be the best if you went to either of those mentioned above and open a joint coded account there. I can't go at the moment because I have broken my leg in a motorcycle accident and will be incapacitated for next month or so. I trust you 100% you could do this by yourself.

I also have some personal question, a very delicate one. I heard black men are wonderful lovers. Is it true???

Stay in peace, your friend D

---
LAD CLEARS UP NAME CONFUSION - NOT

April 30 2002

Dear D,
You sound very interesting and you will be a delight to meet with, firstly
may I please ask, are you married? and how old are you?.(I wrote I was 33
in my previous letter, boy, he's got short attention span) Yes Black men
are wonderful lovers and know how to make a woman feel like a woman.

Regarding this transaction this transaction I earlier informed your brother
that I made a mistake in the name of the late investor of this fund, please
be informed that the real and correct name is JAMES
xxxxx and not GEORGE take note of this. The Late James is Polish American
that lived almost all his life in South Africa, he was into mining business
and made a lot of money in my country, he made and investment to South A
fir can Mining Coporation as far back as 1977 and unfortunately he died in
1987 leaving no Will as to is will benefit this investment because the man
died untimely, he died in motor accident in South Africa. But by virture of
the fact that we are in post ion to investigate and find any living
relative of the late James that proved abortive for so many years, we
decided to arrange the transfer of this money out of our country with the
assistance of a foreigner who will stand as a living relative to this man,
we are in possession of the late man file hence we !
are position to approve this claim to anybody we have a coopration with.

Regarding the prove you are worried there is nothing there to worry your
self about, every government official letter will be sent to you proving
you proofing you stand to claim this money, first of all before any
document will be approve in your favour we need to get a Lawyer in South
Africa to legalize your name and officially put your name as the
beneficiary of this fund at the South African Ministry of Justice. This is
very important without this nothing can be done on your claim to this fund.
Once this is done we now have a grantee that this money will be transferred
in your name.

It will be advisable to open an account out side your country because the
45% tax is too much, we can not afford to loose almost half of this money
to Polish government because of Tax. You can go ahead an open this account
in your name in any country you prefer safe and low or tax free. This
account must be open in your name because it will not be wise for my name
or any of my colleagues name to appear in this account, it is against the
law in South African public serverant to operate or have an account
overseas. In order to protect this transaction because we don't want
anybody to be aware that we are involved in this transaction you have open
this account in your your name please we are putting every trust and
confidence in you to handle this.

I would have love to come to Poland to spent a weekend with you but due to
my studies here and as a government official my movement is some how
monitored and I have weekend lectures too, I beg you to make time out to
visit me here in Amsterdam to enable us meet and have a detailed talk on
this transaction so that everything can be arranged very well.

It is very important that you give me your telephone number because
communication is very vital in this transaction. You can also let me have
you photo please, I will send my own to you soon.

Thank you for your understanding.

Tutu.

---
D STILL CONFUSED ABOUT NAMES
Dear Mr. Tutu, this is what you wrote to my brother:

Attention:
There was a mistake in my typing please the correct name of the investor is Late George XXXXX, please take note of the correction.
Thank you.
Thompson Tutu.

---
D SENDS LAD A PIC
I also sent a pic taken from a model agency. Wish I were THAT beautiful....
---
D HAS HAD A MOTORCYCLE ACCIDENT
May 4
You have to make up your mind - James or George. Or maybe it is James George or George James?

Anyway, I think you are mistaken regarding opening an account. You can do it anonymously, without giving your particulars. Anybody can do it, especially in one of those countries I told you: Lichtenstein, Sark Island, and maybe even Switzerland. It will be a number (code) account. Since they don't ask where the money came from they don't ask your name either. I think you have much more to gain - 65% of the total sum of 15.000.000USD, and because I have broken my leg and can't travel at the moment (also in a motorcycle accident, what a coincidence - maybe there's a curse or a spell over the XXXX family), and you're only a couple of hours by train from Swiss banks you can do it yourself. And you should, because according to the Polish law it is illegal for a Polish citizen to have a bank account anywhere outside of Poland. They are thinking of changing this law and the ammended laws will be introduced in October this year. But we cannot wait that long, can we? Maybe it would be better to pay the inheritance tax?

You are writing to me about accquiering a lawyer in South Africa. Do you have anybody specific in mind or any lawyer can do? I am asking, because I can employ a nice lawyer who served once to my friends in Johanessburg when they had problems with the Immigration Office. He speaks Polish and is very reliable.

As I wrote you before I am 33 years old, I work as an interpreter for Polish Jazz agency, free lance and I have my own translation company. Due to pursuing my career I am single, but ripe for marriage. My biological clock is ticking and I'm dreaming of a nice man around me and a couple of kids. Do you like children? Do you have any? I am very open minded and I wouldn't mind having kids with a nice gentelman from South Africa.

What a pity you cannot come to visit me. I live by myself in a nice house around the city of Poznan. I drive about 40 minutes to work, I have a nice Lexus car, so the drive is a pleasure. On weekends I ride a Harley-Davidson. I just bought it in March, and unfortunately as I'm rather new to this sport I fell over and broke my leg. That happened on April 22. I was lucky anywa because the machine is very heavy and I could have ended up in a hospital.

They are going to remove the cast in June. It will take some time before I could walk again.

Please tell me what exactly is your job there in Amsterdam. I want to know everything about you.
Yours, D
---
LAD STRAIGHTENS OUT NAME ISSUE - NOT

May 5
Dear D,
Please be informed that the name of the Late investor of this investment
fund is MR. JAMES XXXX please take note of this.

Regarding the account opening you must understand that I don't know what
the procedure is here in Europe regarding this account opening and
considering the fact that I work for government it will not be easy for me
to open this account on my name and am also occupied very much here with my
studies here, remember I told you earlier that am here on computer course,
this course will last fro six months and I need this period to transfer
this money out of South Africa. If you can guide me on how to open this
account better still it would have been nice to have do this on our behalf.
Note: There is no way we can have this account opened on our name you are
required to stand as the beneficiary of this fund.

If we can open this account by our self then there will be no need for us
to involve you or ask your in this transaction, please you have to try as
much as you can to do this OK.

I feel for you for this accident you had but you don't have say what you
are saying since you are a child of God you don't have to believe that a
curse or a spell will be on your family, you have to reject that for it
will not be your or your family portion. God say touch not my anoited and
do my prophet no harm, you are God's child and nothing evil will happen to
you OK.

We have a lawyer in South Africa whom we are believing to use his services
to pursue this transaction we need an influential and Highly respected
Lawyer who can do this on our behalf, you see there are so many lawyers in
South Africa but one have to be very careful with this issue OK. My
colleagues will be able to talk with lawyer as soon as we start off.

I would have love to visit you but due to the fact that am very occupied
with studies right now it will not be possible to do this right now that
why am asking you to visit me here now then when I finish I will visit you
and stay couple of days with you.

Am very much interested in you, because am not yet married and looking for
a nice white lady to marry, if you don't mind we can start knowing our
self. I am 34 years old and I work as an accountant in South African Mining
Corporation, am here in Amsterdam on a Six months course on computer
accounting this course is very intensive hence I have finish it is six
months time. I have no children, I love children and wish to have mine too.

Am not doing any job here reather am here in Amsterdam as a student for six
months (special course) being financed by the South African Mining
Corporation. I am a serious minded person, hard working am born in the
month of Dec. I have an open mind and always like to stay out of trouble. I
am very much interested in you OK.

The picture you send cannot download, could you please send it again.
Looking forward to hearing from you soon. But remember this transaction is
very important and must be finished OK.

Regards,

Thompson Tutu.

---
D: LET'S TIE THE KNOT
May 6, From D
Dear Mr. Tutu,

Or may I call you Thomson or Tom for short? Will you please send me your picture? I sent you mine twice and will send again in different format so you can finally see me.

I will come to Amsterdam as soon as I can walk. My leg is healing all right and maybe the doctors will be able to take the cast off earlier than June. I wonder where you're staying in Amsterdam, is it a hotel or some cozy apartment where we can enjoy our privacy? How many bedrooms do you have? Does your place have a spacious bathroom where we can take long hot baths? Oh, I can't wait to see you in person. I also think that if we are going to be married you should send me an engagement ring with a 3 carat South African diamond. You can send it care of Robert's company. Regarding the transaction, I will take care of the account when I'm abroad. It is impossible for me to travel for another 4 weeks at least, but the first thing in order after I'm OK will be opening an account in a bank in Switzerland. I think Switzerland is best and it is a short trip from Holland too. Maybe we can go together and spend some time there? I know you're busy but I believe you'll make time to join me in this trip. But the problem is with my passport because it expired recently and I have to apply for a new one. It may take another 10 days or so. I will do my best to have it done quickly.

Please dear Tom don't worry. We'll make it and when we are married and join our souls in holy matrimony and our fortunes in Swiss banks there will be no happier couple in the world.

Answer me quickly, yours D

PS the picture is in jpg format, waiting for yours, love
---
D: SHOW ME THE RING!
May 9

Dear Thompson, I am waiting for a letter from you. What about this ring? Can't wait till I have a proof of your love. If you cannot afford a diamond, (but I think as an executive director of a Mining Corporation you could), it can be a saphire or an emerald.

I hope you think I am worth of your love, D



He must have missed my letter asking for a ring, but we'll pursue the subject anyway
---
LAD: WHAT RING?!

May 8
dear D,
Please I did not understand what you mean in by "are you sending that ring
I mentioned before" could you explain better Ok.

Hear from you soonest.

Love- Thompson.

---
D: THIS RING!
May 9

Oh, since we are going to get married soon I thought you should send me an engagement ring with a South African diamond, that's what meant, love, D


---
LAD TRIES TO CHANGE THE SUBJECT

May 10
Dear D,
How are you today? fine. Did you get the mail I sent to you yesterday? you
normally don´t reply my mails on time. why? could you please get back to me
on time am waiting to hear from you this business is delaying too much Ok.
How about your leg?

Thank you and God bless you.

Thompson.

---
D WILL NOT BE DISTRACTED FROM THE RING BUSINESS
Dear Thompson, It seems your mail service is losing my letters. I did answer you immediately each time after receiving your mail. Please confirm receiving this one, OK?

I will start cooperating with you regarding the deal of Mr. XXXXX's fund as soon as I can walk about. Please do not rush me because there's not much I can do with a cast and crutches.

Will you please send me your picture and the ring? How can I proceed with business and loving you without any proof of sincerity of your feelings? You can send the ring care of (my brother)'s company, then he will believe you are an honest and sincere person.

PS. Did you get my picture? Did you like it? Can I be your wife?
Yours, D
---
D: WHY DON'T YOU WRITE ME?
Dearest Thompson,


How come you don't receive my mail? I sent at least four letters to you and it seems you didn't get them at all. I went to hospital for a couple of days and now I'm back so I'm writing to you to let you catch up with me. I hope you're well and ready to start business. I will be relieved of my cast next week. It will take another week to get my leg rehabilitated and possibly by the end of May I will be able to travel to Amsterdam. Please send me your picture to assure me you care about meeting me. I sent you mine, did you like it? I hope really that our business venture will be very fruitfull for both of us and after we got married we can live a happy and blissfull life together. Where would you like to settle? I thought maybe Australia, or New Zealand. But of course South Africa is good too. I would love to meet Mr. Desmond Tutu and Nelson Mandela as you promised me in your letters. Are you good friends with them?

Regarding my trip to Amsterdam, I will book a flight on first days of June and we can go to Switzerland together to open an account. It would be a good opportunity for us to meet and get to know each other well. You didn't answer me regarding your place of abode. Where do you stay in Amsterdam, is it a hotel or an apartment? Can you give me your address? Will you meet me at Shiphol airport? I have never been out of Poland so I am afraid I might get lost in a strange and big city. How can I recognize you if I don't have your picture?

I already applied for a passport, and it will be ready in a few days. Do I need a visa to go to Holland? I don't know, but I will check. The problem is I live about 200 km from the capital of my country and I would have to go to the Niderland Embassy to get a visa.

Also I am thinking about buying you a nice present. Would a Rolex watch or a laptop be OK?

Which would you prefer? If you have any other desires, let me know, OK? I am looking forward to receiving a ring from you. Please send it to Robert's company, and as soon as I get it I will start making all arrengements of my trip to Holland.

Love you, D
---
LAD: LET'S MEET IN A HOTEL

May 16
D my dear,
I am very happy to read from you today after waiting to hear from you for a
very long time, I was surprise to read from you that you sent me four
mails, be informed that I did not receive any of them. I have been having
problems checking my mails on this canada.com, please from now on send me
mails to this new e-mail address: tomtutu@skim.com this is very important
and make sure that you take notice of this OK.

It is a good news to hear that you will soon be out of your cast I have you
in all my prayers for a speedy recovery and God will see you through.

I can't wait to see you here in Amsterdam I will be very happy to meet you
here, please tell me when you are coming and your flight arrangements that
will help me know when to be at the airport to meet you.

Regarding my picture am going to send it through my new e-mail to you as
soon as I finish repling you this mail and make sure you confirm that you
got it OK.

D my dear it will be very nice for us to live a happy lovely and
blissfull life and am looking forward to God to make it possible. I would
like to live anywhere with you of your choice because I must make sure that
you are happy with me in our planed future life.

It will be very good for us to open this account for this transaction as
this is the only arrangement delaying us from starting this transaction
now, as soon as this account is open then we will start the process
immidately.

Please be informed that I that I live in a government hostel apartment and
am sharing the apartment with another official from South Africa hence it
will not be convinent for you to visit me there or stay there with me
because I don't want anybody to know the business am having with you or the
relation am about to start with you untill every thing is ok. We will stay
in a hotel ok it is better for our privacy and comfort, am here to make to
take very good care of you and make you happy.

You do not need a visa to come to Amsterdam all you need is your
international passport as polish citizen I checked this out here today when
I got your mail, so you don't have to worry about this Ok.

Regarding the present you are thinking buying for me, I would prefer a
laptop with a DVD player and intel installed because it will help here in
Amsterdam I only have access to a computer when am at school, if I have to
check my e-mail after school I will go to the interenet cafe this is why I
prefer a laptop ok.

D dear, where is (brother) company I do not know this company here in
Amsterdam nor Poland and I don't have their address, I prefer to give you
ring in person because it is a precious thing you are going to cherish all
your life time, it will be very nice to give you a ring when we go out for
a candel diner very romantic atmostphere  (candel diners are usually very
romantic atmosphere!!) and not to send such a thing through the anybody.
Please understand with me. (Yes I understand with him, although I am sorry)

Why is it you don't want to give me your telephone number?

Thank you and God bless you. Looking for forward to hearing from you
through my new e-mail address.

Love Thompson.


---
D: I'M COMING TO AMSTERDAM
How can you not know (brother)'s company address when you sent your first letter to his work place in Warsaw? Remember, this is how it all started! I understand your objection of sending the ring to me via mail or a courier service, but this would make me sure you are a serious person and devoted to me. And (brother) and my family will believe you are serious about me. Please find the address and send the ring, OK?

I send one of my staff today to check the laptops for you. He found a very nice one Toshiba with Intel Pentium IV processor, a DVD player and video card. 8G hard disc 540 Hz, is it OK or should I look for something more fancy?

I will be arriving in Amsterdam first days of June, will let you know the flight details. Made my reservation on June 2, early morning flight, leaving Poland 6:30 am or so.

And thanks for your picture. You ARE a handsome guy! Can't wait till I have you in my arms.

D
---
LAD FINALLY SENDS PIC!

May 16This is my new e-mal and attached is my picture, please confirm that
you got it ok.

Hear from you real soon.

Bye,
Thompson.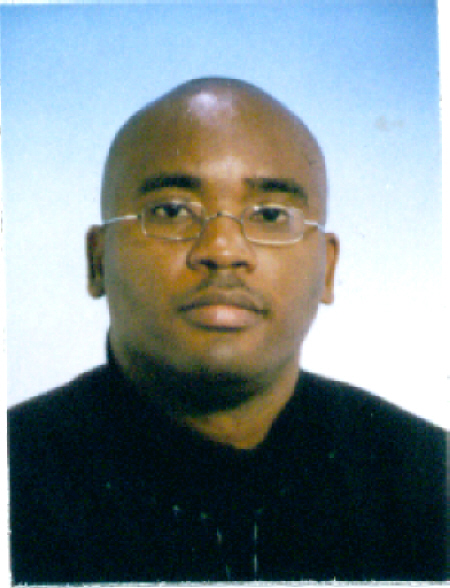 [NOTE: This may or may not be the Lad. These guys are great name droppers and may be photo droppers too.]
---
LAD MURMURS SWEET E-NOTHINGS

May 17
Dear D,
I can't wait to see you and hold you in my arms too, l keep you looking at
your picture you are such a beautiful lady, your eyes are so charming and
attractive, when l look at your picture my eye goes right in your eyes and
what I see is a very bright future betwwen the both of us and I keep
praying to God to see us through.

Be informed that at first I do not know that you are talking about Robert
your brother, my mind did not even go there I thought that you are talking
about a company that I can send the ring to you, since you are insisting on
me sending the ring to you through post or courier I am going to send the
ring to you next week. Please reconfirm your brother's company address to
enable me be sure of the address because I forget your brother's address in
my travelling suit case when I last travelled to South Africa. (Sent out
too many letters, huh?)

You don't want me to send the ring direct to your address? I am going to
check out for the ring by tommorow.You did not say anything about giving me
your telephone number? I am still waiting for that ok.

Regarding the laptop just use your iniciative to get me something you may
wish to present to your beloved one and somebody you wish to spent the rest
of your life with Ok.

Please let me know the date and the time of your arrival in Amsterdam to
know when to meet you at the airport. You know that we have to make hotel
reservation where we are going to stay or have you made one already? Please
advise me on what to do in this regard.

Am dreaming of meeting you real soon, keep thinking on what to do the first
day I will meet you. Please always be intourch ok cos reading from you
always will make me happy.

Take care of your self and God bless you.

Love from,
Thompson.

---
D's LEG NOT HEALING WELL
Tom also sent me "the coolest in town" yahoo card!

May 20
Dearest Thompson,


I am terribly sorry for not writing to you immediately after receiving your beautiful postcard. I actually went to see Robert and check my leg at a good hospital in Warsaw. I arrived back home today and to my despair I found out that the internet service provider polbox has some serious malfunction and I am not able to retrieve my mail. I will see whether I can send this out to you.

There seems to be a minor problem with my leg. It is not healing to my doctor's satisfaction and he arranged a visit at some specialist in the capital. They took and X-ray and it looks like I will have to wear cast for another week. Which means I will be able to travel to Amsterdam about a week later than planned. The good thing about travelling to Warsaw was that I was able to check a couple of good computer stores and decided on a laptop for you. I also bought a Mount Blanc fountain pen for you and a Philippe Patek watch, platinum and diamonds. I hope the watch is not too flashy, though. I spent a lot of money but I guess I can think about it as an investment in our financial endeavour and also as an investment in our future.

The bad news is (brother) is dead set against me going to Amsterdam. Of course I'm an adult (although about 12 years younger than my brother), and I will do as it pleases me. But I really need your reassurance I'm doing the right thing, OK? The conclusion is you cannot send the ring to Robert's company, please send it to my girlfriend, Ms. Pauline XXXXXk to the following address:

Ms. P.xxxxxxxx Warsaw, Poland.
She'll pick it up for me and deliver to me in person on a weekend after she receives it. She's my schoolmate and she'll be the maid of honour in our wedding. My ring size is 10 and 3/4, I have a very delicate and slim fingers. I look at your picture all the time. I am dreaming about meeting you at the airport, and spending a few hot summer nights in your arms. I truly hope you can fulfill my expectations as a lover and husband. I dream about a kind, honest and loving man, with good sense of humour and who can really satisfy me as a woman (who doesn't????). I like long, tender lovemaking, with lots of kissing and oral sex. I love to give my man pleasure too. Are you ready, my love? I also would love if you show me around in Amsterdam and I am hoping for a romantic trip to Switzerland. We can stay at a small chateau and enjoy each other for a couple of days.

But let's go back to business: What shall I bring with me to Holland? Do you need some sort of family documents to prove my relations with late James?

And important question, should I bring any funds with me? This I need to know as long before my departure as possible, because I spent about 4.000 USD on presents for you and if I need more cash I have to arrange it with my accountants from the company funds. You mentioned before that we need to engage a lawyer from South Africa. I guess it will cost some too. How much approximately? Let me know and I will make the funds available. But try to minimize the costs, OK? Let's be reasonable with the lawyer's fees and other expenses! Money doesn't grow on trees, right?

Oh, Thompson, I can't wait to see you. Will you always love me?

Your wife, D
---
LAD: DON'T YOU TRUST ME?

Sent:   2002/05/24 9:59:51
Subject:Re: with Love from Tom !!!!!!!!!!!!!!!!!!

Darling D,
Please I want you to answer me why you don't want me to send this ring
direct to you, Honey I need to you to explain to me and also why you don't
want to give me your telephone number to hear your voice on the phone this
two questions are very important to me and I need you to answer me as soon
as possible.
Note, I have not seen any ring with South African Diamound here am I have
an appointment to go and check out at the Amsterdam Diamound center
tommorow, it is going to be a problem sending that ring by post and an
address that is not yours am not comfortable doing, please undwestand me
and confused to do that and you know wedding ring are given in person and
not by post, I want to look right into your eyes and put this ring inti
your fingers to show my real LOVE for you and for you to see the sincerity
on my face doing that and after that we have to make GOOD LOVE all through
the night to enjoy ourselves. Please understand what am trying to explain
to you. We have accepted to marry and it will be for the better baby, lets
put this ring when we see our selves in person.
I have been sending several messages to you without any reply since this
week, baby am not happy without hearing from you, I always need to hear
from you please it will gladen my day.
I told you that I lost my phone last week in one of mails to you this week
hence I have changed my number, my new number is: +316-1011-5875. Please
let me have your telephone number I want to hear your voice.
I promise that I will there for you and will do anything to make you happy
fpr thes rest of your life. Am ready for you to satify you and make you
feel like a woman. I will always love you as long as you give me your heart.
Please Honey, confirm if you have been getting all my mails ok.
I love you my Darling.
With all my Love Tom.


---
D REALLY WANTS THAT RING
May 24
Love of my life,


I am overly happy that you wrote to me that quickly. I was scared you sent several messages and I wasn't able to answer to you. Oh, now I can sleep in peace. I understand your feelings about the ring. But please understand mine too. I would treasure this ring to the end of my life and your sending it to me will prove to me that your intentions are respectful and sincere. Pauline is like a sister to me and I trust her with my life. We were room-mates in high school and university and in many ways she's closer to me than my own family. You see (brother)'s case - he's so against me meeting with you and he is afraid something will happen to me if I go to Amsterdam to meet you in person. He will believe you when you send the ring! Please, I already bought you several presents and I personally believe you'll make me happy, but you may have to be a better man than he is and show me and my family that you are a person to trust. It doesn't have to be South African diamond, any diamond will do, but it has to be at least 1 carat.

I changed my reservation to fly to Holland to June 9, I will let you know the details as soon as I have confirmed my leg's condition allows me to travel. Do you want a limping bride?

I decided to sell my Harley-Davidson, it looks like I will never be able to ride a bike again.

I heard the African men are really big (you know what I mean). How big are you? Maybe you can send me another picture (maybe with no clothes on?)

Love you always, your wife D

---
D: WHY DON'T YOU WRITE ME? REDUX
He didn't answer .....

Dearest Tom,


I haven't heard from you since yesterday, and Iam worried you're OK. I miss your letters so much when you are not writing. I had a dream about you last night - I was in Amsterdam and we were strolling together along the canals. Is Amsterdam as beautiful as I think it is? I can't wait till I see you. I woke up still smiling and had a lovely day thinking about you my love. If you sent the ring that's fine, but if you still didn't, why don't you send a bottle of Spellbound by Estee Lauder along with the ring, this is my favourite perfume. I will smell the scent and tinking of you.

I love you with all my heart, your forever D
---
LAD: RINGS ARE EXPENSIVE!

Dearest D,
Am sorry for not writing you yesterday I had a very busy day here in
Amsterdam in a seminar organised by the South African Embassy, I came back
home very late yesterday, you know I don't have a computer at home hence I
was unable to reply your letter.

You have not given me the reason why you don't want to give me your
telephone number, this is the third time am asking for this and you don't
want to answer me WHY???????????. Please I need you to explain to me why
you have decided to marry me without me talking to you on the phone, I have
told you that I want to talk with you on the phone.
Please be informed that it will not be possible for me to send the ring to
you, the reason is because I cannot afford the ring right now to be very
frank with you, it has been given me restless nights but am an honerst man
and very sincere I must tell you this I didn't know that the ring is that
expensive before but I promise to buy it for you after this transaction.
I was at the Amsterdam Diamond Centre and asked for the price of this ring
Dori, it is very expensive this are the prices of the ring as follows:
River VVS Gold 1 (one) karat Diamond = 21,890.00 Euro
Top Crystal TC-SI Gold 1 (one) Karat Diamond = 10,830.00 Euro
Top Crystal TW-VS2 Gold 1 (one) karat Gold = 14,440.00

Note the reason why I cannot afford this now is that I don't have that kind
of money right now all my money has been invested into this business and I
know that am still going to invest more to it till it is finished if I can
afford this kind of money right now for the diamond I will reather invest
it to this business that is going to benefit us in future when we must have
married, so please understand me right now it will not be possible bear
with me. I am very sorry. I must confess to you I have already told you
that am schooling here now am not working and the South African Government
is paying for my fees and give me a little weekly allowance to help with my
little needs till I finish my studies.

I love you and will still love you I dream to have you as my wife and God's
willing it be for better for the both us. Am here every day looking at your
picture you are very beautifull, your eyes are so charming and lovely I
cannot wait to see you.

Please do not allow this (my not been able to buy the diamond ring for you
) change your mind towards me if you love me do all you can to show your
love to me and it will be ok for the both of us, your coming to Amsterdam
will be a big surprise for you, you will never regreat it but this trip
will be the most memorable trip of you life and you are going to surprise
your brother and quote him wrong after you visit here.

I love and will continue LOVEING YOU MY WIFE.
Hear from you soon.
Your Love,
Tom.


---
LAD MURMURS MORE SWEET E-NOTHINGS
Gave him a prepaid number and HE CALLED at least 7 times!!!!

Odebrano:   2002/05/26 10:42:10
Wys˝ano:2002/05/26 22:41:52
Temat:  Re: Re: Sorry for disturbing your sleep!!!!.

Dear lovely D,
Just hearing "Hello" from you today has made my day am more than happy to
hear from you my lovely wife, your voice was so sweet and am very sorry to
to disturb your sleep Ok, I never knew you will be sleeping. I will call
you very much later in day because I will be going to the church by 12 noon
and finishing from church at about 3pm. so I will try calling you anytime
from 4pm, if that is Ok by you please do let me know.
Remain blessed my Lovely D.
With all my LOVE,
Tom.


---
LAD MURMURS EVEN MORE SWEET E-NOTHINGS
Dear D, I called you yesterday as you told me but you are not there to take my call anyway I hope all is ok with you. Thank you. Love Tom
---
D: SO WHAT ABOUT THE RING?
May 27


Hi, you called me around 11 pm and it is inconvenient to me to talk to you that late. I am wondering why you want to spend money on international calls and then you're telling me you're too poor to buy and send a ring for me. It's illogical to me.

Because of my injured leg I have some family members staying with me these days and since you know they're all against me being involved with you it's very difficult to me to answer your calls. Please let's stick to e-mailing each other, OK?

I returned the laptop and the pen and watch. I expected you to be equally generous to me, but you're behaving like cheap guy. Too bad. I am thinking if I should go to Amsterdam at all. I'm very sad and disappointed.

Bye for now, D
---
LAD: DON'T BE SO MATERIALISTIC
He got angry

Dear D,
You think am cheap or what? am a very smart guy and very intelegent well
educated I have been meeting a lot of people all over the world because of
my position. Your being disapionted because I did not buy you a ring worth
21,000.00 Euro and send it to you without seeing you means nothing to me,
in the first place I have not meet you and don't know who you are, if you
are very intersted in getting married to me for real you would not want me
to spend such amount of money on buying you a ring worth that amount of
money.
If you are ready for marriage you would not be thinking like this, you have
not meet me and you are addressing me like a CHEAP GUY you are making a lot
of mistake with that statement because I did not buy you a ring. If you
love me like you have been saying in your mails you would not want me to
wast that money. If you are for real you at least wait till we see
ourselves in person to get to know each other. Be informed that am not
moved by you telling me that you are buying laptop, watch and pen for me
for those thing to are nothing I will have them we I feel like having and
when the right time come or may be after my transaction. I don't love for
matrialistic, I love for real, I can love anyboy provided she is my love, I
don't care. If you love me show me your love and I will show you mine for
real.
I calling you because I have access to making International calls as
goverment official, don't you think am cheap am worth more than millions of
dollars in personality and my name opens door for me as a diplomat, the
South African Government is taking care of my course here in Amsterdam
which I told you. If you are intersted for real am for real also.
If you are not coming to Amsterdam there is no problem at all I believe God
will provide the right woman for me am not in a heast at all. I would have
loved to meet with you but now you are changing your mind because I did not
buy you a diamond ring.
I have started making arrangement for another person to help us realize
this transaction brecause of the turn of your e-mail and I will disscuss
with my colleagues in south Africa later in the day to see how to move
forward with this transaction. If you are still interested in moving
forward with me with due respect let me know as soon as possible.
Thank you.
Tutu.

---
D: IF NO RING, THEN SEND PERFUME
Dear Tom,


So how is it? First you call yourself a deputy director of South Africa Mining Corporation, then you tell me you're on a scholarship and now you are a diplomat. I'm all confused....Also, your English is a bit below the diplomat/scholar/director standard with lots of grammatical and spelling mistakes. My advice to you is to use the computer's spelling and grammar check to avoid them in the future.

I wasn't asking you for a million zillion dollars ring, just a couple of thousand nice proof of your love. You say your love is for real, and how real is it?

If you cannot afford a ring, then send the perfume I asked you, Spellbound by Estee Lauder, this is only about a hundred buck gift for the love of your life. Pauline has my authorization to pick it up from a courier of postman.

I feel bad that I offended you calling you cheap. I believe your personality is worth more than all the fu;nds in your command and will trade all the money in the world for your love. So please, please let's continue, and let's finalize this thing as soon as possible. I still want to marry you and will teach you proper Business English as you might benefit from it in the future. I am looking forward to receiving your nice and warm and loving letters again. Yours, D
---
LAD: MONEY CAN'T BUY LOVE

Dear D,
Let me first of all inform you that I am a Deputy Director of Finance at
the South African Mining Corporation, am here in Amsterdam on a Computer
Accounting course that will last for Six months, this course is been paid
by the government of South Africa. While here attending this course in
Amsterdam am a diplomat because am a government official and government is
paying for my fees and neeeds here. In South Africa where I come from when
you attend the level of Director in any government office you are allowed
by law to travel with a diplomatic passport while you are on a government
duty, assignment or course overseas that is the reason why I wrote in my
mail that am a dipolomat.
Besides, thank you for your correction, since am making mistakes in my
grammatical and spelling mistakes, but note, we are not in a school of
learning nor am I writing an exam. The mistakes has been noted and I will
try my best to avoid them in the future.
You must understand that you don't buy LOVE and LOVE is not worth BUYING.
You don't also show LOVE with money, LOVE is in the HEART. IF you want me
to show my LOVE to you then you better come to Amsterdam. You don't pratice
LOVE on the phone or through the e-mail we need to meet ourselves in person
and see how we are to love each other and to see if it will work or not.
(how true...)
Note even if I want to send anything I would not send it to anybody but
direct to you. I don't have go through anybody to send a gift to you. I
prefer giving you any gift in person and I MUST see you in person to give
it to you. Be informed that am not sending any gift to you, what ever I
have for you I will give you in person. You said that you brought some
present for me before you told me in your e-mail that you have returned,
WHY DIDN'T YOU SEND THEM TO ME BY POST OR COURIER??????????????????????????
BEFORE YOU RETURNED THEM AS YOU CLAIMED. I don't beleieve talking I believe
in praticality, seeing is believing. By time you visit Amsterdam you would
not like to back to Poland with me. Am going to handle you like no man has
never done to you before, am going to show you the power of black man love
like the white men never had. Am going to make LOVE to you like you never
had, come to Amsterdam and see for yourself. (promises, promises)
Right now my business is more important to me because by the time I have
this money in my hands the world will be mine. The question now is I want
to know your stand on this transaction. Are you ready to move forward with
me or not? I need you to answer my question as soon as possible please.
Thank you and God bless.
Tom.


---
LAD SENDS ANOTHER GREETING CARD

Another yahoo card
Title: Feeling Cold?
Get this image in a screen saver from the Cute Kitties collection at
Second Nature Software

To: d

I am Feeling Cold and Lonely Thought I had a person to lean on? You mail
to me today was too BAD I never thuoght you would write to me like that
such is LIFE. I put my hope in God's hand and looking up to God for a
better tommorow.
- tom


---
LAD GETS E-MAIL ACCOUNT WITH SPELL CHECKER
From: tom tutu (thom_tutu@yahoo.co.uk) [NOTE: yet another e-mail address]
Odebrano: 2002/05/28 10:46:01
Wys˝ano:2002/05/28 8:44:32
Temat: From Tutu ( A new account to correct my spelling mistakes)



(he took my advice to his heart, I must have touched a very tender spot)

Dear D,
I have to open this new e-mail this morning because my former e-mail
account does not have spell check. So you correction has been noted but
just to inform you too that you make a lot of mistakes in your e-mail
letter to to me also, if you can go through all the mails you sent to me
you will see what am saying even in your last mail to me there are lot of
spelling mistakes Ok. No body is above mistakes I have taken your
corrections. You better correct yourself before you correct someone Ok.
From now on there will be no mistakes in my spellings.
Confirm your stand in this transaction because we have left this
transaction to talk some other things that are neccessary now. Are you
still ready to move forward with me? because you said that you are going to
cancel your ticket to Amsterdam in your mail yesterday.
Thank you.


---
LAD: WHAT ABOUT IT?

Dear D,
Am still waiting to hear from you. I still LOVE you and want you to my
wife. Please lets move forward.
Your Love.
Tom.

---
THAT'S ALL SO FAR...
That's it for now, will keep you up to date. Too bad, it looks like I'm never going to get the ring...
Yours, D
---
but wait! don't touch that checkbook, because there's more...
Dear Scamorama, just few more letters, Hope you'll enjoy them too, I want to have him in front of Overtoom cam just like "Wendy", it might happen within a week or so
---
D: CAN BISHOP TUTU MARRY US?
May 30,
Dear Tom,


I am sorry to keep you waiting for my letter. Last days were really bad for me, my leg is not healing fast enough and I will have to undergo some rehabilitation in a Rehabilitation Center in Warsaw, which will take about 2 weeks. That is why I was in such bad mood recently and I took it out on you. And I had a period (menstruation) and it always makes me annoyed. I hope you can get me pregnant very quickly so I will not have periods for 9 months. I still love you and want to marry you too. I already made some preparations for our wedding and I need a copy of the first page of your passport to fill some forms at the Church and the City Hall where we will have the Wedding Ceremony. I hope you can invite Bishop Tutu to join us in Holy Matrimony.

Can you do it for me? I am sure you can make the Wedding Day in June sometime, I'd love to be a June Bride!

I asked you some time ago to send mea picture of yourself without your clothes on and asked you how BIG you are (the size of your willy). I have to know what I am getting into, you understand me, right? When will you come to see me? Or will you wait till I come to Holland? I don't know the date of my trip yet I will have to wait and see how my leg is healing.

I ordered the laptop and the watch and the pen again. I will send them to you at once if you give me your address. I am hoping they will bring joy to your life as much as they did to me when I was thinking of you receiving them.

I am waiting for your loving letter,
Your wife Dori
PS. Your spelling has improved a lot, keep it up.

---
D: TO FORGIVE IS DIVINE
He didn't write back, May 30
Tom my husband,


Why aren't you writing to me? Please don't worry, your spelling mistakes don't bother me that much! I am in a kind and forgiving mood today as it is a CHURCH holiday in Poland and everybody forgives fellow CHRISTIANS all their mistakes and wrongdoings. I prayed for you today with all my heart. If you give me your hostel's address I will forward all the gifts to you. Don't make me wait too long!

Your wife D Tutu
---
TOM STILL ON THE HOOK
May 31, finally the answer:



Dearest D,
Sorry for not replying your mail I have been sick, I have fever am at home have not been to school for three days now. Please my love I will write you soon. I have an appointment with the doctor now so go now. Take care. All my Love.

Tom
---
D: ABOUT THAT HIV TEST...
(I was wondering if that wouldn't push him too far, but just couldn't resist; I love the "I'm positive I'm negative" part. D)

June 1
Dearest Thompson,


How are you feeling? I really hope there's nothing wrong with you. Just a mere cold or a flu. But your being ill made me think....Did you have your HIV test done recently??? I'm quite embarassed but I have to ask you about the HIV test, hoping and praying you've done them and they're negative. I KNOW that (especially in Nigeria and South Africa) a lot of guys are unfortunately positive for HIV (HIV stands for Human Immune Definciency Virus or something like that), and people who are positive may develope AIDS, which stands for Acute Immune Deficiency Syndrome, which is a DEADLY and INCURABLE disease. I wouldn't say I'm a virgin myself but I was only with very pure and innocent men and I'm positive I'm negative. You know, I like my men to be very innocent and not very experienced with other women and I love to teach them how to make a woman like myself TOTALLY satisfied. You'll be the first man ever who's older than me that I would make love to. I love to make love to young men, because they're so fresh and (in a good sense) naive..... But Tom you're not a teenager, and I expect you to be forceful and strong and to please me like no men ever did - just like you promised. Tell me how you're going to make it happen, and I will fantasize about you till I finally have you in my command. Yes, I say in my command, because I always command my man in bed. I'm submissive to men in any other field but not in bed. I cook (I'm a very good cook), I clean, I serve, but I DEMAND in bed. Are you a virgin? I guess at the age of 34 you're not, but I was just hoping you were.... But, dearest Thompson, you don't have to elaborate on this. Just tell me how many women you were with and that'll satisfy my curiosity. I hope you can forgive me, but I had a couple of lovers before you. I really regret it but what's done is done. But I never had a ring of engagement before. SO, PLEASE , my dearest, only love, my sweeeeeethart send it to me to Pauline's address! And the Spellbound by Estee Lauder! Looking forward to good news from you, your loving and caring

wife D

Can he possibly come back for more after this? We shall see...
---
TOM IS BACK FOR MORE
Dear Scamorama,
Tom wrote a couple of more letters, so did I. It's a great relief he doesn't have AIDS! I am going to be the happiest woman on Earth, even without the ring. His spell check is not working, though. Also I sent another picture from the models' agency, sexy one. Best to all at Scamo, D.

June 3,
Dearest D,
I got your mail and thank you for your for it. Please for your information
I DON'T HAVE HIV NOR AIDS am very clean I only have fever and Flu and my
doctor have given me the needed treatment and am responding well to the
medication. AIDS is not only in Africa, it is in your country also all over
the world and for your notice am not into woman too much. I have had couple
of relationship in the past and I have been having clean and decent
relationships in the past. Am a man that have test in my life and take my
time to enter into relationships expercially now am getting older and ready
to choose the woman of my life.
I have told you please Dori am not ready to send anything to you by mail,
what ever I have for you will be given to you in person, I need to see the
woman of my life in person, I mean the woman I want to marry. We need to
see ourselves in person before we do anything further. Understand my piont
of view and don't take it personal am only telling you the way to do this,
this is marriage and not an ordinary relationship. I am very interested in
marring you and ready to make you my wife but lets face the fact and forget
all these PRESENT issue and progess in real life.
I need to know your stand on the transaction that brought us together, this
is very important. My colleagues are right now trying to engage another
person to take your chance in this transaction. could you please let me
know as soon as possible.
With all my love,
Tom

---
D: LOOKING FORWARD TO THE WEDDING
June 4
Dearest Tom,


I am very happy to hear you're doing well and that you don't have HIV or AIDS. My cast is coming off tomorrow and if everything is OK I'm going to skip the rehabilitation and go to Amsterdam. Will let you know tomorrow. Tell your colleauges not to look for anybody else, coz I'll be there next week at the latest.

I understand your stance on presents, don't worry. Can you send me your address and a copy of the first page of your passport? I have to tell the Church and the City Hall the details regarding the wedding ceremony. I have to know if you informed Bishop Tutu and invited him to come to Poland. Is Mr. Nelson Mandela coming too? Tell me also if your family are coming from South Africa to be with us during the ceremony. I have to know how many guests you'll be inviting. I ordered a wedding dress, it is customary in my country that the bride groom (or his family) covers the cost of wedding reception. How is it in South Africa?

I asked you for your picture (well, private picture). Please attach it to you next mail, OK?

I am looking forward to meeting you in Amsterdam, will let you know my flight schedule by Wednesday.

Your wife D Tutu
---
TOM: SLOW DOWN!

June 4
Dearest D,
I got your mail and every content was very understood, be informed that you
have to hold on to all the arragement you are currently making on this
wedding, understand that you don't even know who I am and I don't know who
you really are? we need to meet in person first before getting married to
each other, this is very important because knowing each other will make
things work out for both of us. We don't have to rush at things if we are
really made for each other. We have to take our time and get the best out
of it and plan properly.
I don't know how you expect me to send you neked picture of my self? can
you send yours to me??? think about this very well, sending neked picture
of my self to someone I have not meet before, No! No!! it is not possible
am not going to do that am a decent man and proud of myself and I have a
diginity to protect Ok, if you can send yours to me.
You said that you want copies of my International passport that I can do
without any problem but I need to see you in person, there is every need to
meet my wife in person first before proceeding with any marrage plan. I
advise that arragement to be on "HOLD" pending when we meet in person.
I need an assurance from you that you are ready to proceed with us in this
transaction because there is a lot of pressure on from my colleagues to
engage another person to take your chance in this transaction. They are
currently discussing with someone to take your chance but am strongly
opposing it because I hold the final say in this transaction but remember
there is noway I can fainalize this transaction alone I have to do it with
them. Please let me know Ok.
Waiting to hear from you soon.
Love you with all my Heart
Tom

---
D: THE CAST IS OFF!
June 6
Dearest Tom,


I went to the clinic yesterday and they took the cast off. I am still limping and the doctors said I need rehabilitation, but what the hell, I am going to Amsterdam. I will be coming next week sometime, will let you know in advance. So tell your business associates not to engage any other parties as I am ready to proceed.

I am a little confused with the wedding, though. First you wrote to hold on to my plans and then to put them on hold. Which do you want, because you're giving me contradictory signals. If you want me to hold on to our plans, we will have the ceremony at the end of June, but when will we get married if you want to put the wedding on hold? Please be precise in your letters, OK?

Yes, I want a picture of you without the clothes on. If you love me and are going to marry me, you don't have to be afraid of sending it to me. I will send you mine as soon as I have scanned one. I am sure you have a very beautiful and masculine body! I fell madly in love with you after seeing your handsome face on the picture you'd sent me. I want to see more! I have a profound feeling you're the man for me. You're so sweet and tender and I am especially grateful to you for providing me with the opportunity of getting rich quick. I love my work but won't mind quitting it and settling down with you in Australia, New Zealand or South Africa. I think the chances of us getting married are still great so send me your passport copy and then if everything goes well we'll get married at the set date and if we don't hit it with each other I will cancel the arrangements. I only have to know how many guests you're inviting and about Mr. Mandela and bishop Tutu. If Bishop Tutu is doing something else on the wedding day I will have to ask the Pope to marry us, because he's visiting Poland this summer.

I listened to Miles Davis album called "Tutu" the other day and was proud Miles Davis knew you so well and had so much respect for you to name a record after you! You must be very proud to be acquainted with so many famous and important people! I will be so happy and proud to be your wife so soon!

I am sending another picture of me, wearing sexy dress, just for you. As I promised in the beginning I will send you my "another" picture very soon. Waiting for your picture and the Spellbound by Estee Lauder, your loving wife D

At this point D attached a gorgeous picture from a models' agency: it looks official enough that we refrain from posting it, because we're not sure about the rights; but take our word for it, "D" looks gorgeous in a tiger-skin dress with slits up the side, and long straight red hair, redder than seems possible without chemical help.
---
THE END OF THE AFFAIR APPROACHES!
Dear Scamorama,
this will be the last, the gig is up. "Tom" found out about me posting the letters. Here's the last exchange of letters. Too bad, I REALLY wanted to marry him.......

June 8
My love,
I expected a letter from you today, but it is already past your school hours and you still haven't written to me. Perhaps you don't love me anymore...Tell me if that's true and I will drown myself in the lake nearby.

Tom, I can WALK by myself. I was so sick and tired of the cast and now I feel free and liberated. I could come to Amsterdam on Tuesday or Wednesday next week. Which day is more convenient to you? Let me know and I will book the flight immediately. I would like to ask you to make a hotel reservation for me (US), please find a nice and clean but not very expensive hotel. I rely on you in that matter because I think you know the city much better and know your way around. I am spending the weekend at home, waiting for a message from you. I am overjoyed just thinking about finally meeting you. I have a problem with the scanner, and my photo isn't ready yet. I am sure that you have a camera and can take pictures of me naked and both of us making love (maybe you have a video camera?? That would be even better.) I was imagining us together and, god, that made me really hot!

Tell me what your favorite position is? I know you are a decent man but even decent men make love to women! Don't be shy, confess to me!

I also have some more questions for you regarding the transaction. What documents I should bring with me? Do I need to take any cash with me, and last but not least, do you still love me?

Forever yours,Dori
PS. Did you like the picture I sent you?
Dori

---
DO DO THAT TUTU THAT YOU DO SO WELL

June 9
To: Lovely Dori


You have my heart already there is no doubt about that, be informed that
my LOVE IS YOUR LOVE, we can make a happy husband and wife if we take our
time to know and understand each other. I very much understand all you have
been saying in your mails to me but Dori we need to meet in
person this is very important, I have been having sleepless nights
regarding my relationship and the marriage we are about to enter but
there will be no-way we can make it work without meeting each other, My
HEART IS FALLING FOR YOU, I think about you every now and then and also
think about our future life and the place we will live the rest of our
life, I strongly believe that the only way we can move forward is to
meet with you in person from there we can move forward. I have told you
that I will not send anything to you by post or courier hence I will
give you what ever I have for you in person. I will not send you my
passport copy now not untill we meet ourselves. Thank you for the sexy
picture you sent to me it very beautiful and sexy. I look at your
pictures every time am on the computer. Thank you and take good care of
your self till I hear from you. Bye.
- Thom Tutu

---
MORE NICE NICE FROM TOM, OR THOM

June 10
To: Dori my LOVE


It's time to blossom my love for you baby, am thinking about you and
just checked my e-mail to see if you have sent something lovely and nice
to read to make my day. Dori I need to see you baby. Did you get the
mail I sent to you with the Lovely card. I LOVE YOU.
Need to hear from you soon.
BYE
- Tom

---
BEATING THE TOM TOM

June 12
Dori my LOVE,
Please let me hear from you soon. Try and keep in touch I want to hear from
you my lovely Queen.
With LOVE from Tom.

---
TOM IS TICKED OFF

June 17
Od: 	"tom tutu" thom_tutu@yahoo.co.uk
Data: 	2002/06/16 20:22:09
Temat: 	Re: You are very stupid.
Do: 	"Dori Tutu"

Do you think that am a fool or what??? I know what your game is all about,
you will be thinking you are very smat but you are not, the picture I send
to you do you think is my picture, who on earth will send his picture to
someone like you right from the on set I know where you are coming from
that is the reason why am fooling you around Ok. You are just fooling your
self by sending all my corespondence to
http://www.scamorama.com.


[ Holy cow! That's us! And our friends at the FBI laughed when we sat down to write a web site...]
---
FIRMLY IN CHARGE
June 17
Dear Tom,
So you know about Scamorama. What a wonderful site it is, I hope you agree with me.
I understand you're upset and angry and I'm happy about it. I made a fool of you and made it public too.
My name is not D. I didn't break my leg, I don't work as an interpreter for a Polish Jazz Agency, I am not the girl in the picture. I traveled a lot in Africa, I spend about 6 months in Durban in South Africa and I know what you wanted from my friend when you wrote to him the first time. I also have a wonderful Ghanaian boyfriend.
There's no Pauline and the address I gave you is the police station I reported your scam to.
You are a THIEF. You bring shame to South Africa and other great African countries. I guess you have no concience and you're not even ashamed or embarrassed by the things you do. I really hope you'll get caught and rot in jail.
Your loving wife, "D"
PS. So what about the wedding???
---
Wow. What else can we say? Salutations.