In which the Lads think they have a live one, only to find that "pastors" can be wily.
---
INITIAL LETTER

Dear Friend,

Calvary Greetings.

I am a preacher with the Seed Harvest Ministry,and I will like to get advice from you.I believe the advice I need is secular to some extent,but do have the patience to understand my intention.

A few year's ago I was in Liberia where I had established a little congregation where I preached regularly,but the civil war escaleted and the church was converted to a hospital of sourghts. On one faith full day three Nigerian Soldiers came to me and left trunks of Money with me and swore to come back for it.

When the war in Liberia intensified I deposited this box in a security vault in Togo,I was escorted to Togo by the ECOMOG soliers who felt the content of the trunks were documents and never cared to check the trunks,I was air lifted to England with other refugees then,I stayed in England and when I was getting fraustrated I returned to Africa only to find out that two of the three Soldiers died in Battle while the last was decleared MIA (Missing in Action).

Now I have the fund which the soldiers said was over thirty million dollars,but it lies in a security vault in a Security Company in Togo,and I was contacted in a letter dated 12th of September by the security company asking me to indicate if I was in reciept of the letter as a sign that I am living and still subscribed for their service.

I am interested in using a small fraction of this money,much less than one percent for a re organisation of the work,but I do not need the rest and do not want to have any direct dealing with it,but I need someone who will be able to use the fund better maybe for charity or something universally profitable,I have thought of doing it my self but,my ministry is the apocalypse and I believe and preach the soon comming of the Lord which make me not indulgent in reliance on money or wealth in any form.

I also do not have the money that has accrued on the service and safe deposit of the company that holds the fund,I will be glad if you have any interest in the direction of maybe managing or transmitting the fund as you prefer in your capacity and understanding.

I will be glad to get a response from you ASAP.

Regards.
Pastor Patrick Udo.


---
THE COMEDIC IMPULSE STRIKES



I wanted to have some fun so I wrote back!: Try this yourself with a Hotmail account, scamsters make the BEST penpals.....they always write back!

Greeting's Fellow Christian!

I read your plight with a heavy heart. How those poor people in Africa have suffered!

My wife, Edna, and I have sponsored missionary work in Tanzania. We feel it is our Christian duty to obey the great commission our Lord Jesus Christ gave us.

You said in your e-mail that the three Nigerian Soldiers came to you and left you with trunks of money. In what currency? Some of the paper money isn't worth the paper it's printed on.

My wife and I would be happy to help you get the money, and then split the proceeds with you as you detailed in your e-mail.

How can we help?

Yours in Christ,
James Purvis


---
HEH HEH A LIVE ONE



They wrote back promptly! They figured they had a live one! I was going for wealthy, stupid and greedy with James Purvis, it seems I succeeded!

Dear James Purvis,

I have received your response to my mail. May God bless you and your wife abundantly and thank you for your willingness to assist in this call.

Be informed that before we commence this transaction proper. I will suggest we arrange for how we can meet to discuss. I advice, you furnish me with any form of your identification so that I know whom I am dealing with. As you know we have no any knowledge of our selves.

On receipt of your identification I will then commence with all the paper work to enhance the change of beneficiary to your name.

The procedure is this: -
1) I will be taking care of all the preliminary demurrages charges for the consignment to meet our estimated time.
2) The time frame of this transaction will apprximately be 10 - 12 working days.
3) You are already aware of that the funds are presently deposited with a security company in Lome, Togo . And we have to change the beneficiary from my name to your name. Regarding this change, the security company will then contact you and advice you accordingly.
4) The security company will now require you as the beneficiary to come and secure the funds in Lome, Togo or in one of their offshore payment offices.
5) You are going to be responsible for all your traveling expenses to secure these funds in Lome,Togo.
6) Your commission on this project is going to be based on a percentage of the total sum. Every assistance you render is for God.
7) Be informed that you do not stand any risk as far as all the legalities has been taking care of.
8) You have to furnish me with your phone and fax numbers to enable me perfect the change of beneficiary with the Security Company where the funds are deposited.

I await your response while I advice you call me on Tel.234 1-7594579 so that we can discus. Remain bless.

Regards.
Pastor patrick Udo.
---
40-40-10-10



I didn't write back right away: I have a real job and real life, but that didn't stop them from firing off an e-mail.

DEAR JAMES,

GOD BLESS YOU AND YOUR WIFE EDNA.I HOPE YOU RECEIVED MY LAST MAIL DATED THREE DAYS AGO?MY OTHER EMAIL BOX HAS A PROBLEM AND AS SUCH I CANNOLONGER ACCESS IT, SO, IF YOU HAVE SENT ANY MAIL THERE KINDLY RE-SEND IT TO TH IS E-MAIL ADDRESS.

JAMES,WHERE HAVE YOU AGREE TO TRAVEL TO?IS IT TOGO (LOME)OR ANY OF THEIR OFFSHORE PAYMENT OFFICES IN ARMSTERDAM(HOLLAND),CANADA OR LONDON.

THE SECURITY COURRIER COMPANY WILL ASSIST YOU IN LODGING THE FUNDS INTO YOUR ACCOUNT AS YOU MAY WISH. NOTE THAT AFTER COLLECTING THIS MONEY YOU SHALL USE 40% FOR ORPHANAGE HOMES AND CHARITY ORGANISATION AND 40%FOR BUILDING MORE CHURCHES AND SPREADING THE GOSPEL TO MANY PLACES OF THE WORLD.

THEN,YOU SHALL SEND10%TO MY CHURCH AND 10%FOR YOU .

NOTE THAT WE ARE DOING THIS FOR GOD.

SEND DOWN YOUR DETAILS. TEL/FAX NUMBERS AND ANY OTHER FORM OF IDENTITY.

GOD BLESS YOU.
BEST REGARDS,
PASTOR PATRICK UDO.


---
HOW WILL I RECOGNIZE YOU?



As luck would have it, I had some free time and decided to fire off something to the lads!

Dear Pastor Patrick,

Sorry for the delay in my response, things have been a bit hectic around here.

Edna, the wife, is fine...thanks for asking. The wife can't fly, so I am going it alone.

Your proposal sounds great, but please give me a rough idea of how much money will be required to secure these funds. The flight to Lagos alone is going to cost me a few dollars.

How long before I can transfer the funds back to my bank in Houston?

Also, can you send me some pictures of yourself and your church? This way I can recognize you when I arrive.

Yours in Christ,
James R. Purvis

---
A HARD NUMBER



I wish I could have been there when they got that e-mail. And they produced a number!

Dear James,

How is you and your family? Ihope fine!

I recieved your mail dated 1 Nov.2001.

I thought you were going to Togo first to recieve the before coming to Nigeria to visit us.

You should start making arrangement to travel to togo by Friday this week. I shall meet you in lome, Togo to see and guide you through this transaction.

All you need doing is to foot your bill to Togo, take care of your accomodation and hold reasonable amount of money of at least US$25,000.00 to set up bank account in your own names through the assistance of the Security Company.

Please not that the security company will reach you any moment from now .

I expect you to send our portion of the funds to us as soon as you recieve the funds and visiting us here in Nigeria.

I will mail to some vital documents including my picture regarding the funds with security company.

I await your call/response.

God bless you

Regards
Pastor Udo

---
PICTURES OF ACTUAL PIECES OF PAPER
The documents are a riot! Just look at the gross misspellings!!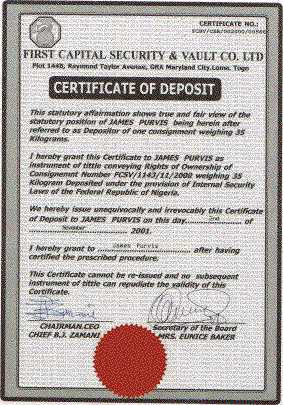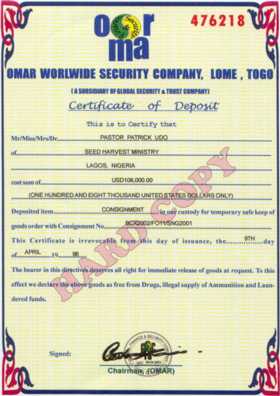 See contents re-typed below:
(1) First Capital Security & Vault Co. Ltd., Plot 144B, Raymond Taylor Avenue, GRA Maryland City, Lome, Togo, Certificate of Deposit.
This statutory affairmation shows true and fair view of the statutory position of JAMES PURVIS being herein after referred to as Depositor of one consignment weighing 35 Kilograms. I hereby grant this certificate to JAMES PURVIS as instrument of tittle conveying Rights of Ownership of Consignemnt Number FCSV/1143/11/200 weighing 35 Kilogram Deposited under the provision of Internal Security Laws of the Federal Republic of Nigeria. We hereby issue unequivocally and irrevocably this Certificate of Deposit to JAMES PURVIS on this day 2nd of November 2001. I hereby grant to James Purvis after having certified the prescribed procedure. This Certificate cannot be re-issued and no subsequent instrment of tittle can repudicate the validity of this Certificate. Signed Chairman.CEO Chief B.J. Zamani and Secretary of the Board Mrs. Eunice Baker.
(2) Omar Worldwide Security Company, Lome, Togo [A Subsidiary of Global Security & Trust Company] Certificate of Deposit.
This is to Certify that Pastor Patrick Udo of Seed Harvest Ministry, Lagos, Nigeria, cost sum of USD108,000.00 (one hundred and eight thousand United States dollars only) Deposit item Consignment in our custody for temporary safe keep of goods order with Consignment No. BCX2002/FO11/SNG2001. This Certificate is irrevocable from this day of issurance, the 9th day of APril, 1996. The bearer in this directives deserves all right for immediate release of goods at request. To this effect we declare the above goods as free from Drugs, illegal supply of Ammunition and Laundered funds.
---
DON'T TRUST THAT OTHER GUY



===== Original Message From patrick udo (divine6000@yahoo.com) =====

DEAR JAMES,
DID YOU RECEIVE ALL THE DOCUMENTS I SENT TO YOU? MAY THE SPIRIT OF THY LORD BE WITH YOU. WHY HAVE YOU NOT REPLIED MY MAILS SINCE LAST WEEK. I SENT YOU PICTURE AND DEPOSIT CERTIFICATES UPTIL NOW NO REPLY. KINDLY CALL ME ON 23417731666, OR 23417594579. SEND DOWN YOUR TEL/FAX NUMBERS IMMEDIATELY.

DEAR JAMES, I WANT TO GIVE YOU CODE ANY TIME YOU CALL ME I WILL ASK YOU OF YOUR CODE AND YOU HAVE TO QUOTE 4579.

THAT'S THE ONLY WAY YOU WILL KNOW THAT YOU ARE DEALING WITH THE REAL PASTOR PATRICK UDO.MY JUNIOR PASTOR IN THE MINISTRY WHICH I SACKED BECAUSE OF HIS DUBIOUSNESS IS TRYING TO CONTACT YOU WITH YOUR DETAILS.

CONTACT ME AS SOON AS POSSIBLE.

REGARDS,
PASTOR PATRICK UDO

---
CHAPTER 419



All good things must come to an end. 419 is the chapter of the Nigerian Law Books that relates to these scams.

Dear Pastor Udo,

I recieved all your documents and enjoyed them immensely!

As for the codes, wouldn't 419 be a better code?

Sorry to hear about your junior pastor, good help is hard to find.

My home phone number is (419) 419-4190.

I checked with my banker, I have $419,000 in my bank. My bank account number is 419419419419-419.

I am booked on Sabena flight 419 to Lagos, landing on the 19th at 4:19 pm.

See you at the airport!

God Bless You!

James Purvis


---
That Lad was fast, but not faster than the pastor!