---
NGINI TO PLANET EARTH

Date unknown

Dear Friend,

I am Barrister ALEX DONALD NGINI from Cameroon but live in calaber in NIGERIA am the Solicitor and Attorney to CHARLES TAYLOR.I have been mandated by Mr. Charles Taylor Former Liberian warlord who is presently on Asylum here in Nigeria.

I am contacting you because he has asked me to look for a very reliable Foreigner to assist him in repatriating the money he has stashed away in a Security Company overseas.

He left behind with the security company were he deposited a Trunk Box Containing exactly thirteen million US dollars (US$13.000, 000).

Since he has been granted Asylum by the Nigerian Government he has not been allowed to Travel out to any where because the united nations has been trying to hold him for crimes against Humanity hence he is looking for a reliable Foreigner who will help him out by claiming the funds on his behalf with the information and Back-up Documents of the funds. He has asked me to offer you a total of 19% of the total sum and I am going to get the legal aspect of this transaction done and if you know you are in a better position to help please do not hesitate to reach me on this e mail address so that I can give you the next step to take towards the actualization of this mutually beneficial transaction.

I await your response as I ask you to keep this transaction confidential even if you are not in a Position to be of assistance. You can reach me with this email ---(alexdonaldn@yahoo.co.uk)

Best Regards,
Barrister ALEX DONALD NGINI

The Royal Family of Russia responds. The sig should be a dead giveaway, we do try to play fair with the lad, at first.


---
ROMANOWSKY

6 September

We have received your proposal. How you managed to find our email address is unknown to us, but since you did, you must have obtained it from one of our people. Still, to consider your proposal We require more details. In addition, you must certify that no activities involved violate the Patriot Act or other recent anti-terrorist legislation by the United States government. These laws apply to foreigners, too. Once We receive your reply we can determine whether the proposal should be accepted.

=====
An injustice in the past remains an injustice until justice is achieved!
We await the glorious Restoration that will bring Mother Russia back to life!
Da zdravstuite (long live) Tsar Nikolai Petrovich Romanov!

Round 2 is the standard stuff, though usually the lads ask for some personal information at this point.


---
NGINI

7 September

Dear William Romanowsky,

Thanks for your respond. I am very delighted that you want to be of an assistance to us.

Mr. Charles Taylor Former Liberian warlord who is presently on Asylum here in Nigeria. He deposited a trunk box containing exactly thirteen million US dollars (US$13.000, 000) when he was still a Liberian warlord. This fund was deposited in 2002 with a security company in Spain.

All the Documents regards to this will be prepare by me and send to you for identification and collection of the fund by you. Immediately i recieve your details in which i'm giong to use in prepareing you the necessary documents, i will start the document as soon as i have confidence in you.

This is 100% free risk and feel free to ask me any question that you need to know. I want you to give to me your telephone number in your next mail to me so that i can give you a call for more discussion.

I am waiting for your reply as soon as possible.

Thanks,
Barrister Donald Ngini.

A cautious reply, don't want the lad thinking we are too gullible. Even if the deal is "100% free risk"! We set up a relocation to remote Siberia, to set up an incommunicado situation later.
---
ROMANOWSKY

8 September

To: Barrister Ngini

We thank you for your prompt reply. Before agreeing to undertake such a transfer of funds, it is necessary to get a bit more information.

As We understand it, you wish us to set up an account to transfer a large sum of money. This is not a problem. However, at our present location, in Alaska, We are subject to great scrutiny by the government. This is due to the reaction to the events of 9/11. Fortunately, We are soon to be back in our other home, in a more flexible country. It might be better to set up the bank account there. This can be done, but might require a few "special favors". We think you understand how such things are done. But it might be the better way, because our relationship with the bank there goes back a long, long time. What do you think? As for telephone, We don't have cell service in our remote location and We do not use the telephone for business. We can communicate by fax or email. When We have arrived at our winter home, phone service should be available.

/s/ William Romanovsky

=====
An injustice in the past remains an injustice until justice is achieved!
We await the glorious Restoration that will bring Mother Russia back to life!
Da zdravstuite (long live) Tsar Nikolai Petrovich Romanov!

A slight twist. And we were so looking forward to Amsterdam! Oh well, the reign in Spain will fall mainly on the lad, causing him pain.
---
NGINI

8 September 11:15:14 +0100 (BST)

Dear William Romanowsky,

Thanks for your quick reply. In this point, i am very happy to inform you that this fund have already been in the security company in Spain. So the won't be any need you setting up any account. What you need to do is to go to Spain and collect the containner boxs that contains the fund.

when we agree on the teams and trust, i will begin the documentation on your behalf that will be on your name.

I am waiting to hear from you urgently.

Regards,
Barrister Donald Ngini.

A bit of skepticism. Introducing some more of the clan. We take the attitude that the barrister is trying to launder ("cleansify" is our term) some money, and imply that we have much experience. We up the ante, demanding a bigger cut.


---
ROMANOWSKY

9 September

Barrister Ngini, We are a little concerned. How can We not need a bank account to handle our share of the money? Surely you cannot expect us to carry it out of Spain in our trouser pockets or in the trunk of a car! After all, the ETA terrorists have changed Spain from a friendly and open country into something a bit more common. We are a bit old for trips to Spain, but have a few trusted associates and family members. We can certainly arrange for our son Peter or grandson Alexey to do the travel. They can use our apartment in Barcelona or villa in Linares, and We also have a "time-share" unit in Oropesa del Mar (Casa Galdana).

However, for such a large sum, We must somehow arrange to deposit it with a trusted bank. We will need to find out if our most trustworthy and discreet bank (ESB) has a branch in Madrid, or whether some informal arrangements exists with local banks. Most of our friends are in the northern countries, we haven't many contacts in Spain, except for our social acquaintances who are not trustworthy for an arrangement which demands absolute confidentiality. So We will have to send Alexey or possible a close and trusted old family connection based in Moldova, who can be trusted to do whatever is necessary to achieve the goals of the specified operation.

We must move funds to Russia, not the United States, as only in Russia are the banks and regulations flexible enough. Chukot is more discreet than New York, or even our locale in Alaska. But Russian Mission, Alaska, has no reliable banks. We operate with cash when here in our summer home. We are prepared to move quickly, after establishing all terms, procedures, and modalities. We fully understand that this transaction is a means of cleansifying the funds, and surely your clients would like to see this handled quickly and cleanly. Our family has had to cleansify money for many years. By the way, your proposed 19% is a bit low, and the existential contingencies and assorted expenses must be discussed. However, We are confident that such minor quibbles will not interfere with everyone getting their just desserts.

In addition, We would prefer to do things in short order, preferably before we return to our winter home in Chukot, which as you know is in a very remote area in Russia. I'm sure that the person who sent you our email address, which is not well-known, gave you some background on our experience, though, We trust, not in detail.

Just for our confidence, can you tell us something of your background? Nothing detailed, but We do need to know who we are dealing with. It is a dangerous world these days, and alas, strangers can not easily earn trust.

/s/

The lad ignores our request for more background, but plows ahead. We are supposed to believe that the $13,000,000 will be moved in the form of "bullion". The offer is upped to 22%. We'll push it up more, later.


---
NGINI

10 September

Dear William,

Thank you very much for your very detailed email. As a matter of fact, I have discussed this project in detail with Mr Taylor and after much consideration, he has agreed to up your percentage to 22%. I believe this is fair in view of the fact that certain expenses will have to be undertaken to clear the deposit from the security company.

Handling the money after removing it from the security company would not be a problem at all. The security company operates conveyance services within Europe in their armoured bullion carrier which is available on payment of certain rental charges. That is, should you wish that the money should be taken to Russia before being banked. On the other hand, they can also assist in depositing the money to some local banks in Spain after the cleansing but the problem with this is that the accounts have to be opened in the names of the person (Alexei) whom you will be sending to Spain to undertake the clearing of the deposit. Can we trust this person? Please confirm because Mr Taylor is very much worried about the fate of his funds and he does not want anything to go wrong. This is why he has mandated me to make all the arrangements and he is particularly concerned that no one must be told about this project on your side. Please try and understand that these confidentiality meausres are for the success of the project.

If all is agreed on the percentage and you are set to travel to Spain to clear the deposit, I shall forward detailed information about the security company such as address and phone number of the comapny and the official to be contacted at the company. I shall also forward the documents which will be required for the claim such as the certificate of deposit and the 'Power of Attorney" which I shall issue to the claimant under the supervision of one of President Taylor's trusted senior notaries.

Please state your position as a matter of urgency. On my part, all is set for the claim.

Looking forward to a speedy response from you.

Regards.
Barr. Alex Donald Ngini.

Time to introduce Boris, and point out some "practicalities of the modalities". We try to misunderstand as much as possible, creating a scenario where the lad would actually be traveling throughout remote regions of Russia. We are patiently awaiting details of the meet-up in Spain, so that we can arrange something suitable. Anti-German bias is introduced, to lay the groundwork for future fun. We establish Alexei as a rich young playboy. A small mention of a merchant in Venice who will play a role later.


---
ROMANOWSKY

10 September

We thank you very much for your prompt reply. Our grandson, Alexei, is quite reliable, though young in years. His father, on the other hand, could never be trusted with so much money. Alexei follows our family tradition. The distinguished tradition of leadership which has attached to our family for many generations is fully present. Traveling to Spain will not be a problem, as We believe that country is already in his itinerary for the fall season. He is going to visit his cousins Nicholas and Anastasia somewhere in central Europe. After that he is off to Amsterdam, Paris, Cannes, and then through Spain to Palma de Mallorca, one of our favorite places in the month of October. So, Alexei can drop by either on the way to Palma or after.

As far as transfer of funds is concerned, we need only find a way to deliver the funds to our preferred bank, ESB, of course it would be absurd to use such transport to attempt to move funds all the way to Chukot province. There are too many dangerous areas in Russia still controlled by former Communists and some nationalist rebels. There are even some areas with nasty Germans, who were not eliminated in the Great War. It would be as if your Mr. Taylor were driving funds through the war-torn country's of your African continent. However, the eastern Siberian bank does have a branch in Moldova. Perhaps this would do.

We do need to make some sort of arrangement to secure the money since our grandson will certainly not wish to travel in an armored bouillon carrier. He prefers sports cars, especially Italian ones, or, as he puts it, limos with large back seats where he can entertain his friends. Perhaps we could make use of one of our long time loyal functionaries, Mr. Boris Godunov, who is associated with the bank branch in Moldova. He is extremely trustworthy and has a great deal of experience dealing with large amounts of cash and other negotiable instruments. He is a close friend of the bank president and often handles sensitive matters. Officially, Boris is the regional sales manager for the Trans-Siberian commerce firm. This firm has been serving our families for many generations, and has discreetly assisted many prominent Russians. Boris is used to dealing with many different types of currencies and negotiable instruments so there would be no difficulty there. He can also prepare any papers which might be necessary to cross most of the borders.

We suggest that Alexei and Boris meet up with your people at a mutually convenient location. They can bring the necessary euros to handle any fees or gratuities which might be required. You must advise how you wish to obtain the bulk of the funds. You could picked them up in Moldova or Chukot, of course. But that might not be too convenient for you. Your name is African, and We assume you are of an African race, would stand out to prominently in such remote areas. So it remains for us to determine a method to ensure your receiving that which is due to you. Although our family honor has never been questioned, we are talking about quite a sum of money and we need to ensure that your interests are properly protected as well.

We look forward to your reply, so that we can move forward. Frankly, Our family can use the funds, as the lawsuits tying up our estates are squeezing us a bit. A damnable Venetian has been bleeding us dry for the last decade over our family's most prized possessions.

/s/

A new scheme. The lad seems confused about dollars and euros.


---
NGINI

10 September 01:32:49 +0100 (BST)

Dear William,

Thank you very much for your interest in protecting these funds to the maximum. We quite appreciate your suggestions. However, Mr Taylor , due to confidentiality reasons, and because he does not want the details of this transaction to be known to anyone apart from yourself, has suggested the project to be in two phases. Phase one will involve going to the security company to clear the deposit on payment of the clearance and accrued demurrage charges whichI have confirmed from the security company to be about USD42,000 Euros. This act will cause the security company to release the deposit when the claim documents (which I shall forward to you), are presented to them. Thereafter, Alexei or whoever is traveling to make the claim, will arrange for the lodgement of the funds with a bank in Europe through your so-called contact, once the funds are free.

Please advise on teh date that Alexei will travel to Spain so that we can go into the details of the claim and also, to enable me send you the claim authorization and other documents. Mr Taylor wants us to expedite action with the claim and it would be appreciated if you would so comply.

Looking forward to an urgent response.

Best regards.
Barr. Alex Donald Ngini.

This plan is common, but no one in their right mind would agree, so we'll hit back hard. A short delay, then we demand some more details. While not showing too much suspicion, we want to give the impression that we weren't born yesterday!


---
ROMANOWSKY

10 September

We have received your e-mail and its contains some information we find a bit disconcerting. You have assured us that this transaction would be perfectly legal. However, you are asking us to bring into Spain a large sum of money. Such sums must be declared at the border. Whoever referred you to us must surely have explained that all of our operations conform strictly to the letter of the law.

Moreover, we are reluctant to entrust such a substantial sum of cash to the custody of our grandson, Alexei Petrovich, who would be expected to travel around a foreign land, where he does not speak the language, and would be traveling alone. We cannot place our grandson in such a position.

First of all, we need to know where in Spain the transaction is to take place. Second, before committing any funds we need some evidence to see that your claim is valid. Anyone can claim to be representing anyone, we are sure you understand that this is no reflection on your good self. However, you come to us without personal recommendation and surely a request for some documentation is reasonable.

The funds you refer to are in the containers in the possession of a security company. We understand that the security company is entitled to a reasonable fee for its services, and under the circumstances it is easy to understand why such a fee is required. Why can't this fee be paid simultaneously with the delivery of the goods?

Upon seeing some evidence to support your claim, we are prepared to move forward but require further details as specified above. We do not think it would be appropriate for my grandson to be directly involved at this time. Boris can handle it and is in any case more flexible with his travel arrangements. He can arrange a bank account in any major city in Spain, transfer the fee funds there, and then collect them.

We await your reply with all deliberate speed,

/s/

Enter "Joey Adams". The scam deepens.


---
NGINI

11 September 00:02:17 +0100 (BST)

Dear William,

We quite understand your worries. However, we feel that it would not be necessary for Alexei to carry such amount of money through his journey.

This is the way the project will progress:

1. I shall send the claim documents to you, and thereafter, I shall have you call the security company with the phone number provided at the time of deposit. You will discuss with the contact person; Mr Joe Adams who received and inspected the deposit at the time of lodgemnt with the company. This gentleman is the only person who knows that the deposit contains money and NOT personal valuables as claimed by the depositor at the time of deposit. When you talk with the gentleman, that is when it will be decided how the demurrage charges will be paid, whether it will be sent to the security company by wire transfer prior to arrival of Alexei or whoever is coming to clear the deposit, or whether it will have to be paid in cash upon signing for the release of the deposit.

On the other hand, the amount required for the demurrage charges can be sent by wire transfer (in the name or bank account of your representative) to be claimed by him/heron arrival to Spain before proceeding to the security company. This way, it will be possible to privately inspect the content of the deposit before paying to the security company for the release!

Mr Taylor has advised me to provide you with every relevant information that will be required to make you feel at ease with this project and I am more than ready to do so as long as progress is made with the claim with the required speed.

If you have any further questions, please direct these to me as a matter of urgency. I shall forward all relevant documents to you tomorrow.

Waiting for your response.

Best regards.
Barr. Alex Donald Ngini.

We let the lad languish for a bit, so another arrives:


---
NGINI

11 September 18:45:18 +0100 (BST)

Dear William,

I am still standing by to hear from you to enable me exchange the deposit information with you.

Please respond to my last email and if you have any suggestions which you feel might be useful, please include such suggestions in your response.

I await your response at your earliest convenience.

Regards.
Barr. Ngini.

More temporizing, as I was feeling a bit under the weather and wasn't inspired to reply right away. Decide to set up a bit of fun involving local customs, for the next letter.


---
ROMANOWSKY

11 September

To: Barrister Ngini

We are pleased with your reply, but are about the leave for the day. We will be in touch later tonight. Today We are involved in some requisite activities regarding the anniversary of the events of 9/11/2001. No one from Russian Mission was affected, but the residents seem to feel it is important. There is a big gathering by the river, which is still flowing at this time of year. You will hear from us when we return after dinner, provided that not too much vodka has been consumed. Otherwise in the morning, with certainty.

/s/

We tell our lad about the wonderful celebrations of 9/11, and again request a specific locale in Spain. When we get a city, we will introduce a new character with some business in the area.


---
ROMANOWSKY

12 September

It is a new day, and time to get back to our business.

We await the documents you promise. But of more immediate concern, We need to know which city in Spain will be the location of the transfer. We cannot make any travel plans to have our man meet your Mr. Adams without that information.

Once that is established, we need to work out the details of meeting, acquisition and distribution of funds. Please, move this along. Our summer sojourn is coming to an end. We may have to postpone our return to Chukot, in view of the latest news from North Korea, who may have exploded a nuclear device, according to the papers. Though Chukot is at some distance, it is nevertheless of some concern, as you may imagine. In our household, it put a damper on the commemoration of the 9/11 attack. Send the details as soon as you can.

Boris is busy for the next few weeks but there is a reliable fellow, not a blood relative, who can handle it. However, to obtain the necessary travel papers he must specify a destination in Spain. The paperwork can sometimes take a day or two, even with greased wheels. If this transaction is to be completed in a timely manner, these details must be sorted out. Please send a photo of Mr. Adams, so that I can give it to our man. If you wish, We can provide same.
/s/

A couple of days go by, then the plot thickens. I suspect the scam has been handed off, because spelling and grammar suddenly improve. Of course the security firm mentioned is bogus.


---
NGINI

Date: 13 September 11:26:45 +0100 (BST)

Dear William,

Pardon me for the delay in response but I have been very busy getting a notary to arrange the Agreement and Power of Attorney that would facilitate the claim. I am happy you had a wonderful weekend in commemoration of the 9/11 saga. May the lost souls rest in perfect peace. I can imagine the nature of the party from your very lurid description and I actually wish you were much younger because I can imagine what you had in mind at the party!

Well, the documents will reach you tomorrow but you can get the certificate of deposit (which has been in my possession) today. I am saying tomorrow because the notary has to prepare and append his signature to the Agreement as well as the Power of Attorney (POA) as required by the security company before the claim can be made by a proxy. This shouldn't be a problem at all. However, I need to get the exact name of the claimant and his/her address because these details will need to be incorporated in the POA. Can I get this information today?

I want you to call the security company right away and request to speak with Mr Joe Adams. I do not have his photograph but I have the phone number of the company. The number is as follows: 34 654435000. The name of the company is Diplomatic Stores and Security Company, Valencia; Spain. When you call, you should inform him that you are making enquiries about a deposit made by one Barrister Alex Donald Ngini, and that you have authorization from the depositor to claim this deposit and as a result, he should arrange a proper date that you should come over for the claim.

As you know, the strict surveillance by security operatives here makes it almost impossible to place an international call. This is not out of place as we are not allowed to move out of the country, not even from Calabar, where we are based!

Please Williams, I want you to be very discreet about this claim. Do not make mention of it to anyone under any condition. Government authorities are still on the lookout for monies stashed away by Mr Taylor including most other ex-leaders in Africa and we are exercising extreme caution in seeing that the origin of these funds is not exposed. This is why the funds were deposited as valuables, in my name to the security company.

I would like to get a feedback from you as soon as you have made contact with Mr Adams. As I said, the claim documents will reach you by tomorrow apart from the deposit certificate which I shall send later today.

Have a wonderful week ahead and I sincerely hope that some day, you and I will have the opportunity of meeting in person after this is through.

Sincere regards.

He also sent his "passport"

We pick up on the security theme to set up an excuse for not using cell phones to communicate. Instead, we suggest using contact addresses, which will provide a bit of fun later on. And we provide a bit of background on Ivan Grozny (Ivan the Terrible, in Russian).


---
ROMANOWSKY

13 September

Dear Barrister Ngini, Thank you for your e-mail which arrived this morning. We have a number of matters to discuss but We wish to address security concerns only in this letter. You will receive other e-mails later today on logistical topics. We completely understand your concern, and assure you that our little business will be kept completely confidential.

Nationally since We are unable to travel to Spain ourselves, at least one other person must be involved. As We wrote to you earlier, our friend Boris can be of assistance. Due to other pressing obligations he cannot travel to Spain until next month, and we would certainly like to wrap this up sooner. Rest assured that Boris has no information regarding our transaction. He simply handles logistics. If We need something picked up or delivered, he arranges it. Only highly trusted, long time persons are used. They are given no details other than those necessary to complete the task. Sealed packages are not opened.

For our business, we will use Ivan Grozny. He is a Russian who has done many favors for our Family. He has worked for Boris as well as for others. He has shown himself to be completely trustworthy, and efficient provided that operations are not complex or do not take unexpected turns. Although his character is beyond reproach, at least for business purposes, he does not excel at independent thinking and must be given precise directions. His Spanish is rudimentary (English is passable if ungrammatical) but sufficient to get around town (and negotiate with the ladies, for which he has a considerable appetite). He is a citizen of Uzbekistan these days and can obtain travel documents easily, as he has done some favors for local officials.

You are surely aware of the situation in Spain. Cell phone communications are heavily monitored. It was, after all, a cell phone that was used to detonate the explosives in the Madrid train bombings carried out by terrorists. The closer one is to Catalan, and especially in the Barcelona region, security Is discreet but pervasive. We must use a method of communication with your Mr. Adams that does not involve the use of cell phones. That should not prove particularly difficult. It is very hard to keep up with all of the modern technology, though We do try our best. Boris recommends using spoken voice over the Internet as the most reliable secure the real time method of communication. This, however, requires a good Internet service which might not be available in Valencia. Using land line telephone is perhaps best, if your Mr. Adams has access to one. Of course Ivan will not have his own standard telephone, However Boris has supplied reliable places to leave messages. He has supplied us with locations in Barcelona, Oropesa del Mar, and Menorca. He is checking on Valencia. These message drops will be 100% secure, but messages should nevertheless be confined to contact details. Once Ivan gets together with your Mr. Adams, they can certainly work out some means of effective communication should communication be necessary. However, talking in person, face-to-face in a discreet location remains the most secure form of communication, as it always has.

So, to recapitulate, this operation will involve only Ivan, for collection, and Boris, for banking matters. We do not discuss business amongst family, and since neither Alexei nor Nicholas will be directly involved, there is no need for them to know about it. If they did, they'd likely come up with interesting ways to spend our profit, and that would not be good for Family business. However, it is possible that after the transfer Ivan will meet up with Alexei in Ibiza or some other flesh pot. We will advise Ivan to keep the business details to himself, and in any case their brains are not likely to be the organs getting exercised. More email later, but the security issues deserved immediate attention. Please advise your Mr. Taylor that Boris and Ivan has trustworthy as any of his most trusted associates, and both have been with us for several decades. /s/

The matter is about to be punted to Ivan and Mr. Adams. Diplomats.com is registered to an Easylink host, but they don't have a web page. It has been around since 1995, according to WHOIS at register.com. More promises of documents yet to come.


---
NGINI

14 September

Dear William,

Your security arrangements are very perfect and Mr Taylor is now very confident in my choice of your person as the executor of this project. He is suggesting that you should assist in handling investment projects on his behalf after this money is removed but such instructions on the investment will be released to you later. For now, let us tackle the first phase of the project which involves the removal of the funds from the security company.

Please, for very tight security reasons, neither Ivan nor Boris mustbe made to be aware of the source of these funds, that is, if it is necessary to tell them that the deposit contains funds. And moreover, they must be very discreet about the operation. It is important that they contact Mr Adams prior to arrival to Spain. This way, there could be a special arrangement that could facilitate the removal of the deposit with minimum waste of time. I understand what you are trying to explain about mobile phones but it would help if Boris could call Mr Adams from his base before boarding his plan and explain his flight schedule and time of arrival to Spain. This way, it will be very easy for them to make contact when he gets to Spain.

On the other hand,you can contact Mr Adams by email. I have his email address as follows, though I have not written him yet: adams@diplomats.com Joey Adams. You could contact him by email to furnish him with details and timing of the trip.

You will receive copies of the claim documents today, and you will need to forward these to Boris, but only when he is ready to move for the claim. This way, the documents cannot get to be seen by anyone who is not concerned with this project. It is essential that adequate security measures be taken in carrying out this operation! The agreement is between you and us and WILL not be for Boris' consumption. The documents you need send to him are the deposit certificate and the Power of Attorney.

I will be in touch again later today with the detailed information. I would suggest that since Boris is not good at English Language, you should contact Mr Adams by email yourself and give him the specifics of the trip. Also, find out from him the exact amount owed as demurrage and clearance charges. I guess the figure is in Euros.

I look forward to hearing from you again.

Best regards.
Barr. Alex Donald Ngini.

We respond with extra special secure account, with PGP and all! We lay out Boris's plan for the transfer of fund in some detail, then let the lad know we are off to Siberia. Our office in Bilibino should have raised suspicions with anyone who knows how to google. It is a real city, even if the name does resemble that of a baseball impresario.


---
ROMANOWSKY

13 September

-----BEGIN PGP SIGNED MESSAGE----- Hash: SHA1

Barrister Ngini,

Things do seem to be moving along. We will have Ivan (he'll be coming to Spain, not Boris) contact Mr. Adams for details, they can work things out between themselves. Ivan will not be informed about the contents prior to arrival in Spain, but it must be established what of the contents can be used to confirm that the containers actually have the proper contents. We still await your documentation on this matter, and need that to move forward. Ivan must be instructed by us how to handle the delivered goods. Boris suggests the following. You might have some problems with his English, so explanations follow.

William Alexeyevich, I trust you have recovered from weekend festivities. I had a productive weekend. Our friend Ivan Vasilyevich is available for the rest of month, so scheduling should not be problem. I dont have many resources in Spain, especially in that region. But, I do supply few establishments with some our delectable exports. Message drop or safe house is available in Barcelona or Palma or Oropesa, and few girls are scattered along coast, including one two in Valencia. I will get phone/fax, keeping in mind your words regarding cellphones. All bardaks there have internet, fast connection for showing webcam action. So all apertures open. TSC can arrange transport of funds. From Spain, most easy is for Ivan to return via boat, after stopping with our Jew friends in Barcelona to transform the funds into jewelry, so that everything is extra clean. some of girls are due to return home anyway, and bring through Odessa will be no problem, no worry!. Just make sure Ivan pick up some nice watches in Barcelona as gifts for official greetings in Odessa. I can handle the usual cleansification and other details. All funds will be deposited in specified account at ESB.
y.h.s Boris Fyodorovich

It means, he recommends that the funds in current form will be moved to Barcelona, traded for the equivalent value in jewelry from old Russian family business. Yes, they are Jews, but that is of no concern. They have always done honest business with us, for many, many years. Then Ivan will escort two of Boris's women, who are used to such things and all it entails. They'll enter Russia in Odessa, which has very friendly customs, unless one has weapons. Girls with jewels are not bothered, especially if they come with gifts. However, this plan assumes that the majority of the fund, your share, will need to be handed over in Barcelona, or earlier. Unless you wish them converted, which can be handled for a 10% fee. You understand, our jeweler friend has a special discount for his old customers. So, while Ivan works out logistics and modalities with Mr. Adams, our task is to work out the financial ends, as we do not wish to discuss these in detail with Ivan. He really is terrible at that sort of thing, and We must give him precise instructions. We will have Ivan contact Mr. Adams, and they can exchange photos beforehand so the meetup in Valencia can go smoothly. Should We have Ivan copy yourself on the messages to Mr. Adams? He is operating from a secure account. We are pleased that arrangements have moved forward. It appears our Family must clear out of Russian Mission somewhat soon. We will have Internet access most days, even on the journey. The airports all have wireless access points. Our office in Bilibino has one of the fastest Internet systems in all of Russia, because of the power plant nearby. So, let us wrap up the details and look forward to celebrating another success. Personally, it seems to us that your Mr. Taylor simply fell afoul of American authorities. They are barbarians, at times. Thank God they never occupied Mother Russia! We shall feel much more secure doing business from Chukot. Before the Internet, that statement would have been most absurd, don't you think? The world changes, and those who would emerge from the struggle with victory must change with it! Even an old man ...

/s/ William Alexeyevich Romanovsky

We'll let Ivan take over, introducing himself to Mr. Adams. We did so right away, noting that the Barrister has not yet informed him. Perhaps we can cause some confusion? Especially since Ivan's English ain't so good. But he is prompt.


---
IVAN

Ivan to Joey

13 September

Subject: Hello from Ivan

-----BEGIN PGP SIGNED MESSAGE----- Hash: SHA1

Hello, I am Ivan. Mr. Barrister Ngini ask my friend ROMANOWSKY for me to write you about meeting regarding business. Excuse my English not so good but you trust I understand better. Russian very bad for email, so I learn more English every day. Lucky I speak also some Spanish, so our meet in Spain no problem. You please understand I only come, take care fees, get packages, deliver packages. I citizen of Uzbekistan so easy travel Spain. In Odessa now, is in Russia. ROMANOWSKY say Valencia, this city I not visit but I go Ibiza many times. Also Barcelona, where our business continue. Is picture attachment so you recognize me. Please send me same, so I recognize you. Are you marry, have wife? Because in Barcelona I know very special ladies. We do business, so I make you treat at end! But if you marry have wife, maybe we go good tapas bar instead. Please use only this secure account for our business!

Ivan

-----BEGIN PGP SIGNATURE----- <snip> -----END PGP SIGNATURE-----



Ivan the Terrible, in the flesh!


---
NGINI

September 14

Dear William,

Your arrangements are very much perfect. It is your responsibility to plan to convey the funds through any means you deem fit to Chukot or any other Russian province where it can be taken care of and banked on my behalf until you receive further instructions on handling. 10% is acceptable to Mr Taylor just as long as the funds are safe. You are right about the Americans, they are barabarians and if you may permit me to use the word "bullies"! Mr Taylor does not like them. Have Ivan copy me in his mails to Mr Adams and please let us rush this a little bit faster. Please keep in touch. The documents will reach you within the next 5 hours.
Regards.
Barr. Alex Donald Ngini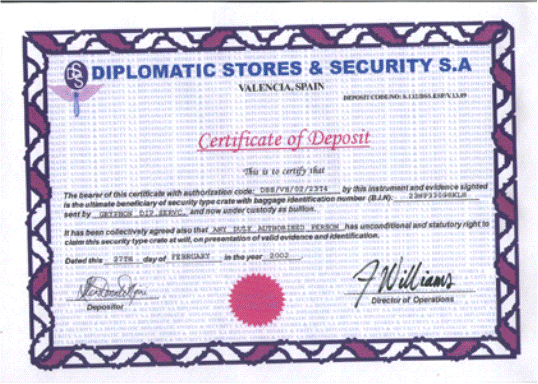 The "Certificate of Deposit", made out to "any duly authorized person". The same red seal appears on the 'Letter of Agreement' later.
[As for] The "Power of Attorney". Never sent it back. Ngini never noticed.
Joey has some problems formatting email. I'll clean up the later examples a little. But this is how it arrived.
---
JOEY

14 September <P><STRONG><EM>&nbsp;THANK YOU VERY MUCH FOR YOUR MAIL , I HAVE >TAKEN NOTE OF YOUR MAIL AND YOUR PICTURE WHICH I WILL USE IN RECOGNIZING >YOU WHEN YOU ARRIVE HERE IN VALENCIA.</EM></STRONG></P> ><P><STRONG><EM>I HAVE BEEN DULLY INFORMED BY BARRISTER NGINI ABOUT >EVERYTHING BUT NOW, I DONT KNOW WHOM TO DISCUSSE WITH EITHER YOU >OR MR BORRIS OR MR W.A.R . FOR SECURITY REASONS .</EM></STRONG></P> ><P><STRONG><EM>&nbsp; BEFORE I WILL OPEN UP TO TELL YOU HOW MUCH >THAT IS REQUIRED TO PAY FOR THE CLEARING CHARGES AND DUMORAGE FEES >PLUSE THE GIFT ITEMS THAT YOU WILL BRING ALONG FOR THE OFFICIALS >OF THE DIPLOMATIC STORES AND SECURITIES WHICH I WILL GIVE TO THEM >ALONG WITH THEIR FEES , I MUST KNOW&nbsp;THE RIGHT PERSON &nbsp;TO >TALK WITH ABOUT THIS TRANSACTION .</EM></STRONG></P> ><P><STRONG><EM>&nbsp;I AM MR JOE ADAMS , AND I AM THE CLAIMING AGENT >TO THE DIPLOMATIC STORES AND SECURITIES , MY DUTY IS TO GO TO THE >STORES AND CLAIM OUT THE DEPOSITORS DEPOSIT AND HAND IT OVER TO HIM >100% IN GOOD CONDITION&nbsp;.</EM></STRONG></P> ><P><STRONG><EM>I AM A BLACK MAN ,&nbsp; I LIVE&nbsp;HERE IN SPAIN >, I SPEAK GOOD&nbsp;ENGLISH THAN SPANISH , I AM MARRIED WITH CHILDREN >AND I AM OVER 40 YEARS .</EM></STRONG></P> ><P><STRONG><EM>I WILL LIKE TO KNOW WHEN YOU ARE COMING TO VALENCIA, > DATE AND TIME OF ARRIVAL , SHOULD YOU NEED A HOTEL RESERVATION? >PLEASE LET ME KNOW AS SOON AS YOU ARE READY .</EM></STRONG></P> ><P><STRONG><EM>AS SOON AS I&nbsp;KNOW THE RIGHT PERSON TO TALK WITH, > I WILL INFORM YOU ON&nbsp;HOW MUCH&nbsp;YOU WILL COME WITH AND THE >GIFT ITEMS FOR THE RELEASING OFFICERS OF THE DIPLOMATIC STORES AND >SECURITIES .</EM></STRONG></P> ><P><STRONG><EM>NOTE , I WILL BE GOING OUT OF SPAIN FOR CONSIGNMENT >DELIVERY TO THE UNITED STATES &nbsp;BUT I HAVE NOT YET CONFIRM MY >DATE OF DEPARTURE , SO YOU NEED TO LET ME KNOW WHEN YOU ARE COMING >HERE&nbsp;.</EM></STRONG></P> ><P><STRONG><EM>AWAITING FOR YOUR IMMEDIATE RESPONSE ,</EM></STRONG></P> ><P><STRONG><EM>&nbsp;&nbsp;&nbsp;&nbsp; JOE ADAMS .&nbsp;&nbsp;</EM></STRONG></P>

Ivan responds to Joey. Annoyed by the HTML flotsam, Ivan starts to lose the functionality of his shift key.


---
IVAN

14 September hello mr joe adams ROMANOWSKY he tell me go spain, city valencia some time this month. I come ibiza first, most probable. when ROMANOWSKY tell me, I make plan for trip. nxt week? two? three? can do any time after this week. want return by end of month. you tell ROMANOWSKY about fees, he take care. I carry only, get package, delier package, get package, go home. no need hotel. I stay Russian girl. Tell you address when make plan. is in old section i think. not have bank in valencia so I go barcelona or ibiza first, get necessaries. bring valencia come car, no like train. Ivan


---
NGINI

15 September

Dear William,

I have passed the relevant info about Ivan to the lawyer. Thanks. Any moment from now, I am expecting to receive the completed Power of Attorney from him, and I shall forward same to you immediately it is received.

Of paramount concern right now is the date you have chosen for Ivan to visit Spain for the removal of the deposit. Mr Taylor wants the visit to take place as soon as possible, if possible, this Friday or next Monday. Can you arrange it? Everything of course, depends on how soon the funds required for the removal of the deposit can reach him.

Please sign your own portion in the Agreement document and return to me for safe-keeping. I can assure you that we will strongly abide by our own terms of the Agreement and I trust you will not fail us too. We look upon you as a man of honour!

Looking forward to your response as early as possible to intimate us of the travel plans for the removal of the deposit.

Have a great day.

Barr. Alex Donald Ngini.

A few excuses and delays. But we do want to wrap up this game by end of the month.


---
ROMANOWSKY

15 September

Barrister Ngini,

We have received the documentation, but are unclear how to proceed. You ask us to sign the document, but We cannot do that on the computer. We can print them out, sign and send by mail, but that will require much time. The agreement lacks the agreed-upon 10% cleansification fee, so requires adjustment. The demurrage fees are substantial, and We cannot move such a large sum quite so quickly. Certainly we cannot make arrangements for Ivan to be in Valencia on Friday, that's just two days away. He must stop in Barcelona to speak with the jeweler, who needs a few days to assemble the jewelery which will be exported. This is a substantial transaction. We can expedite matters, but even so, a week will be required. We suggest a target date of 24-28 September.

It should be noted that during the next week We will be returning to Chukot. That damnable Venetian merchant is causing much difficulty for our lawyers and is attempting to drag us into the American courts where the shyster has many powerful friends. They are attempting to make claims against our holdings here. Fortunately, these are minor, as most of our funds are in ESB, and those are "under the radar". Boris will move demurrage fees to Barcelona. Ivan will pick them up there on his way to Valencia. Ivan will meet your Mr. Adams, take care of business, and return with Mr. Taylor's resources to Barcelona. The Jews will convert and cleansify, and Ivan and 2-3 of Boris's girls will bring the jewels through Odessa, wher TSC will arrange conversion and deposit into ESB. The funds will be divided into two accounts, one for us and one for your Mr. Taylor.

Please confirm your understanding of these procedures and modalities, and explain them to Mr. Taylor.

We can appreciate the need for speed, but must move carefully with substantial sums of money at stake.

We will be departing for Chukot as soon as Peter Billovich, our son, returns from Canada, where he is collecting medications. Have you any idea what medicine costs in Alaska? America has health care only for the wealthy, but even established families can't afford these crazy prices. Almost 500 dollars per month, just for some pills! But in Canada, we get them for less than half that. Since such things are not readily available in Chukot, We always stock up for the winter. Do you have access to all necessary medicines? We can have our son pick up anything you need and can send discretely from Chuklot.

/s/ William Alexeyevich Romanovsky

The lad is surprisingly willing to let me bring in my associates. His knowledge of current events makes it surprising he's already bought so much of the story.


---
NGINI

15 September

Dear William,

Thanks for your detailed email. As a matter of fact, the 10% cleansification charges totally escaped my mind. I will get the lawyer to re-draft the Agreement to include this portion tomorrow.

Please do not send the Agreement by post. You can print it out, sign, scan it and attach it to your mail and return to me or if you do not have a scanner, then you can send it to this fax number: 234-1-7592026. Nothing should be sent by post for security reasons!

Please in the course of handing over the money to Ivan, Boris must not be made to know the details of this project or the purpose of the money. Mr Taylor is very much concerned about security and I believe you understand why.

I appreciate that you intend to take proper time to plan and execute this project but all the same, time is of the essence and I would humbly suggest that you conclude whatever plans that you may need to put in place for the claim as soon as possible so that the claim can take place even before the 26th of September. I trust you can manage this successfully for us.

Drugs are not so expensive here but we never get the best quality. In any case, the only drugs I consume on a regular basis are vitamins. These are cheap here and there are geuinine qualities.

I will get back to you tomorrow with the updated Agreement. Meanwhile have a good night rest. I understand that Hurricane Ivan is rearing towards the coastal regions of America. I just hope your region is not affected.

Regards.
Barr. Ngini.

Joe has some HTML problems. Now wants some watches for his buds.


---
JOEY

On Wed, 15 September 16:22:11 -0700 adams joemeker <Joey Adams> wrote:

DEAR MR IVAN,

THANK YOU VERY MUCH FOR YOUR MAIL AND YOUR INFORMATIONS ARE WELL NOTED BY ME .

FIRST , I WILL LIKE TO INFORM YOU THAT THE DUMORAGE CHARGE AND THE CLEARING FEE IS €42,000.00 ( FOURTY-TWO THOUSAND EUROS ONLY ) .

SECONDLY, YOU MUST COME WITH SOME GIFT ITEMS LIKE GOLD WRIST WATCHES (3) FOR THE OFFICIALS OF THE DIPLOMATIC STORES AND SECURITIES WHO WILL RELEASE THE CONSIGNMENT (BAGGAGE ) TO ME.

WHEN I PAY THE CHARGES TO THE ACCOUNTS DEPARTMENT, I WILL THEN GIVE THE WRIST WATCHES TO THE OFFICERS WHO WILL RELEASE THE BAGGAGE TO ME , THIS WILL AVOID THEM NOT TO ASK ME TO OPEN THE BAGGAGE IN THEIR PRESENT TO SEE THE CONTENT , AND YOU KNOW VERY WELL THAT IT IS NOT GOOD FOR THEM TO SEE THE CONTENT OF THE BAGGAGE. THIS HAS BEEN MY CLAIMING PROCCEDURE WITH THEM SINCE MANY YEARS NOW AND I HAVE NEVER HAD ANY PROBLEM WITH THEM SINCE I STARTED CLAIMING OUT CONSIGNMENT FOR PEOPLE FROM THIS COMPANY . SO YOU MUST FOLLOW MY PROCCEDURE TO AVOID ANY KIND OF PROBLEM .

DO YOU STILL NEED ANY CLEARIFICATIONS ON THE ABOVE , PLEASE LET ME KNOW AS SOON AS POSSIBLE .

AWAITING FOR YOUR RESPONSE,

BEST REGARDS,
JOE ADAMS.

Ivan replies, including a copy of the original message in the HTML mess.


---
IVAN

15 September

i understand all, but please your email strange markings you can see.
Maybe computer broken?
i leave odessa now, go moldova then barcelona. i get nice watches there you no worry. get good discount but no pay too much because ROMANOWSKY give only 50000 uros means 8000 expenses. i no can spend too much but in barcelona have friends with jews get good price. No rolex, but maybe citizen ok? probably no have email weekend, no sure. back on network monday. barcelona finish i go ibiza or oropesa then go valencia. mabye no car have motosickle cause no have girls with me, they stay barcelona wait i return. why Americans name hurricane after me? is bad omen? hope no.

Ivan


---
NGINI

17 September

Dear William,

Thanks for your email and Mr Taylor is very grateful to you for sharing his feelings and problems. He hopes that he would regain his freedom someday so that he can visit you wherever you may be.

I can see that you are planning your move to Chukot soon. Well as they say, North, South, East or West, home is the best! I pray you have lots and lots of fun with old folks.

What we are most concerned with right now is seeing that arrangements are completed on schedule for the deposit to be removed. I believe you will expedite action in this regard to the best of your ability.

The lawyer returned the amended agreement this evening but it is unfortunate that I cannot scan a copy to you tonight but I shall do so tomorrow without fail. Having said that; everything is now set for the claim proper from our side. You are to sign this agreement and return a copy to me by the fax number provided or better still, by email, and NOT by post!

Have a wonderful time. I enjoy reading your detailed emails. Please keep in touch always. I am glad the hurricane did not get to your zone.

Best regards.


---
NGINI

Later on 17 September

Dear William,

Please find the attached Agreement. Very sorry for the delay in getting it to you. Please sign and return either by fax or as an email attachment.

Mr Taylor has requested that you attend to every necessary detail and make it possible for Ivan to visit Spain for the removal of the deposit next week, without fail. Please do what you can to see that this is possible. We believe and trust in your sense of judgement!

Do have a wonderful weekend and please keep us informed of your arrangements as time goes on.

Best regards.
Barr. Ngini.

Oh, boy, we get some documents! 'Evidence', if you will.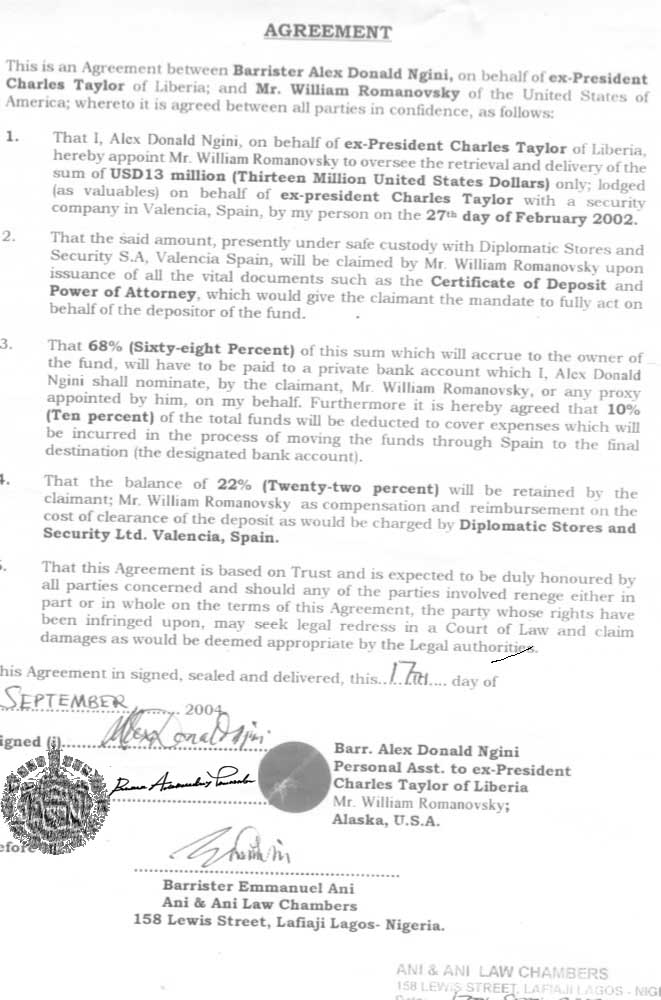 "Signed" agreement with "official seal" photoshopped in, as sent in my reply. The seal at left is taken from an legit old Romanov family seal, and ROMANOWSKY signs his name in Russian. It is a bit ridiculous that an American named William would do that. I switched it to grayscale, to give the lad the chance to wonder why anyone would print the out, sign it and put a fancy seal on it, only to scan it in without color.

Joey has been a busy lad, trying to figure out how much extra he can squeeze out of Ivan, who doesn't come across as very bright. But what is Ivan to make of the 'wristwatches' with 'neck-chains'. Maybe some strange bondage thing?
---
JOEY

18 September

DEAR MR IVAN,

YOUR MAIL IS WELL NOTED ,

PLEASE GET A GOOD GOLD WRIST WATCHES FOR THE OFFICIALS , POSSIBLE WITH NECK-CHAINS WITH GOOD QUALITY SO THAT THE OFFICIALS OF THE DIPLOMATIC STORES WILL BE HAPPY TO RELEASE THE BAGGAGE TO ME .

I WILL WAIT FOR YOUR MAIL AS YOU SAID BY NEXT WEEK .

HAVE A NICE WEEK END ,

BEST REGARDS,

JOE ADAMS .

Ivan ignores the content, replies right away.


---
IVAN

18 September

i am by Boris tomorrow then go athens. you like greek?
no stay long must go barcelona center of week.
everything splendid ok no worry. i come valencia friday.
we meet saturday?
ivan


---
JOEY

20 September

DEAR SIR,

I HAVE RECEIVED YOUR MAIL AND I WILL BE WAITING FOR YOU ON FRIDAY .

DO NOT FORGET TO BUY THREE (3) GOLD CHAINS PLUS THE THREE (3) GOLD WRIST WATCHES FOR THE OFFICIALS OF THE DIPLOMATIC STORES BECAUSE I HAVE ALREADY INFORMED THEM TODAY THAT I WILL BE BRINGING GIFT ITEMS FOR THEM ON FRIDAY MORNING WHEN I AM COMING TO CLAIM THE CONSIGNMENT OUT .

YOU CAN STILL BUY ONE GIFT FOR ME IF YOU LIKE OK AND I WILL BE VERY MUCH HAPPY .

AWAITING TO MEET YOU ON FRIDAY ,

BEST REGARDS,
JOE ADAMS .

Let's see if Joey will cough up the address of the security company.


---
IVAN

20 September

no problem i no forget you, Mr. Adams. i look forward exchange gifts with you.

how we meet? you still no send me foto. send foto now please. where we meet? not know valencia but i good read map, can get internet. i come car. ROMANOWSKY and boris arrange everything in barcelona.

we meet by security company, you send address please. also send phone number in case i need. is anyone person i aks for there?

not know when i get to valencia friday, maybe afternoon. like drive along coast. take time, no hurry. must enjoy life.

The lad has an education! I deliberately didn't mention Shylock! I used the word 'shyster' in my rant, and it seems to have primed his mind. It confirms my suspicion that the barrister is not a fool.


---
NGINI

19 September

Dear William,

Thanks for the completed agreement which Mr Taylor recieved with much joy. This means that the project is now fully in progress and that we should expect concrete results next week.

I wish you the very berst of luck on your return to Chukot. I feel that your coming back to Europe would make it much easier for us to relate with you and have you oversee Mr Taylor's business interests should we decide to invest this money in Europe.

Please keep us informed of the claim progress at every point in your journey back home. It is still spring season here in most parts of Africa but we are awaiting what you Europeans may refer to as winter! It is really never winter here.

Take very good care of yourselves while we wish you a very safe transit to Europe and pray too that God will protect your business inetrests from shylock Americans!

Regards.
Barr. Ngini.

Will the barrister swallow a fish tail about a big corrupt operation in Italy? Let's put the Merchant of Venice to work. Make sure the lad doesn't consider ROMANOWSKY anti-Semitic, and explain our link to Barcelona. We propose some modalities. Also raise some possibility that Ivan might take the money and run, so the barrister might figure a way to use that as an excuse in the end. Since no-one is going to physically go to Spain, "Ivan" is not at risk. Finally, we admit to being less than completely honest, just in case he wonders if we really do live in the remote Siberian area.


---
ROMANOWSKY

20 September

Barrister Ngini,

Our journey is progressing well and everything is on schedule.

Please do not get the wrong impression. The situation we described in Shakespearean terms is not entirely apposite. We do not know a debt of any sort to these people. You will appreciate that we cannot go into details, but the situation is that in conjunction with some work on the Marco Polo Airport in Venice, we were asked to make some informal arrangements. That is how it goes in Italy. For each public contract there are the public aspects to a bid, and private aspects. This businessman in Venice, a now former employee of a significant banking institution, employed us to distribute certain funds allowing of course for our well-earned commission. We carried out our tasks perfectly. However, their confidence in being able to supply a security related service was not justified. The Airport shows an American contractor using a superior technology to the untested proposal of the local firm.

After the bid failed, these merchants of Venice came after us, bringing forth documentation which had existed only to formalize the agreement. This documentation was more publicly acceptable than the true arrangements under which we were engaged. They seek to recover not only our commission, but also the remainder of the substantial amount involved. Those funds are not in our possession, of course, because they were distributed for the intended purposes. In a court of law, however, our position is not strong. We should never have signed the documents presented to us, but those handling the affair on our behalf never thought these documents could be used against us. By the way, our tormentor is named Alessandro. He is not a Jew. The only Jews involved are our attorneys, whose loyalty and ingenuity has served our family for many years. Indeed, one of them is a relative of the very jeweler we will be using in Barcelona.

Frankly, our interest in your proposal was motivated by the fact that with these funds some sort of negotiated for now what he to our Venice problem can be achieved. We are practical when it comes to Family matters. Now, it is up to us to take care of this transaction so that your Mr. Taylor and our family both solve their problems.

Ivan flies to Spain tomorrow, he will arrive in the evening on a flight from Athens. He has not received any specific instructions from your Mr. Adams. So, we propose that he convey the necessary demurrage funds in the form of pieces of jewelry accompanied by authentic evaluations, with a full refund guarantee. The security firm can bring them to Barcelona and receive in full the complete value without any commissions or fees. Those will be paid by us in advance. We can pay for these jewels directly from our accounts and have done so in the past. This is the easiest way to move such a sum, as it is unlikely the security company will accept a check. Of course, we could provide the funds in the form of travelers cheques, but this would require Ivan to pick up a large amount of travelers cheques in Barcelona and that cannot be done with full discretion. In addition, this provides more security for us because it will not be necessary to place easily converted assets into the hands of our courier. We trust Ivan, but over €40,000 is a lot of money. Even with the jewels, we have decided not to leave him alone on his journey from Barcelona to Valencia. He will travel with a woman who will request a ride so that she can participate in a film that is scheduled to be produced next weekend in Valencia. After he drops her off, this Friday, we would prefer as short and interval as possible before his meeting with your Mr. Adams. Before that, Ivan must be given some information on the actual contents for verification purposes.

We do trust our man. Nevertheless, this sum is greater by far than Ivan has handled in the past. It never hurts to reduce temptation. Knowing Ivan, he will be suitably distracted during the journey. The woman knows nothing of our business, and she can be contacted by us if necessary by her cell phone (which is based out-of-country). To report to us, she will use landlines only, since the geographic locations of cell phones are now traceable.

We should thank Boris for coming up with these added security measures. It is rare to find an individual who will loyally carry out operations without nosing about. He may well be useful in the future plans you allude to. He assures me that the woman in Barcelona is reliable. Apparently she has performed services for many famous Russian athletes vacationing in Spain and has never engaged in gossiping about them. We will of course cover her fee as this additional layer of security is designed for our own protection, and not yours except in so far as you would like to see this deal properly consummated.

Internet service has not been as widely available as we thought, but we should be able to check and once or twice each day. We will have excellent service in Chukot from our Bilibino office. However, we will only be there for a week or two. Though Chukot is our "home", one can hardly be expected to spend the winter there. We will head to warmer climate. We didn't tell you this earlier, because you had not yet earned any trust. Please do not take offense. Trust is the basis of any good business deal, but it must be real.

/s/ William Alexeyevich Romanovsky

[Scam-o-comment: we doubt the Lads care if Romanowsky is anti-Semitic. or anti-German. or anything - as long as they get their hands on his non-existent cash!]


---
NGINI

21 September

Dear William,

Thanks for your elaborate explanation of your plight with your business associates. Well, I just hope the compensation you will get from this project will be enough to cover whatever amount you may need to pay back to them over there.

Now, I want to give you the final details on the deposit. I do not think that the security company will accept anything but cash, so Ivan must find a way to make the cash available before he meets with Mr Adams. I have written to Mr Adams, whom as I told you is the only one in the security company who is aware that the deposit contains money (he was settled with USD150,000 at the time of deposit to keep this fact secret)! The plan is that Ivan should get in touch with Mr Adams once he gets to Spain, by phone. (Mr Adam's phone numbers are: 34 654435000 or 34 660946626). There will be no problem about making such call. When they meet, Ivan should hand over the clearance charges to him inorder that he can go to his company and remove the deposit after paying the clearance and demurrage charges to their treasury and obtaining a receipt. If it is done this way, then the security checking officials at the company will not bother to open the deposit to conduct the routine check before handing over to the owner. This is because Mr Taylor does not want the deposit opened by anyone other than Ivan when he is handed the consignment.

The combination that opens the box is "962". Ivan must be given this combination but he must not let Mr Adams know this combination. This is why Ivan must not go to the security company to remove the deposit himself because he will be asked to open the deposit since it will be believed that he has the combination to the box. This is the normal clearance process. (If the box is opened before the security company officials and they find out that the deposit contians money contrary to the depositor's claim, then there would be problems! Such must not be allowed to happen). Ivan should open the box only after Mr Adams has cleared the deposit and delivered same to him in his hotel or guest house. Even at that, he must excuse Adams and must not allow him to see the numbers he is using to open the box.

Another point is that Ivan must not know the source of the money. You can tell him that the money is your family funds which you kept with the security company for safety reason. Please understand all these explanations as being vital to the success of the project. Another question is: Can Ivan be trusted to convey the deposit to the approved detsination after he finds out that the box contains a large sum of money or would it be necessary to request Mr Adams to arrange for a security escort for Ivan. However, if you say you trust Ivan to take care of things and that the money will be safe, then there is absolutely no problem. It's okay with us because we trust your decisions.

Ivan must contact Mr Adams by phone once he gets into Spain. This is very important!

Please let me read from you as soon as possible.

Regards.
Barr. Ngini.

Joey just doesn't want to have fun. Ivan ignores this message, letting William handle it. The hotel is real, rated at 4 stars. And not cheap!


---
JOEY

cc: to ROMANOWSKY

20 September

DEAR IVAN,

THANK YOU VERY MUCH FOR YOUR MAIL OF TODAY,

FIRST, LET ME TELL YOU THAT I BELIEVE IN BUSINESS BEFORE PLEASURE AND NOT PLEASURE BEFORE BUSINESS, I WILL LIKE TO FINISH GETTING OUT YOUR CONSIGNMENT OUT FIRST FROM THE SECURITY COMPANY BEFORE WE GO INTO PLEASURE OK.

WHEN YOU ARRIVED VALENCIA, YOU MUST GO INTO A HOTEL FIRST WHILE I GO TO THE COMPANY TO CLAIM OUT THE CONSIGNMENT AFTER CLAIMING IT OUT ,I WILL BRING IT TO YOUR HOTEL ROOM AND HAND IT OVER TO YOU , THEN IF YOU WANT US TO GO OUT FOR PREASURE, THERE WILL BE NO PROBLEM .

HERE IS THE NAME OF THE HOTEL I WILL LIKE YOU TO GO AND BOOK YOUR SELF IN <UMELIA REY DON JAIME</U , THE IS Uavda baleares, 2 - 46023 valencia /U . THEIR TELEPHONE NUMBER IS<U963375030</U, YOU CAN CALL THEM AND MAKE A RESERVATION FOR YOUR SELFSO THAT AS SOON AS YOU COME IN , YOU CALL ME SO THAT I WILL MEET YOU THERE , MY PHONE NUMBER IS <U654435000</U , OR IF YOU LIKE , YOU CANGO TO ANOTHER HOTEL IN VALENCIA AND BOOK YOURSELF INAND CALL ME FROM THERE .

MY PICTURE IS NOT IMPORTANT NOW SINCE I HAVE YOUR PICTURE AND I AM THE ONE TO MEET YOU .

LIKE I HAVESAID INMY FIRST MAIL THAT I AM A BLACK MAN , SO I WILL BE THE ONLY BLACK MAN TO MEET YOU WHEN YOU ARRIVED HERE AND I WILL IDENTIFY YOU WITH YOUR PICTURE .

LISTEN MR IVAN, WHEN YOU ARRIVED HERE, YOUMUST NOT LET ANY BODY KNOW WHY YOU ARE HERE EVEN YOUR RUSIAN GIRLS , THIS BUSINESS REQUIRES SECRECY AND YOU MUST FOLLOW MY INSTRUCTIONS FOR US TO HAVE 100% SUCCESS THIS IS THE WAY I OPERATE HERE .

YOU MUST TRY TO ARRIVE HERE BEFORE 2: PM ON FRIDAY SO THAT I CAN GET THE CONSIGNMENT OUT IMMEDIATELY FOR YOU BEFORE THE COMPANY CLOSE FORWORK ,BECAUSE I HAVE ALREADY INFORMED THE COMPANY THAT I WILL BE COMING TO CLAIMA CONSIGNMENT THERE ON FRIDAY AFTERNOON .

SO YOU MUST MAKE SURE THAT YOU CHECK YOUR SHEDULE VERY WELL TO KNOW WHEN YOU WILL ARRIVE HERE IF YOU ARE COMING BY CAR , BUT I WILL ADVICE YOU TO COME BY AIR TO MAKE EVERYTHING VERY EASY FOR YOU .

I WILL ALSO ADVICE YOU TO KEEP ASIDE PLEASURE FOR NOW AND FOLLOW MY INSTRUCTIONS UNTILL I FINISHWITH YOU ON THIS BUSINESS AND HAND OVER THE CONSIGNMENT TO YOU ,

REMEMBER TO COME WITH ALL THE GIFT ITEMS THAT I TOLD YOU , IT IS VERY IMPORTANT TO THE OFFICIALS OF THE COMPANY

AWAITING TO HERE FROM YOU SOON .

NOTE , I HAVE COPIED THIS MAIL TOBARRISTER NGINI AND MR W.A.R .

BEST REGARDS,
JOE ADAMS .

We insist on a bit more professionalism. Time to let the lad know we aren't complete chumps! We demand identification for "Joey Adams" and refuse to fall for the cash gambit. So as not to drive the lad away (yet), we give him a phone/fax number we have set aside for our adventures.


---
ROMANOWSKY

21 September

Well, this does introduce a number of complications. We might be able to find some way to arrange for cash, but to achieve this in the next 48 hours seems unlikely. €40,000 is a great deal of money. Banks simply do not hand over that much cash to a foreigner without proper recordkeeping. Our business associates to handle a great deal of cash in the jewelry trade, but these days it is more often seen in small amounts. I cannot state with confidence that we will be able to do this.

Far more disturbing is the message We received from Ivan. Apparently your Mr. Adams refuses to supply a photograph which will enable him to be recognized. In addition, Ivan is having a great deal of difficulty locating the offices of this security firm in Valencia. The certificate of deposit does not contain an address. Ivan is also greatly concerned because he has not been told what to expect when he opens the box. He has absolutely no way of knowing whether the contents are genuine or whether some have been pilfered by employees of the security company or others. He absolutely requires some specific description of some portion of the contents so that he can verify it with his own eyes. Otherwise, he will have to show the contents to our friends in Barcelona, who, as professional jewelers, can evaluate the value. This is not good for confidentiality.

Ivan is proceeding to Barcelona tonight, but will take no action until he hears from us. As far as security goes, please do not take us for fools. We fully expect that you will have people watching Ivan as he takes the funds to Barcelona for cleansification. you will no doubt keep your property under observation at least until it leaves Spain, and more likely all the way through arrival in Odessa. You have no experience working with us and any intelligent person would do the same.

As things stand, it seems that you expect Ivan to collect some box, contents unknown, after handing over a huge sum of money in cash, to someone not known to him, who has not supplied identification in advance, and who could simply take the money and run. We cannot allow him to be placed in such a position, and it would be most unprofessional and injudicious for us to involve ourselves in such a manner.

Look, we really do want to go through with this, we can certainly use the funds. However, the current procedures and modalities are unacceptable. We do not know what relationship this Mr. Adams has with you, but he seems most unsuitable. Our dealings with you have been quite proper, and we have no complaints. however, to make things work you must revise the procedures so that we can be confident we are dealing with a solid chap in Spain.

Time is short. If we cannot complete this transaction this week, it will have to be postponed, perhaps for some considerable time, until appropriate arrangements can be made. Since these funds are in a secure location, that should not be a problem for you or your Mr. Taylor, but the logistics will become very complicated for us.

We look forward to receiving your urgent reply on this matter. because our Internet connections are a little spotty at the moment, you may contact us by fax or phone at xx-xxx-666-xxxx.however, in any case reply by e- mail because for the next 48 hours we are stationary with adequate Internet, but we only have a cell phone and coverage is poor in our current location, especially during the daytime.

/s/

The lad has to think quickly, and comes up with some absurd explanations.


---
NGINI

22 September

Dear William,

You need not worry about whether the content of the box has been tampered or not. This is not possible. The security company handles operations for top government functionaries and we have dealt with them several times in the past. The security lock to the vault is known to me alone, apart from Mr Taylor, and now, yourself. No one in the security company knows the combination that unlocks this box, not even Mr Adams! So, there should be no way in which the content must have been tampered by anyone!

On opening the box, Ivan should find a piece of paper on which is inscribed in green ink: LIBERIA CHARLES T. It would make no sense to start counting the money there because under no condition must the security company operatives be made to know that the deposit contains money instead of what was claimed at the time of deposit. Mr Adams may not be allowed to take the deposit out all alone (I doubt this) but even if he comes with other staff of the security company he will know how to handle the situation to prevent them from knowing the content of the box. In keeping money, the security company demands to know the source with appropriate documents and also, they charge very exhorbitant fees. At the time of deposit, there was so much crisis and we needed to get the funds to a safe place in a hurry so we didn't want to go through such procedures. I guess you understand what I mean.

The issue of identification should not be a problem. Mr Adams has expressed fears about sending his photograph to an unknown party when he is going to be handling such huge sum of money belonging to an influential person that might make life miserable for him if anything happens. According to him, he would be more comfortable with a phone call from Ivan. Ivan should simply check into a hotel and call him on phone. He will come to meet Ivan with his identification document such as his international passport. This is more official.

In addition, I am trying to request him to find a way to get the deposit to where Ivan will meet with him without having to pay the company first (the clearance charges). This way, Ivan would be able to inspect and authenticate the deposit with its contents before parting with the funds. This, he said might be possible.

Please pass the relevant instructions to Ivan. Whatever happens, the deposit must be removed this weekend. Do not have any reason to doubt Mr Adams. As I told you, he is indebted to us for the money given to him previosuly when he found that the deposit contained money at the time of lodgement. So, you can tell Ivan to trust him!

I want to get your response as quickly as possible.

Regards.
Barr. Ngini.

We demand photo and street address, work to up our percentage a bit, and criticize their pathetic security. Also encourage them to call, so that their overseas phone calls will increase their penalty.


---
ROMANOWSKY

22 September

Barrister Ngini,

We are reassured by the value-check methodology, Ivan will be instructed to looks for the described internal note. However, We are disturbed to find that the funds have been maintained in such an insecure manner. A 3-digit lock can be be cracked by simply testing 1000 combinations. Ivan will need some way of verifying that the contents have not been tampered with. Should some funds have been removed, this should be weighted entirely by yourselves, and not affect our sum.

As for your Mr. Adams, a photo is absolutely necessary. We do not require a formal identification with personal information. Ivan must absolutely have a photograph, this is how We do business when meetings are required. Certainly, should something go amiss, the photograph could be used to track down Mr. Adams if necessary. However, in a transaction calling for trust, We cannot trust anyone who will not provide a photograph in advance. Indeed, you yourself supplied such identification early on in the game, and this helped establish your Bona Fides Ivan is in Barcelona now, but he is very concerned about two issues, the photo and the difficulty in locating any trace of the security company. Ivan will phone your Mr. Adams once he has a photo and an indication of the location of the security company in Valencia. This matter must be attended to urgently. Unfortunately, We will be flying out tomorrow. It is essential that We give Ivan final instructions.

On the assumption that you will see to these two matters, Ivan will proceed to Valencia by car on Friday, and will depart there Sunday. He can take care of the conversion Monday, if it is not one of those Jewish holidays that are so frequent at this time of year. Ivan will be accompanied on all the journeys, but will be by himself from the time he drops his passenger off on Friday, until he picks her up for the return journey on Sunday. Boris has transferred all necessary funds to Barcelona, in the account of the jewelers. To convert that sum to cash is proving awkward. So far, the only method he can think of involves putting the money through a Russian bank office there, and that would incur a substantial fee if it is to be done without awkward questions. This can be achieved tomorrow or Friday morning, but in this case We require that our share of the funds be increased to an even 3 million Euros, not counting any theft that might be discovered on proper examination of the box contents. Please respond by phone and email. We will have phone access more frequently than email access over the next 48 hours. You may share the phone/fax number with your Mr. Adams if you wish, but what we really need from him is the photo and street address of the security firm.

/s/ William Alexeyevich Romanovsky

We are now supposed to be impressed by references to Qaddafi and Abacha!


---
NGINI

22 September

Dear William,

Mr Adams sent me his resident permit following my instructions to him that he should send his picture to Ivan. I have been trying to downlaod this document and forward same to you but it has proved very difficult so far. However, because I need to contact you immediately and advise you to move ahead with plans and advise Ivan to go ahead with the claim, I am shelving the attempt to send you this document to you until later.

As I told you, there is no need for Ivan to go to the Security company. What I am paying Mr Adams for is for him to bring the consignment out of the security company with the co-operation of the security/delivery officials. This way, no one will inspect the deposit before it is handed over to Ivan. We simply have nothing to do with the address of the security company because Ivan will never get there and he actually does not need to! The plans are simple, as I told you, this security company has kept similar deposits for us in past times and we are familiar with such arrangements when it gets to times that we need to claim our deposits!

I shall send the residence permit which contains Mr Adam's photo this night and I want you to forward this to Ivan. Mr Taylor is not new to this security company which has held monies for Al Qaddafi of Libya and Sani Abacha of Nigeria. You should trust in our arrangements because we are keeping our interests protected to the maximum. You are aware that the American government and even other governments are very much interested in President Taylor and his hidden funds. This project therefore must proceed with maximum caution. I have diligently worked out the plan in a way that your man will not have any problem in claiming the money on our behalf but if you feel that this is not okay with you even after my explanations, then I will have to talk with Mr Taylor to see if he can make alternative arrangements!

I await your thoughts and further actions.
Barrister Ngini.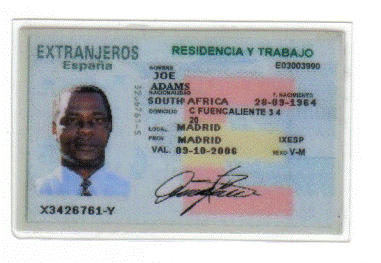 A purported residency card with bad photo of 'Joey Adams'
---
NGINI

22 September

Dear William,

We need to hear from you to know about your final arrangements. I called the number that you gave me but it was a fax line. I managed to leave a VM on the machine. Please send an email as soon as you can so that we may know the arrangements for the claim.

Looking forward to your response.

Best regards.
Barr. Alex Donald Ngini.

The lad called a long distance number and left a short message of no great import. But at least he's starting to spend money! He followed up with more assurances.


---
NGINI

22 September

Dear William,

Your request has been granted and Mr Taylor has agreed to the share which you proposed for yourselves irrespective of any amount of money which has been lost from the deposit (though, we trust that the money is intact from past experience)!

We want to know your final plans and we are very much worried. Please contact me as soon as possible. I know you are in the middle of your trip right now but do find time to make contact so taht we can be relaxed.

Looking forward to your response soon. I hope you got the residence permit of Mr adams which he sent to me and I in turn forwarded to you just to convince you that we trust him very much.

Regards.
Barr. Alex Donald Ngini.

More nagging


---
ROMANOWSKY

23 September

We are in receipt of your messages and attachments. We have advised Ivan to proceed to Valencia after obtaining cash. Boris will arrange for Ivan to transport the money in a secure manner so that it can not be separated from him during the journey. We are not certain that this can be accomplished today, so it is possible that Ivan will arrive in Valencia on Saturday.

However, regardless of the address, Ivan needs some assurance that this security company actually exists, since there is no sign of it and no one in Barcelona seems to have heard of it. We did point out that the name you provide for the firm is in English, and perhaps was improperly translated from Spanish. So there is still some concern. Boris has been searching the Internet using some goggle program, and he has reported no results.

To finalize arrangements, We require the physical dimensions of the container that will be transported, so that the contents can be taken securely to Barcelona. They are unlikely to fit into the briefcase used to transport your Euros.

We will be back on email tomorrow, you can use phone or fax until them. Some Family matters require a stay in Chukot for the weekend. Fortunately, winter has not yet set in!

/s/ William Alexeyevich Romanovsky

Ivan raises a few suspicious concerns, adjusting system clock, making sure the email indicates appropriate time zone


---
IVAN

23 September, 23:00 Barcelona time

i speak with ROMANOWSKY he tell me go ahead send me you picture. i tell him i no like that security company have no address, boris no find anywhere. is late. tomorrow get package, maybe not in valencia to saturday. stay own hotel. we not do business before this time. not personal, but must be pro not take risk. we meet public place, then go do business alone. is standard.

i sorry you no like have fun, but no worry. i take care business always. have little fun sometime because like anglo say, all work no fun make ivan dull.

The lads are concerned -


---
NGINI

23 September

Dear William,

Where are you? I thought that by now, you would have settled down and found a means to comuunicate. We are worried and we want to know about your arrangements.

Your man was supposed to be in Valencia today to remove the deposit. We need to know if this schedule is still in order or if plans have been changed.

Please make contact as soon as possible. We are very much worried over the silence!

Regards.
Barr. Ngini.

Must reassure the lads that there are no serious problems, just that we are still traveling. We're back in Siberia of course. Have to stroke the ego a bit, get the barrister relaxed just before it all hits the fan.


---
ROMANOWSKY

24 September 9:00 am Chukot time

We are in Anadyr today, will be in Bilibino tomorrow and then will head to Sochi or Odessa. Normally We would head to Sochi but both Boris and Ivan are unhappy with some aspects of this transaction, and want me to come to Odessa to oversee things when the funds arrive. We haven't decided, frankly at our age such running around is not appropriate. So it is most likely We will head to Sochi on Sunday evening.

As for Ivan, he did plan to go to Valencia today, but must wait until Monday because of the Jewish sabbath and yum kipper holidays, when our jewelers will not work, and they are the ones arranging the cash. So the plan now is to go to Valencia on Monday, as early as possible.

Ivan will not travel alone under the present conditions. He insists on having someone watch his back. That seems entirely reasonable, as your Mr. Adams has been making outrageous statements. For example, he seems to think that showing his identity card is a rare and special thing, when in fact of course he shows it for every serious transaction.

Again, Barrister Ngini, your performance in this matter has been professional. But your Mr. Adams, who cannot even send a proper email, has been seriously deficient. He seems a shifty character and We hope that you have him under observation. There will be moments when he alone has custody of the entire sum, under your plan.

Finally, Ivan needs to know the form of the contents. You have variously referred to "cash" and "bullion". At the very least, Ivan must know the total weight and dimensions of the physical object he will be transporting to Barcelona.

Ivan has established a safe house in Valencia, but plan to move the funds as quickly as possible. He is very uncomfortable with this transaction and wants it over with as soon as possible.

We see that you have sent us additional emails, and will get back to you from Bilibino. We should be there around lunchtime.

/s/ William Alexeyevich Romanovsky

Invoking St. Abacha again! We are not worthy!!!!! Chock full of new modalities, the lads must want to reassure us in the most extreme way.


---
NGINI

24 September

Dear William,

I am just in receipt of your mail which I had not received before. Mr Taylor is not happy with the doubts you are expressing. Although you need to be sure of what you are dealing with, all the same you should be able to accept whatever explanations I have offered you on this matter.

I told you that we have done business with this company several times before when Mr Taylor was in government. Other notable African leaders to the best of my knowledge have also done business with them on several instances and even until this moment. Being a top notch security company that specialises in keeping valuables on behalf of very rich and influential government people, the company does not publish or disclose any information about her opertions. The customers of the company are the only ones aware of their operation and how to reach them. You only need to be directed by one who knows and has dealt with this company before you can make a deposit with them, and even at that they demand to know the origin and nature of the deposit unless of course you are well known to them. For very protective reasons, this company headed by a British citizen, does not publicise her operations. It is just like the Swiss banks that accept monies from African leaders and hold these monies on their behalf without discolsing any information about these monies to anyone or government even though the monies were stolen!

What is important is that Ivan will meet with Mr Adams and clear our deposit in a way that there will not be complications. Everything has been carefully arranged and it is now left for Ivan to follow all the laid down instructions. I am going to pay Mr Adams some special charges for this service after the money has been removed. As I explained to you, Mr Adams has been in the process of undertaking such services for us before and through Mr Taylor's recommendation, he has done the same for the Late Sani Abacha of Nigeria several years before. We did not record the deposit as money only because we would normally be required to forfeit 25% of the funds as storage and handling charges. This would be far too much. Mr Adams alone knew that the deposit contained money because he is in charge of inspection at deposit point! He received USD150,000 for the cover-up. Now, this fact must remain protected: the company must not know that the deposit contains money. If Adams takes Ivan to the company to remove the deposit, the company staff at the point of release must routinely require Ivan to open the deposit before them to inspect and ensure that the goods he left with them are still in perfect condition. This definitely will open a can of worms, and this is what we are trying by all means to avoid.

However, what Mr Adams intends to do is to obtain special clearance permission to pay the demurrage and clearance charges in person to the company and remove the deposit with the relevant claim documents which Ivan will bring along with him. Then he would bring the deposit direct to Ivan where he can conveniently inspect it to ascertain the content. As I explained to you, Adams has suggested that if the clearance charges are not paid to the company, they may not allow him to remove the deposit and even if they do, they would require him to be accompanied by at least three other staff for protective reasons and to ensure that the claimant pays the charges before he may be allowed to leave with the deposit.

William, Mr Taylor has requested me to tell you that he is giving you his personal guarantee that this project has been arranged perfectly to our adavantage. Therefore, Ivan must observe all instructions issued to him to the letter without doubting anything. The slightest error must not be allowed to affect this project in any way.

Please acknowledge receipt of this email quickly and do leave your phone line open for my call.

Regards.
Barr. Ngini.

ROMANOWSKY wasn't born yesterday! He demonstrates appropriate curiosity about the logistics and modalities. Pre-emptive excuse for lack of phone access. I could have mentioned that Bilibino has no cell access because of the nuclear power plant interfering with signals, but decided that might be a bit much. The film company mentioned is real and was filming in Valencia. This could have been confirmed on the net.


---
ROMANOWSKY

24 September

We understand the use of discreet money handlers quite well. However, you must admit it unusual for such people to establish a company, and having done that, don't even have an public presence. Our handlers operate as individuals, or as a group. However, it is of little importance, a mere modality.

At this point, We just need to insure that Ivan can proceed with appropriate discretion and confidence. He will proceed to Valencia on Monday. Initial contact must be made in a public place. From there the business can be taken eslewhere for consummation. Ivan will inform us of a precise location soon. He had suggested the site where Oiris Productions is filming. He will be dropping off a Russian girl there. In such a crowd, with many non-locals, discretion should be assured. However, they would have to stay away from any cameras, of course. So Ivan has been asked to find another location. He will advise this weekend.

We still require the information regarding the package. Knowing that it is cash does not indicate volume. The bills could be $100, or $20, which would be five times as much bulk. Or it could be mixed denominations. If Ivan is to carry it, he must know. If the security firm will provide transport, of course Ivan must accompany it.

/s/ William Andreyevich Romanovsky

(We are in Bilibino now, will be flying to Odessa on Sunday, so that We should be online and in contact with our phone on Monday. The cell phone does not work in Bilibino, they do not have GSM service.)

Ngini claims Joey has poor English skills because he is South African, and it is very difficult to learn to speak and write English in Africa. I wonder if the barrister has ever been there! New modalities offered, requiring more up-front money.


---
NGINI

25 September

Dear William,

I am very sorry if Mr Adams has exhibited some unintelligent attitudes. He is a South African that works for the company. In Africa, the English Language is very difficult to learn to speak, how much more write!

I understand the need to postpone the movement till Monday. There is no problem as long as there would not be further postponements. On the question of conveying the bills, I do not think that Adams will have any moment of freedom to escape with the funds. He has never done so before. Besides, the company will not leave him all alone with the funds. They have a security delivery vehicle and there is a driver and two or three guards but being a senior staff, Adams can convince these staff to leave the scene only after the delivery has reached the location where the Ivan will be waiting. So there is no reason to believe that the funds are not safe.

I have enquired from Adams on the possibility of having their security delivery van convey the box for Ivan until it is safely delivered to the final destination in Europe. He said that this is possible but that it attracts a separate charge and that the van must be booked at least two days in advance and at least 50% of the rental charges paid upfront. So, if there may be need to resort to this mode of transport, now is the time to settle it before it becomes too late. I suggest that you get Ivan to discuss this with Mr Adams immediately.

Please tell Ivan to feel relaxed. There is absolutrely no cause for him to be worried. I am very much familiar with such processes and have done so myself for Mr Taylor at the time that we had our freedom. I believe that when he gets to meet Mr Adams in person, he will understand what I am talking about.

The cash is in USD100 bills. The dimensions of the box at a rough estimate would be 75cm by 60cm. This would not present any difficulty for Ivan to handle but if I may suggest, it would be best to have the security company make delivery. Since Ivan has an excess of 8,000 Euros, he can conveniently arrange to pay for the rental of the security van in advance from the excess funds or what do you think?

I am happy that you would be in Odessa by the time the fund arrives. You know this thing about one being more comfortable dealing with elderly gentlemen when it comes to such matters that involve money.

Please forward your phone number in Odessa as soon as you get there. I would like to be in verbal contact with you from the moment Ivan prepares to meet with Mr Adams. Boris should be relaxed. He is a banker and may not properly understand how such private bullion companies that transact special services operate. The only part for which I am glad of his involvement is in the opening of quick numbered accounts to lodge our part of the funds but I advise that such accounts must be totally under your supervision until I find a means to secretly get documents to leave Nigeria and meet with you for the final aspect of the project which would involve several investments. Moreover, there are other outstanding funds which we would also need to retrieve but I shall acquaint you with details of these when we are through with this first project.

Do have a wonderful weekend.

Regards.
Barr. Ngini.

Time to complain a bit about Joey's greed. And to set up Alexey's entrance.


---
ROMANOWSKY

26 September

We have arrived in Odessa and received your lengthy message. We are by friends now but will be at our villa in a few hours. We will communicate with Ivan about arrangements, but given the dimensions he can handle it. He has arranged a large car with plenty of room. Boris arranged a driver, a trusted Russian lad, ex-KGB, and additional assistance who will be fully prepared for all contingencies. This, combined with a rather extravagant flight from Athens at short notice, has reduced Ivan's cash flow but has reassured him a bit.

By the way, your Mr. Adams has demanded an expensive gift for himself besides three fancy watches for the "security people", who are presumably friends of his. This unprofessional behavior should not be encouraged. Ivan will supply some watches that look far more expensive than they are. Had your Mr. Adams not demanded these, their rewards would have been greater.

We hope to consummate this matter tomorrow without further impediments. Now that Ivan has proper security, he should feel at ease. One advantage to current arrangements is that Ivan can deliver the package to Barcelona tomorrow, and the funds will be here in Odessa by Wednesday.

Our location is far outside the city, and this is an old telephone connection. Much to do here, so the computers will be occupying the phone most of the time. This is Alexei Petrovich's home, a wonderful, huge place with splendid views, but only one phone other than cell phones equipped to work with the Podmakhivayetye Service. Perhaps We can obtain one from the staff (Alexei Petrovich is away and will join us in a week). We shall inquire on the morrow.

Ah, it is good to be back in the land of champagne and caviar! The samovar is steaming, and tomorrow night our family and friends will be celebrating Old Style. It is late now, We must retire.

Have a pleasant night,

/s/ ROMANOWSKY


---
IVAN

Subject: Royal Service

Sent: 27 Sep 2004 15:36:58 BST +1:00

Sir William!

this business with the africans is no going good.
many suspects things.

sir i think you need find out is legit before take money go mr. joey adams. i take mr. oblomov also no just goncharov and karl. no feel good about this but get job done. i get for security people some watches but no top drawer.

yhs Ivan

[we can infer that this was copied to Mr. Ngini for maximum effect]

Enter Alexey! William's grandson must have some issues, since he spells his name differently. Not just the first name, but he uses the traditional Russian royal name Romanov. He also has some eccentric capitalization, but just for 'Grandfather', according to some strange rules. Obviously has some problems with his brother Nicky (Tsar Nicholas II). And the Merchant of Venice surfaces again, once again a herring of a distinctly scarlet shade. A bit of historical mismash, as False Dmitry was Boris Godunov's adversary, not Ivan the Terrible's. Poetic license, in Russian spirit.


---
ALEXEY

27 September

Mr. Ngini,

This is Alexey Romanov. My grandfather, William Alexeyevich, has just been taken to the hospital. The doctors are not sure what is wrong with him, possibly a stroke, but he is unable to speak clearly. Before they took him to the hospital he told me to look into his e-mail account and locate a piece of correspondence with a barrister in Africa. Yours was the only letter that involves an African. It is clear to me that some business involving money was involved so I thought I had better write to you.

In searching through his mail I saw some instructions to a certain Boris Godunov. Although I was able to access his yahoo account without difficulty, grandfather did not use any of his normal passwords at his other account so I can't access that mail. I did check our voicemail account, and noticed some messages which seemed to be from you, though they do not contain much information. Grandfather's obsession with secrecy can sometimes be a real pain, though we know he means well.

It seems that Mr. Ivan Grozny is also involved. I have met Ivan on a number of occasions, but do not have his contact information. Perhaps you do, and if so please inform him that Grandfather is in serious condition in the main hospital at present. He is instructed to phone me at Grandfather's phone number and provide me with a telephone contact so that I can explain the situation to him. Meanwhile, he should continue to carry out whatever duties have been assigned to him by my grandfather. Tell him I'll try to get ahold of Boris, but he should too. I'll leave a message for Ivan at the club in Barcelona, so you don't have to do that.

I don't know what this business is all about, Grandfather had emptied or transferred any other correspondences to his secure account. There are copies of some correspondence here but they have been encrypted in PGP. I'm getting some of my talented friends to try to hack into the other account but it seems that Grandfather has actually learned something about Internet security after all the lectures that Boris and I have given him. Boris will be able to help if I can get ahold of him quickly. My father is indisposed, that's been pretty much the norm for several years, so he can't help. My brother Nicky is in Italy trying to help Grandfather extricate himself from some business snafu. Another bit of family business I'm not privileged to know anything about. Nicky gets to handle all that, when he feels like it. Grandfather calls it training for the day the Restoration arrives. (If he's deluged you with is visions of the Restoration, I apologize for him. He's an old man, the past grips him strongly.) That's not going to be in our lifetimes, or probably ever. But Nicky still waits for the day when he'll have it all. Between you and me, you're better off dealing with me, even if I'm only able to help a little bit. Nicky can't even handle siring an heir to the "throne", and that's not a very complicated matter for normal men.

According to Grandfather's calendar on his PDA, Ivan is expected to return to Odessa late next week. That means that some business must be going on now. I hope that it goes successfully, but since grandfather didn't care to share with me the details of his exploits, I don't see how I can be of much further help. Whatever it is, I do hope that all goes well. Grandfather is just probably trying to use his network of old friends to put a little borscht in the bank. He's pretty good at poem together enough to cover Nicky's extravagant habits. I was planning to go off to Europe, hang out with some lads world reaction is going down in Amsterdam, but looks like all the stuff here for a bit.

If there is any way I can help out with whatever this matter is, please use this e-mail address. I have no idea who you are, so I prefer to use Grandfather's account to handle his business. Even though Nicky is the one usually targeted by bad people, I'm still his brother. It wouldn't come as a big surprise to me if it turned out that Grandfather's illness is no accident. False Dmitry's gang has used poison before. But then a family history is full of such things, as I'm sure you're aware if Grandfather has shared our family history. People think it's cool having royal blood, but it's not. It sucks unless you have the money to live like it. I've met a lot of Europe's so-called "royalty" and their a bunch of poofsters. Maybe it is different in Africa.

Please treat any correspondence between us is completely confidential. I assume some sort of attorney-client privilege exists between you and my Grandfather. Meanwhile let us both pray for his speedy recovery. He's had over eight decades on this planet and I'd like to see him aim for at least one more.

Alexey Romanov

Here is your message to Grandfather.

Date: Wed, 8 September 11:15:14 +0100 (BST)
From: Send an Instant Message "alexdonald ngini" alexdonaldn@yahoo.co.uk
Subject:REPLY URGENT
To: "William Romanowsky" <w*****@*******>
Dear William Romanowsky,
Thanks for your quick reply. In this point, i am very happy to inform you that this fund have already been in the security company in Spain. So the won't be any need you setting up any account. What you need to do is to go to Spain and collect the containner boxs that contains the fund.
when we agree on the teams and trust, i will begin the documentation on your behalf that will be on your name.
I am waiting to hear from you urgently.
Regards,
Barrister Donald Ngini.

The barrister is not upset about the development.


---
NGINI

27 September

Dear Alexei,

I have received your email and I feel very bad about your grand-father's condition. In any case, the business I have with him must go on by all means and if actually he has appointed you to oversee thios matter pending when he will get well, I will have no doubts about dealing with you. Afterall, in one or two correspondences we exchanged with each oter previously, he had mentioned your name as a trusted son.

Please tell your grand-father that I hope he gets well very soon, and also that the plan will proceed as arranged.

I shall get back to you and do please keep me acquainted with news of your grand-father's health at all times.

Regards.
Barr. Donald Ngini.

But Joey explodes! It seems that Ivan failed to show up. And kudos and thanks to whoever answered the phone at the Valencia sex club, she didn't deny knowing Marina, 'the Russian Girl', who was actually Princess Marina of Poland, but that angle never got explored in this adventure..


---
JOEY

27 September

DEAR MR IVAN,

I AM VERY SUPRISED AFTER WAITING FOR YOU FOR ONE HOUR THIRTY MINUTES (1HR,30MINS) AT THE BULLFIGHT MUSEUM I DID NOT SEE YOU , I CALL THE TELEPHONE NUMBER YOUR GAVE ME ( 963804776 ) IT WAS A CLUB HOUSE AND THE PROSITTUDE WHO SPOKE TO ME SAID THAT I SHOULD COME OVER AND HAVE SEX WITH HER AND THAT SHE CAN NOT CALL MARINA THE RUSSIAN GIRL FOR ME UNLESS I COME THERE TO HAVE SEX WITH HER .

I AM FADE UP WITH ALL THESE ARRANGMENTS THAT YOU MADE .

PLEASE CALL ME ON MY MOBILE PHONE NUMBER 65 44 35 000 AS SOON AS YOU GET THIS MAIL AND I WILL ALSO FORWARD THIS MAIL TO MR W.A.R AND ALSO TO BARRISTER NGINI .

PLEASE CALL ME ON MY NUMBER AND WE WILL ARRANGE WHERE AND WHEN TO MEET .

AWAITING FOR YOUR RESPONSE ,

JOE ADAMS .

The barrister is getting very concerned. Nice to know ROMANOWSKY is in his prayers.


---
NGINI

27 September

Dear William,

I do not know how soon you will see this email but there is cause for worry. I just received this email from Adams and it is meant for your man, Ivan. How can he mess up the arrangements? This is no child's play. My apologies to you but I am convinced taht you laid down a perfect plan but is it Ivan's style to go for pleasure before business?

Mr taylor is not happy that the meeting could not hold as scheduled. Ivan must receive immediate instructions from your person to arrange to meet Mr adams immediately. If he is not going to make the claim, then let us know what to do right away. I am baffled that he could make an appointment and not keep to it when so much money is invloved!

I was told by Alexei that you are under medical care as a result of some slight fever but I have been praying and I hope that you are okay now.

Please issue out immediate instructions to Ivan and contact me as quickly as possible! I await your response with much anxiety.

Regards.
Barr. Ngini.

Time to wrap this up. Other things to do. So Alexey (now a smart Alex) piles it on.


---
ALEXEY

27 September

"Barrister" Ngini,

Today I am truly happy! Grandfather is recovering from what turned out to be food poisoning, source unknown. He'll be fine in a few days. And earlier today I was able to figure out his password and access the other account, as you can see. And I'm especially happy for a third reason.

When I took a look at your correspondence it was quite obvious that you are one of those Nigerian lads who carry out scams known as 419 scams. It was a pretty pathetic performance, really, and a little disappointed that Grandfather fell for it, given that we have warned him about such things. But it turned out exceptionally well for me. I instructed Ivan to take the €40,000 in his possession and meet me and a few of my friends at a nice resort where I'll truly get the royal treatment and have a grand good time. All that's left over will go into my own little special fund. Don't worry, Grandfather won't mind. He was going to lose money anyway and this way he has just paid for his lesson, and I am rewarded for my investigative skills.

I'm not going to do you favor of listing all of the errors you made. You really aren't very good at this, and are almost certain to be caught at some point. You should consider another line of work more in keeping with your limited skills. No future at all. My techie friends will no doubt circulate your botched attempts on the Internet as a warning to others who might be taken in by such a second rate scam. Your explanations were pathetic, bordering on the absurd.

You almost got caught this time. Ivan was not going to Valencia alone. Far from it. He had an entire team ready to observe and intervene as needed including some very proficient ex-KGB people. It turns out that he spotted the scam on Sunday, though he clearly had many suspicions early on, especially about this "Joey Adams" lad. You see, on Sunday he received the e-mail below. Are you acquainted with Mrs. Jewel Taylor? Ivan googled the web and found plenty of examples of this scam. Perhaps you ought to get in touch with Jewel Taylor, so that your e-mails do not cross in the future. I've included her e-mail address, because if she is a competitor of yours, well, I'll just "put them in a field and let them fight it out".

Your correspondence with Grandfather is really quite amusing. The graphics you sent were downright hilarious! Grandfather does tend to go on a bit, it runs in the family. But nothing brings a smile to my face as much is the thought of €40,000 earned as a reward for spotting a scam that any modern schoolchild could have seen.

I do hope you choose to find another path. Until then, try to stay off the canals when they freeze over, they do get a bit slippery.

Thanks for enriching my life!
Alex Romanov

jewelttay55@handbag.com wrote:

Good Day,

Compliments of the day to you and your family.

First accept my apologies for intruding into your privacy as this is not my intention. I am Mrs Jewel Taylor wife to ex-president of Liberia Charles Taylor. I want to discuss something of great importance to you and myself as well.

I beleive you should have heard of my husband and his present political crisis on the Media especially on CNN and BBC, It is for this cause that i write you this message.

I have a proposition to make to you as i have decided within myself to seek the aid of a foreigner to actualise this proposition it might be small to you as i do not know you in person but it will do a lot of good to i and my children.

For fear of privacy i cannot disclose this on my first mail to you but will like you to respond to me so that we can establish a means of understanding and communication.

I assure you please do not be afraid as rather i should be the one to be afraid for the step i am about to take,i will establish a telephone communication means with you after your response to this mail and explain in details to you the proposition.

I await your mail response so that i can give you detailed and confidential information as regards the proposition.

Please take this serious.

Yours Truly,

MRS JEWEL TAYLOR


---
A somewhat interesting reply, though obviously written in haste as a last, desperate gasp. Offers a big discount, too. Some folks just won't give up. Or get a clue! The fraud star comes up with new history. 'Momeries line'? There are more unintentional laughs here than in any of the preceding emails. Read slowly and enjoy!

NGINI

28 September

Dear Alex,

Is a pity that you took me as a fraudstar. Well I can not blame you because our African brothers have decided to defraud foriegners in this kind of sitaution.But you fail to understand there are still some geniue people in Africa. I want to take you back to momeries line, Have you heard of Mobutu Sousk of Democratic of republic of zaire.The fund he kept in a Security company which was used in developing part of belgium and swiss,Have you heard of the formal president Sani Abacha who has money all of over in some security companies around the world and banks,Have you heard of Pinachet the formal military president of chile,Also the formal president of singapor and malyasia. It's endless.In this junction if the children happen to get somebody like you to assist them in securing the fund,then you will call them a scamers? Are you now telling me that your family have not done this kind of transaction before? or it is because i'm Cameroon living in Nigeria representing my client (Mr. Charles Taylor)formal Liaberia president. Is that what makes it a scam?

If you think this is a scam then I could have ask the security company to ask your father to pay as much as US$2,000,000 for dumarages and not just 42,000 euro, that is not enough to buy some piceas of AK-47 riffle. What does it take the security company to go to Barcelona, to meet up with Ivan on that 22 september and collect the money from him they before you find out on sunday as you said. In your grandfather words, he said "trust but always check" thank God that you check but you have a wrong information about me and my client."You did not check well" In this point my own security is on ground their too about Ivan and the security company. It seems that your link man Ivan and others want's to pull a fast one on us. But you failed to forget that my client is Mr. Charles Taylor who was trained in U.S and Liby before he became a president. And you should know that Mr. Charles Taylor in the only one tha escape from the prison in the U.S. You should find out that. And I as a lawyer

I have lived in Italy for years and i also have an italian class mate who are also feeding me with information since this transaction started with your grandfather. Remember that you are not dealing with a chiken, In this point I have asked my client to ask his wife if she intructed anybody to write anything on her behalf,and she said no. On that case I do not know about that. I know you love women a lot, your grandfather told me of that. Where are you in Italy? In pisa, florence,roma,torino, where ever but visit the tower of pisa.

Thanks,
Barrister


---
A slightly different approach, somewhat more carefully written. Of course the lad has a memory lapse, forgetting he never had a Power of Attorney. Complains that security was compromised and that I shouldn't let Alexei read my mail. But Alexey did say that he 'figured out' the password and clearly has friends with requisite skills.

NGINI

28 September

Dear William,

I opened my email to find this insultive and to say the least, abusive and exapserating email from Alexei who claims to be your grandson. Well, you should help me tell him that if Nigerians are gifted for the trade known as 419, it is not so for us Liberians. We only happen to be in Nigeria by an act of God and he should not attribute what we are trying to do with you as another case of scam. We do not do business with Nigerians because we do not trust them and we are aware of their antics.

Agreed. We are aware that several people especially Nigerians use the name of my boss: Charles Gankay Taylor to make all sorts of proposition due to the fact that the whole world is aware Mr Taylor has hidden funds in security companies especially in Europe. A typical example is the attached letter which Alexei claims to have been received from one Jewel Taylor. This particular letter is a clear case of fraud and did not come from any of Mr Taylor's wives or concubines. No one has authority to oversee family matters and other matters affecting Mr Taylor but my person being the most senior adviser!
If therefore, you feel cowed by what your grandson has told you, for which Mr Taylor is now very mad, I do not need to bicker over this matter longer than relevant. All that we would want you to do for us is to keep silent over this matter while we would look for someone else whom I would issue a Power of Attorney to continue the claim. By this act, the original POA issued to you is automatically revoked.

I do not understand what is going on but I wonder why someone should gain access to your email box without your consent, no matter how close to you that sopmeone may be! That's an act of irresponsibility on the part of Alexei!

If you are actually in ill health at the moment, accept my sincere sympathy and get well soon. As for Alexei, your grand son, tell him he should learn to stop jumping to conclusions and avoid taking people on face value so that he would not make a fool of himself next time. I believe he was not even born by the time I started my law practice in Liberia! You are just way off one good opportunity to get free funds but perhaps it is your ill-fortune that your grandson would deprive you of such privilege.

Take care.
Barr. Ngini.

We could have kept this up for a while, but it seemed a good time to pull the plug without any ugliness. Perhaps he'll try yet again, and then the saga can continue. But by then, perhaps he'll have seen all this on the net. Or someone else can take up the thread, if his email still works. Just don't do anything to besmirch the honor of the Russian Royal Family! Long live Tsar Nicholas III, the Restoration is at hand!


---
May God bless and keep the Tsar... far away from us!